Text and photos by ELIZABETH LOLARGA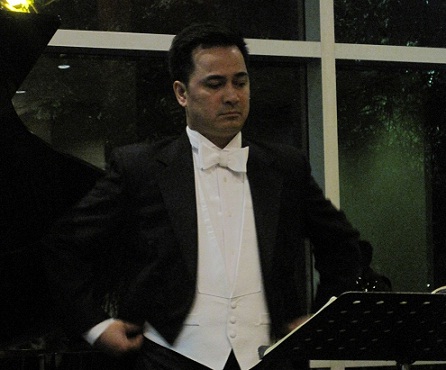 THE sixth of this month will linger long in the head and hearts, like the "last song syndrome," of those who watched tenor Arthur Espiritu as he breathed life into the lyrics of poets and the music of the masters.
The Ayala Museum lobby in Makati City was filled with sparkling anticipation as the perfumed set and casually dressed culture vultures took unnumbered seats.  The glass-walled, tall-ceilinged museum had been there for some time as venue for launchings of Jaime Zobel de Ayala's de luxe books; it has hosted fashion shows of the likes of Josie Natori and Inno Sotto and similar worthy endeavors that enrich the city's cultural life. But as venue for a concert like MCO Foundation Inc.'s "The Poet Speaks?" Now we're talking!
The US-based Espiritu has consistently enthralled the operatic and fine music crowd with his prince-like stance, his "beautiful legato", a critic once wrote. These qualities were present that enchanted evening when he interpreted art songs and cycles of poetry. Handel's music from the opera Semele comes with lyrics of besotted god Jupiter offering his mortal lover Semeleall the loveliness that his powers could execute for her: "Wher'er you walk / Cool gales shall fan the glade / Trees where you sit / Shall crowd into a shade …/ Where'er you treat / The blushing flowers shall rise / And all things flourish…"
His performance echoed past romances that overcame barriers like that of Robert and Clara Schumann (she was herself a composer but was bogged down by the bearing and raising of eight children). In "Liederkreis, Op. 24", the interpreter in Espiritu swung from mood to mood as the songs required: sleepless lover fretting over an absent sweetheart, the same man focused on himself, his grief, sorrows, longing.
The German language is no barrier at all in understanding the agonies and ecstasies of love, something Espiritu, on his honeymoon stage with his wife, can relate to.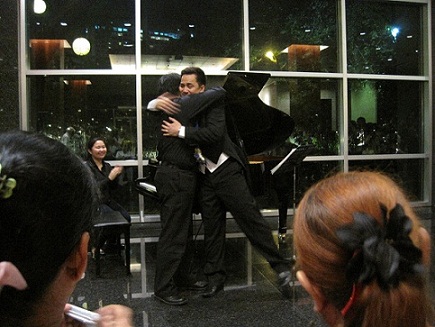 Complementing Espiritu's fascinating  performance  was Najib Ismael's  virtuosity on the keys. Music critic Pablo Tariman said, "On the whole, the recital of tenor Arthur Espiritu with pianist Najib Ismail gave us a clear magic relationship between the four elements of a song recital: the poet, composer, singer and accompanist."
The producers thoughtfully provided a complete program with the original German, Italian, Filipino and French lyrics side by side with English translations apart from projecting the lyrics up on one wall, the words superimposed on images from the Romantic era.
Liszt's "Trei sonetti del petrarca", a set of sonnets with lyrics by no less than Petrarch, tackles again the subject of love, its complications, especially its torments.
When Espiritu turned to National Artist Lucio San Pedro's "Sampatak ng Hamog" (text by another National Artist, Bienvenido Lumbera), the melody is instantly familiar (Filipino music has a pull on racial memory), it came as a whiff of fresh air from angst-wrought European passion.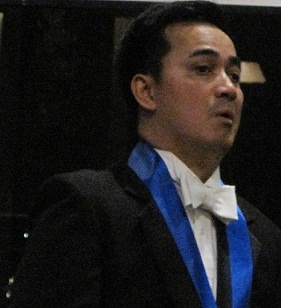 When Espiritu said "Sa Ugoy ng Duyan" was his Valentine to mothers in the audience, everyone quieted themselves, stifled coughs or the clearing of throats. Many in the audience, not just women, felt themselves tearing up to the sway and lullaby in the tenor. At that moment in that evening, he became everyone's son.
More European songs by von Gluck, Gounod and Delibes followed in the same vein of tortured declarations to a beloved. Despite the subject, Espiritu soared high till  the audience was putty in his hands. He and Ismail received prolonged standing ovations, and they obliged with two encores: "Cessa di piu" from Rossini's Il Barbiere di Seviglia that Joseph Uy, one of the concert organizers, said "was cut from the opera on its premiere because the stated singer cannot sing it due to its difficulty that requires immense agility."
The second encore was "O del mio amato ben" by Stephen Donaudy from a song cycle that captured emotions of happiness, heartbreak, hope and healing.
Espiritu said when he sings something more serious or tragic or romantic, he allows the text to transform him so he could totally embody the character he plays: "I try to revisit personal experiences, whether something heartbreaking or something disappointing. I try to place myself back in that moment.  Of course, I make sure that I don't get too sucked into that moment that I forget that I'm on stage."
He continued, "I try not to put a stamp on any characters that I do. The idea is to interpret the work as written and intended by the poet/lyricist and the composer."
Of the major tenors worldwide, Alfredo Kraus has left a mark on him for Kraus's "longevity and technique [that are] just remarkable."
Wednesday night, Espiritu made a mark on music lovers' heart.
(More of  Espiritu's music at www. arthurespiritu.net.)