By ARTHA KIRA PAREDES
Photo and Video by AMIEL MARK CAGAYAN
COTABATO CITY— The candidates for barangay polls arrived at the same time and wore political colors and party uniforms, revealing the partisan nature of village elections.
This is among the observations of election monitor Citizens Coalition for ARMM Electoral Reform, Inc (C-CARE), a poll watchdog group in the Autonomous Region for Muslim Mindanao.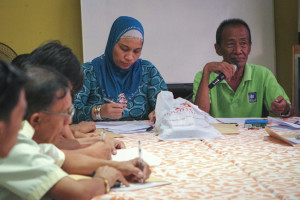 C-CARE provincial coordinator for Maguindanao Bobby Taguntong said that when candidates for this year's barangay polls filed their certificates of candidacy in Maguindanao, there was no doubt about their political affiliations.
This, he said, goes against the Omnibus Election Code, that states the conduct of barangay election shall be "non-partisan." The Code also says no candidate "shall represent or allow himself to be represented as a candidate of any political party or any other organization."