Amiel was 16 when he was introduced to "freelancing" by peers who seemed to have money all the time. Envious and eager to know where they got cash to splurge on shoes, clothes and casual gimmicks, the teenager asked his friends about their dirty little secret.
Soon, he learned to keep it as one of his own.
Amiel, a bisexual, had posted his first "ad" on classifieds website Craigslist.com when he was in high school. When an American "guest" picked it up, they had a one-time sexual encounter at a hotel in Metro Manila. He was given $100, which was spent on having fun with friends.
"Trip trip lang, hindi siya 'yung parang kailangang kailangan. Parang extra lang. (It was just for fun. It was not to meet a dire financial need. It's just an extra)," said Amiel, according to a study that documented his experience and those of 31 other Manila-based children aged between 13 and 18 who engage in sex work.
The study, "Children and the Sex Trade in the Digital Age," released Oct. 17 by Plan International, found that more children are entering the sex industry on a voluntary basis not only to meet basic needs and provide for one's family, but to purchase "wants," explore their sexuality and have a sense of belonging.
The study sought to assess the state of commercial sexual exploitation of children in Metro Manila by reporting the victims' experiences amid the dearth of reliable data on the extent of the problem.
Yet, because of consent, most children refuse to see themselves as victims.
Of the total number of respondents, only three said they were forced or pimped by relatives, while 29 admitted they decided on their own to engage in the dark business, most of them "freelancers"–a term now associated with paid sex as with seemingly innocuous terms like "taking a walk" or "having coffee."
The benefits of engaging in commercial sex, according to some, include paying for household expenses and upgrading one's lifestyle. Some said they developed confidence from being able to sustain their needs and wants.
Psychologist Elizabeth De Castro of the Psychosocial Support and Children's Rights Resource Center, one of the researchers, said though poverty remains the main driver for children's entry into the sex industry, the problem does not involve only poor children. Some even come from exclusive schools.
"Sometimes it's just for a specific need. For example, kailangan ng magandang damit para sa prom (they need a beautiful dress for the prom)," De Castro said.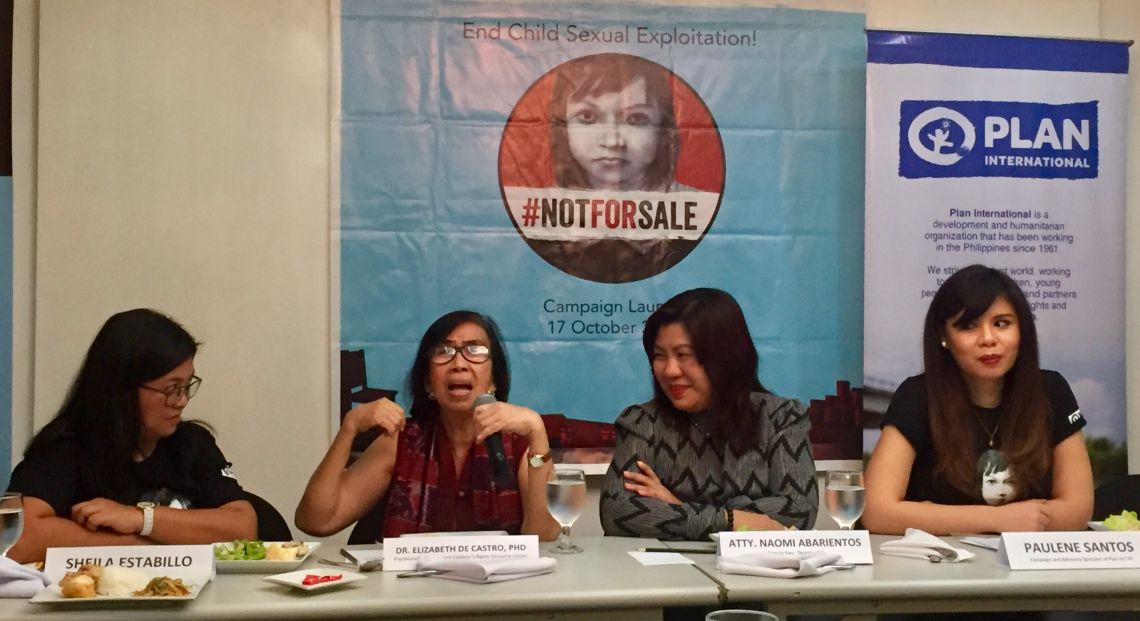 Elizabeth De Castro of the Psychosocial Support and Children's Rights Resource Center shares with the media the findings of a study on the commercial sexual exploitation of children in Metro Manila.
"One time lang 'yun, tapos sasabihin nila hindi na gagawin ulit (It's just one time, and they swear to never do it again). But of course, it is just the beginning sometimes," she added.
She attributes this trend to children's increasing access to the Internet, which, when combined with face-to-face sexual encounters, comprise what she calls "a major new form" in sexual exploitation.
Before, sexual exploitation happened either online, on pornography websites, or offline, in bars and clubs through pimps and street walkers. Now, these transactions take place on Facebook, Grindr, Craigslist and even on buy and sell website, OLX.com.
"The base is no longer in brothels, the base is no longer in freelancing in the street, the base is the home, the school, Internet cafes, or wherever young people are congregated," De Castro said.
This is because for teenagers, the influence of peers matters more than that of parents, she said.
"Look at it from a profile of a young person, a regular teenager who wants to belong, who has social needs, who has all sorts of interactive needs, who wants to be independent, who wants to have a separate income and be successful," she said.
Children earn up to P15,000 for paid sex with foreigners, the study noted. They've also developed payment schemes depending on the kind of sexual acts they are requested to perform. For most of them, it should be "money down before sex," De Castro said.
For Darlene Pajarito, executive director of the Inter-Agency Council Against Human Trafficking (IACAT), the findings of the study do not mean children are necessarily enjoying paid sex. That children are volunteering only shows their vulnerability to abuse, she said.
"We shouldn't look at it that way na ginusto nila (that they wanted it). Instead see how vulnerable they are. Not because they enjoy it or like it but let's look at the factors that bring them to that situation," she told VERA Files.
Under Pajarito's leadership of the IACAT, the Philippines has maintained Tier 1 ranking in the Trafficking in Persons report of the US State Department.
While this is the highest ranking, it does not mean the country no longer has a human trafficking problem. The ranking indicates that the country has made sustained efforts in eliminating trafficking and has met minimum standards.
The United Nations Children's Fund (UNICEF) estimates that between 60,000 and 100,000 Filipino children are involved in prostitution.
Prostitution, under Republic Act No. 9208 or the Anti-Trafficking in Persons Act of 2003, refers to any act involving the use of a person by another, for sexual intercourse or lascivious conduct in exchange for money or profit, among others.
In its expanded version, RA No. 10364 penalizes anyone who buys or engages the services of a trafficked person for prostitution with six to 12 years imprisonment and a fine of P50,000 up to P100,000.
The sanctions are even stiffer when the crime is committed against a child, with 17 to 40 years imprisonment and a fine of P1 million to P5 million.
As of Oct. 15, IACAT has recorded a total of 319 convictions of human trafficking since RA No. 9208 was passed in 2003.
Yet, De Castro says while laws criminalizing sexual exploitation are in place, there must be solutions targeted at addressing the child-victim, particularly teaching children to use the Internet responsibly.
The best way to curb the problem, she said, is still prevention, when crime is just a click away.
The study recommended, among others, regulating information and communication technology providers as well as access to certain websites. This includes investing more on mass media campaigns that could include the use of ICT such as short messages and websites.
Beyond government intervention, De Castro stressed the importance of responsible parenting.
"It's still back to basics. You still have to go back to value systems. That is early childhood education. You teach your children how to self-regulate," she said.