Children aged 12 years and below will soon be required to sit at the back of cars and properly buckled up in seats that would protect them while traveling.
This after the bicameral committee approved on Nov. 26 the Child Safety in Motor Vehicles Act aimed at protecting young children against death and injury in the event of a car crash or sudden stop.
The measure, which reconciles provisions of two bills approved separately by the Senate and the House of Representatives this year, provides that "drivers of private vehicles are mandated to secure a child 12 years old and below in a child restraint system while transporting a child on a road, street or highway."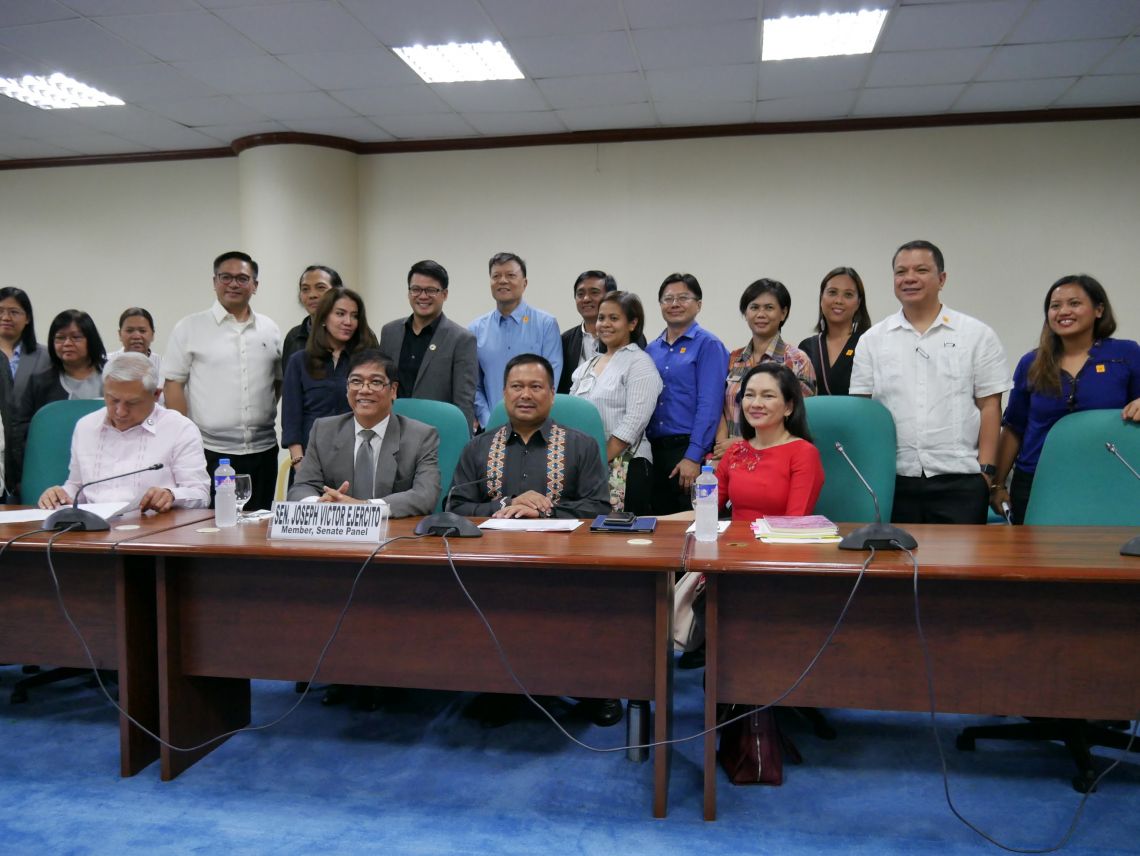 Lawmakers and road safety advocates after the bicam meeting at the Senate on Nov. 26. (Photo by Klaire Ting)
Senator Joseph Victor "JV" Ejercito, author of the Senate bill, said the measure is expected to be approved by both houses of Congress "probably within a week" and then transmitted to President Rodrigo Duterte. "Hopefully it will be signed into law by the President before Christmas," he said.
Child restraint system (CRS) refers to "a device capable of accommodating a child occupant in a sitting or supine position." This could be a car seat, booster seat or car bed which is designed to diminish the risk of injury to a child in the event of a collision or an abrupt stop as it limits the child's mobility.
If correctly installed and used, these devices reduce deaths among infants by about 70 percent and up to 80 percent among small children, according to the World Health Organization (WHO) Philippines.
Road crashes are the second leading cause of death for Filipinos aged 0 to 17, next to drowning, according to the Department of Health.
The safety measure approved by the bicameral committee also prohibits children from sitting at the front seat of vehicles, unless the child is at least 150 centimeters or 56 inches in height and capable to properly fit in the regular seat belt in the front seat. Drivers are prohibited from leaving the children unattended inside the vehicles.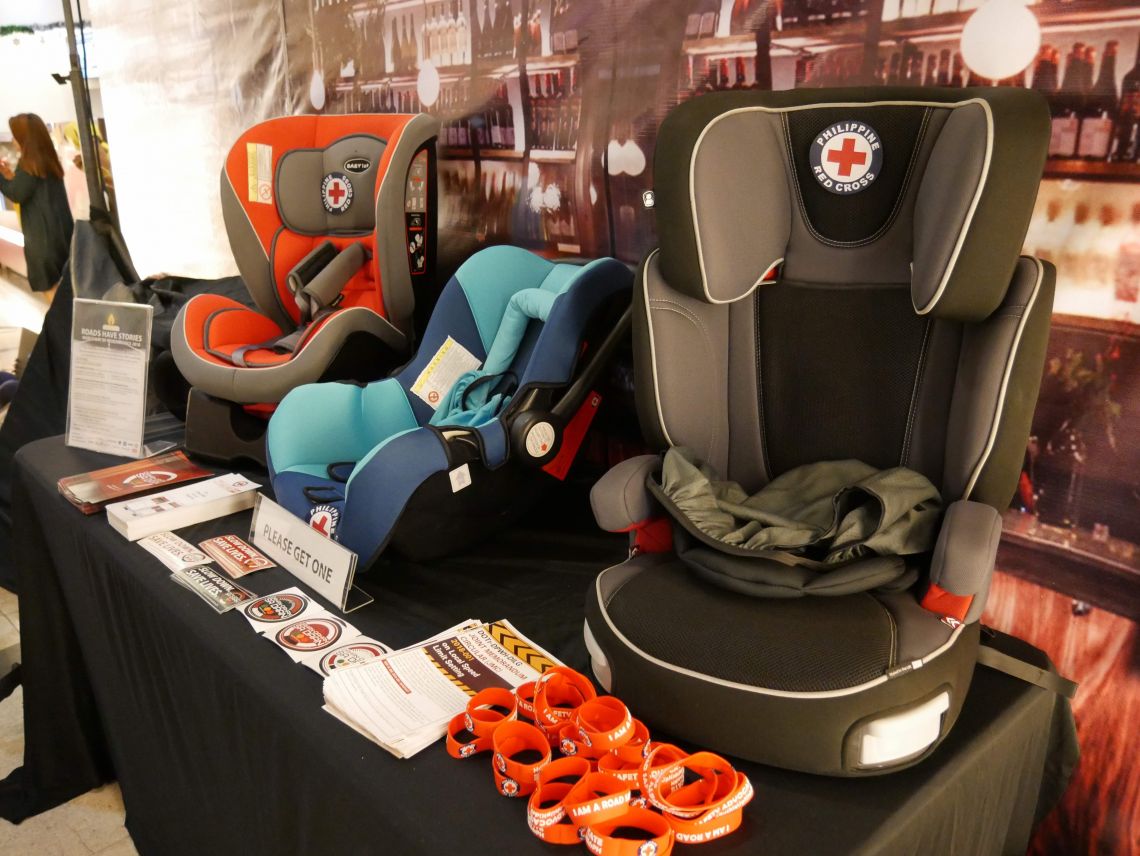 Different kinds of child restraint systems (L-R) convertible seat, rear-facing seat, booster seat. (Photo by Klaire Ting)
"The law is intended to save children's lives. What is P5,000 if it is the life of your child that will be saved with a car seat?"Ejercito said, referring to the average price of a car seat or child restraint system which many find expensive.
Road safety advocates have argued that the cost of a child restraint would come out cheaper than medical bills that could be incurred if children were injured during a road crash.
According to WHO's Dr. John Juliard Go, the economic cost of injuries, medical bills relating to road incidents, and other road-related crashes can amount to 2.6% of the country's GDP and could reach billions of pesos, which is why buying CRS may be cheaper as it can avoid the cost associated to a road crash.
Apart from the steep price, the other concern advocates have to deal with in pushing the use of child car seats is the common and preferred practice of Filipinos of physically protecting kids with their arms, hence the need to explain to the public why the age, height and weight-appropriate CRS is a better option to secure children while travelling.
"The seatbelt is meant for adults. Others think that if children wear seatbelts, or if they sit at the back, or if they are carried by their mothers, the children are well-protected. But that's not true based on the evidence we have. So child car seats are needed to ensure protection against crashes," said Jofti Villena of the Bloomberg Initiative for Global Road Safety – Legal Development Program.
A 2017 study by the University of the Philippines Manila found that the lack of a law requiring it and low awareness are also among the reasons private vehicle owners do not use child restraints.
The safety measure targeting children is important to protect among the most vulnerable on the country's roads, advocates say. From 2006 to 2014, an average of 671 children aged 14 and below died each year, data from the Philippine Statistics Authority show.
Jason Salvador, senior advocacy officer of Legal Engagement Advocating for Development and ReformInc. (LEADER), an NGO on legal assistance, said the CRS law is long overdue. "That is why adults should ensure children's safety and make it a priority. It is timely because every day that passes without the mandated protection puts kids' lives in danger."