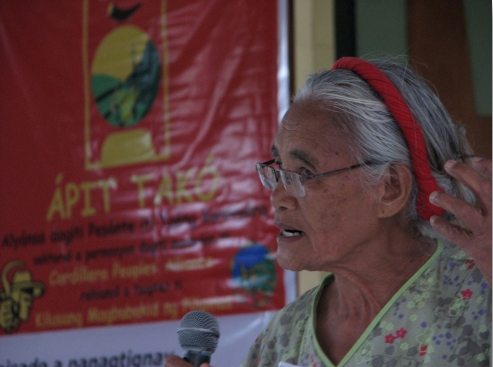 By DESIREE CALUZA
BAGUIO CITY— She is a mother to every Cordilleran. To many she is "Mother Petra."
With clenched fists, hers were the hands that nurtured the indigenous peoples' aspiration to fight for their rights over their land. It is a battle she has been waging in Bontoc, Mt. Province since the dark days of Martial Law.
Petra Macliing is a woman who's never cowed. In the past, she would be branded as a member of the New People's Army because of her anti-government stance on the development of ancestral lands.
After she was widowed, she took part in protests while she single-handedly raised her seven children. Macliing doesn't know her exact birth date, but her children say she is probably in her 80s.
"We can learn a lot from her life. She's an inspiration to all indigenous peoples and women because of her extra-ordinary leadership," says Windel Bolinget, chairperson of the Cordillera Peoples Alliance.
Lawyer Fran Macli-ing Claver, the youngest of her children, says while their mother never reached high school, she knows fully well what justice entails.
"She has an inherent sense of justice and has compassion for the people even before she became an activist," he says.
Jill Cariño, vice chairperson for external affairs of CPA, shares Macliing has always defended the community's traditional way of life, seeking to promote indigenous knowledge and practices.
"She is a living beacon for other indigenous women and children who are still struggling for the recognition of their rights around the world, " she adds.
Going against miners
Macliing is a member of the Bontoc tribe in Barangay Mainit. In the 1960s, she and other women confronted mining engineers who want to survey the Mainit village, a target area for corporate mining.
Macliing says in 1975, she and the other Bontoc women led a hunger strike against mining engineers to protest explorations in their area.
"Before we conducted the hunger strike, we had to eat so much and had to tighten our stomachs with our belt so we would not get hungry while confronting the corporate bosses," Macliing says.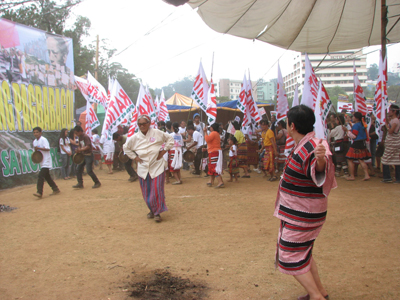 To show their protest, the women destroyed mining equipment such as handheld radios and even the camp site.
It was also in the 1970s when Macliing opposed the construction of the four Chico River dams, a World Bank project of the late strongman Ferdinand Marcos.
Villagers of Bontoc and Kalinga opposed the giant dam project as it would submerge farms, their very source of livelihood, and their homes.
"Together with Kalinga and Bontoc elders, hers was one of the voices that got the attention of the development planners in the Philippines and worldwide. That finally put on hold the construction of these four mega-dams," Cariño recalls.
Then in the 1980s, Macliing led the women in going against another mining exploration in their village.
In the deep of the night, she and other village mothers and grandmothers approached the mining site and demanded the engineers to leave. They protested by stripping their clothes and exposing their breasts to the men.
Cariño says behind this action is the traditional Bontoc belief that it is taboo for men to see their mothers and mothers unclothed, and if they do, they will incur an endless round of bad luck.
"This drastic measure worked, and immediately, the mining camp was dismantled and the engineers left their village, and have not returned to this day. This is a shining example of women's empowerment and strength, which is kept alive in the hearts of the Cordillera people, through stories and songs," she shares.
Awards won
She's still an officer of CPA and a member of the Cordillera Elders Alliance, a regional-wide alliance of traditional elders from the different Cordillera provinces formed in 2006.
Macliing is also known for forming the Kalinga-Bontoc Peace Pact Holders Association in 1979, a federation of traditional tribal leaders and peace pact holders.
In November, 2009, Macli-ing received one of the highest honors for being one of the outstanding rural women of the world.
Her pioneering work and invaluable contribution for the protection of indigenous rights to self-determination and ancestral land were recognized alongside the efforts of other nine awardees worldwide.
She was chosen as one of the awardees of the Women's World Summit Foundation's Laureate Prize for Rural Women in 2009.
"This is not only my award, but it's an award for all of the indigenous peoples of the Cordillera," Macliing said in her speech.
The WWSF Laureate Award honors creative and courageous women for their contribution in improving the quality of life in rural communities, for protecting the environment, transmitting knowledge and standing up for human rights and peace.
In 2012, Macliing was one of the six Filipino women in the Philippines who was awarded by the Asian Rural Women's Coalition during the 5th International Day of Rural Women.
She was cited along with other awardees for advancing indigenous peoples rights, promoting civil rights, combating violence against women, and for seeking better treatment of the rural poor, political prisoners, farmers and children.
Life after turmoil
Macliing is now based in Bontoc and is spending her time farming. She's using the traditional farming system and rejects any form of chemical farming.
When asked if she has plans of retiring from farming and from being an activist, Macliingsays she will continue to work as long as she's needed.
"I will work as a leader until the day I die. I don't have any fears when it comes to defending my land. I will never be afraid and the indigenous peoples too should not be afraid," she says.
For her, courage is what her people need when defending one's life and land.