Environment Secretary Gina Lopez says open-pit mining can cause earthquakes.
In a press conference at Malacañang on Feb. 9, Lopez presented her qualms about the mining industry, including the use of explosives in mines.
In the wake of the 6.7-magnitude quake that shook Surigao City on Feb. 10, netizens in social media were also quick to blame the temblor on the excavations in the heavily mined area.
STATEMENT
"We had a group from England who did a study that has — fault lines, the red ones. And you know what the black ones are? Where they're going to put explosives, explosives, you know. The English guys said, 'You know, if you put explosives near fault line, booom like that the one that you saw. You will stimulate geodesic activity.' How can you do this in the country, right?"

(Source: Press Briefing by Presidential Spokesperson Ernesto Abella with Environment Secretary Regina Lopez)
Lopez could have meant "geologic," which refers to volcanic eruptions and earthquakes, instead of "geodesic," which is synonymous with geodetic or land surveying. VERA Files sought Lopez's office for clarification but it hasn't replied.
The official Twitter account of the Department of Environment and Natural Resources, however, paraphrased Lopez's statement on Feb. 9:
"Tampakan explosives for open pit mining will stimulate activity in nearby fault lines/areas."
The tweet has been taken down as of Feb. 10.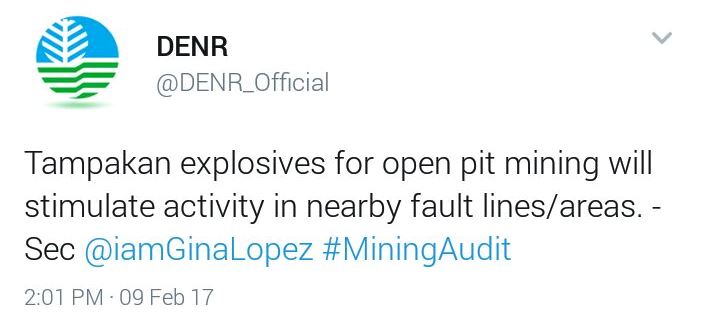 FACT
It is "impossible" to induce fault movements by using explosives in mining "because the magnitude of the energy used is very very small," Prof. Carlo Arcilla, igneous petrology and geochemistry expert at the University of the Philippines National Institute of Geological Sciences and president of Asia Oceania Geological Society, said in an interview with VERA Files.
Faults are cracks in the earth that make pathways for minerals such as metals to travel to the earth's surface, which explains why there are faults in mining deposits. A movement in the fault causes an earthquake.
The use of explosives in open-pit mines is necessary to break and grind minerals that appear in small amounts, before they can be extracted from the ground.
But it would be "ridiculous" to say blasting an open-pit mine would reactivate and mobilize the faults underneath to trigger an earthquake, Arcilla said. A fault movement would require large amounts of energy, such as several thousands or millions of nuclear bombs.
Arcilla's analogy: An explosive in an open-pit mine is "like having a small firecracker na maingay (that is loud)." It can be felt, but "the firecracker cannot destroy a house."
Induced or man-made earthquakes, however, have been possible in some parts of the world through hydraulic fracturing, wastewater disposal and other processes. When humans drill wells into the ground, nearby faults can be lubricated by water, which can rouse a fault movement.
Even mine collapses are not enough to trigger geologic activity, Arcilla said.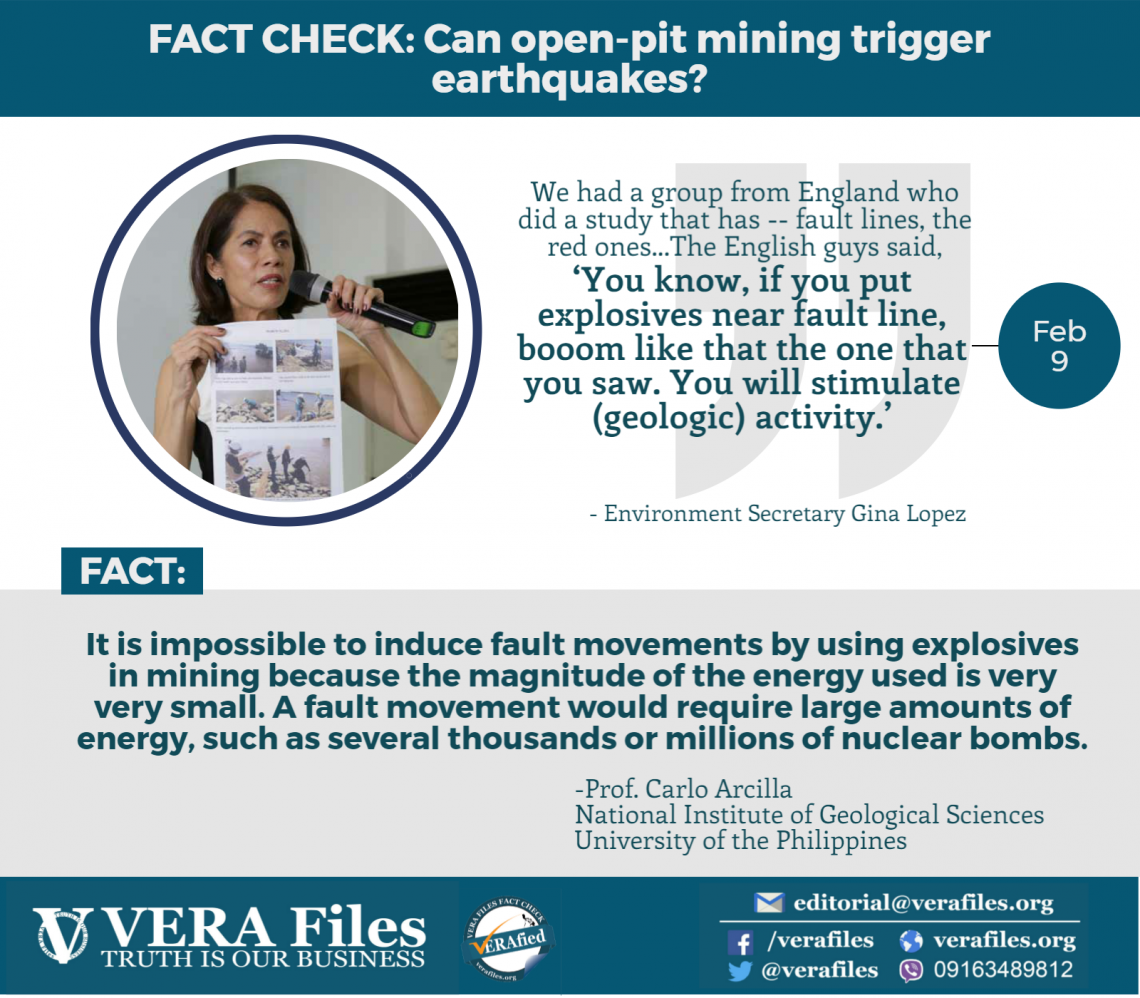 Earthquakes occur at about 800 kilometers deep. The Bingham Canyon Mine in Utah in the United States, the largest open-pit mine in the world, has a depth of 1.2 kilometers as of 2013.
The strength of an earthquake diminishes as it travels to the surface, according to the United States Geological Survey.
Other Sources:
United States Geological Survey (Earthquake and Plate Tectonics)