Responding to Sen. Antonio Trillanes IV's allegations that he had P2 billion in bank deposits over a period of nine years until 2015, President Rodrigo Duterte is now tweaking his narrative from being born to a poor family and growing up "in the slums" and is now saying his family was and is not poor.
In a recorded video released by the Presidential Communications Operations Office and RTVMalacanang Thursday, Duterte said they are not poor and reminded Trillanes that his father, Vicente Duterte, was a governor of Davao.
STATEMENT
"Ngayon, kung pamilya mo gutom noon o ngayon, huwag mo kaming isali. Hindi kami kasing malas sa pamilya mo. Hindi kami mahirap rin. Tatay ko governor noon, may iniwan sa amin. Ikaw? Anong naiwan sa iyo? Hangin pati yabang. Tulisan ka, sa totoo lang (Don't look at my family if yours starved or is still starving. We are not as unfortunate as your family. We are also not poor. My father was a governor, and he left us with something. How about you, what did (your father) leave you? Air and arrogance. You're a bandit, that's the truth)."

(Source: President Rodrigo Duterte's response to Sen. Antonio Trillanes IV's bank account allegations, watch from 2:50 to 3:22, or read transcript)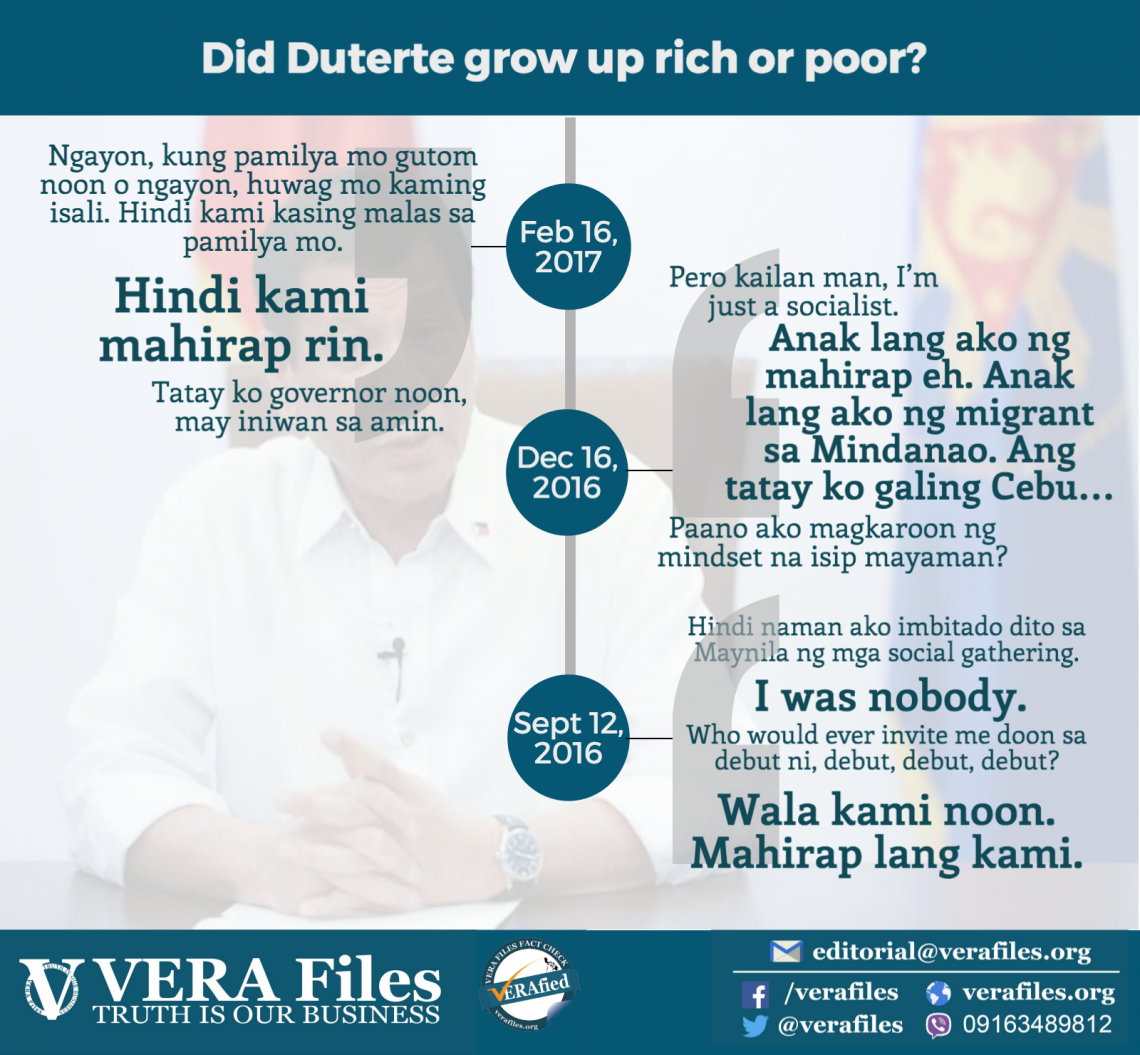 FLIP-FLOP
The president previously stated in various interviews and speeches that he was born to a poor family. In fact, the statement above directly contradicts what he told the audience at an environmental summit in Mindanao on Aug. 4 2016.
He did say that their life became comfortable when his father became governor but added they went back to their previous situation when his father died.
"But in 1956 my father built a house there, kasi tubig nga (because it was water). It was on stilts. Would you believe it? It was demolished because somebody owned the water and the soil. Kaya ho ako lumaki na merong (That's why I grew up with)… there were times when comfort was there when my father became governor. But after back to kami sa (we were back to)… namatay eh (because he died)."

(Source: Speech of President Rodrigo Duterte during the Mindanao Environmental Summit "Oya Mindanaw", Martin Hall, Ateneo de Davao University Main Campus, Jacinto Street, Davao City, watch from 35:51 to 36:27 or read the transcript)
In his speech before the Filipino community in Singapore on Dec. 16, 2016, he said the left would not leave him despite their resistance to his war on drugs because he is the "first left-leaning President of the Republic of the Philippines."
"Pero kailan man, I'm just a socialist. Anak lang ako ng mahirap eh. Anak lang ako ng migrant sa Mindanao. Ang tatay ko galing Cebu… Paano ako magkaroon ng mindset na isip mayaman? So always ang ano ko is 'yung namulatan ko sa mata ko ang hirap (I will forever be a socialist because I was born poor. I'm just the son of a migrant to Mindanao. My father came from Cebu…How can I have a mindset of the rich? So I was made aware of poverty from a young age)."

(Source: Speech of President Rodrigo Duterte during the Meeting with the Filipino Community in Singapore, The Max Pavilion and Hall 9, watch from 47:05 to 47:30)
In another speech on Sept. 12, 2016, during the oath-taking of his appointees in Malacañang, Duterte said he had a limited circle to choose from for appointments to various offices. He just chose honest people he knew from school.
"It's a very limited arena because sila rin ang kilala ko noon. Maraming honest na military. The problem is I do not know them. So 'yung mga honest na dumaan doon, 'yung mga classmate ko sa dormitoryo dito, pati 'yung sa eskwelahan ko, 'yun ang mga tao na…Hindi naman ako imbitado dito sa Maynila ng mga social gathering. I was nobody. Who would ever invite me doon sa debut ni, debut, debut, debut? Wala kami noon. Mahirap lang kami. [inaudible] kung sino kami (It's a very limited arena because they are also the ones I knew then. There are many honest people in the military. The problem is I do not know them. That's why those honest people who went there, my classmates in the dormitory here, including the schools I went to, those are the people that…I wasn't invited here in Manila during social gatherings. I was nobody. Who would ever invite to someone's debut, debut, debut, debut? We had nothing then. We were poor. [inaudible] who we are)."

(Source: Speech of President Rodrigo Duterte during the oath-taking of presidential appointees, Heroes Hall, Malacañang, Sept. 12, 2016)
Trillanes' challenge Thursday was a follow-up of his exposé made during the last few weeks of the 2016 presidential campaign that Duterte's joint account with daughter Davao City Mayor Sara Duterte-Carpio at the Bank of the Philippine Islands account on Julia Vargas, Ortigas Center has been a recipient of some P2 billion deposits from 2006 to 2014, which were not declared in his Statement of Assets, Liabilities and Net Worth.
Trillanes also said Duterte has joint accounts with other members of his family including his common law wife, Cielito "Honeylet" Avanceña, running to hundreds of millions of pesos.