While the number of casualties in the deadly earthquake that struck parts of Turkey and Syria continues to rise, so are photos allegedly showing the devastation popping up. But the images circulating in several Filipino Facebook (FB) pages are unrelated to the tragedy.
The photos were published on Feb. 7. The first part of their captions read: "TINGNAN| Umakyat pa sa higit 3,500 katao ang nasawi kasunod sa 7.8 magnitude na lindol sa border ng Turkey at Syria. (LOOK | The death toll has risen to more than 3,500 following the 7.8 magnitude earthquake on the border of Turkey and Syria)"
The death toll has surpassed the 16,000 mark as of Feb 9, latest news reports say.
Shown alongside legitimate photos taken after disaster struck the two countries are images featuring:
A dog sitting beside a hand buried under the ruins;
A child kneeling among rocks, hands covering his face;
A crying man holding loaves of bread behind a destroyed structure;
And a rescuer carrying a child out of the rubble of a collapsed building
A reverse image search reveals the images were either stock photos or taken from a previous earthquake-struck location.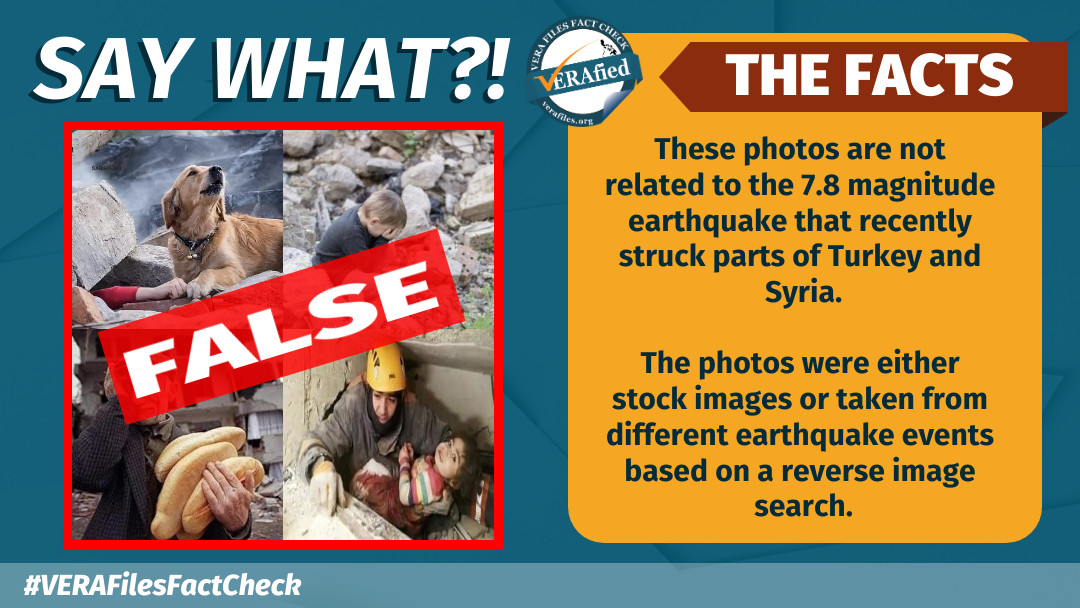 The picture of the dog is a Shutterstock photo published by Czech photographer Jaroslav Noska. Its caption read: "Dog looking for injured people in ruins after earthquake"
It is part of a collection titled "Dog Rescue" that was updated last January 2019.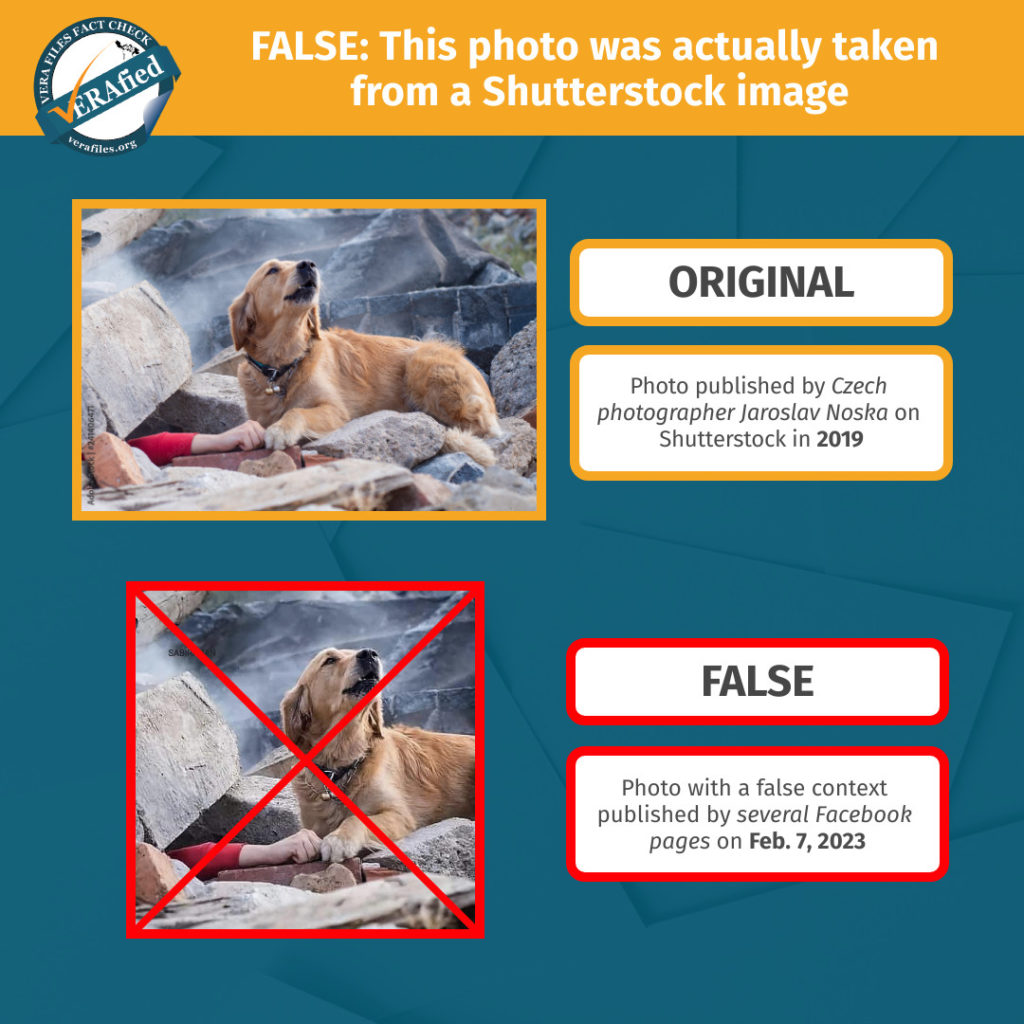 The image with a weeping boy is an Adobe stock image published by Ukrainian photographer Zapylaieva Hanna. The photo is part of a series showing a father and son hugging surrounded by debris.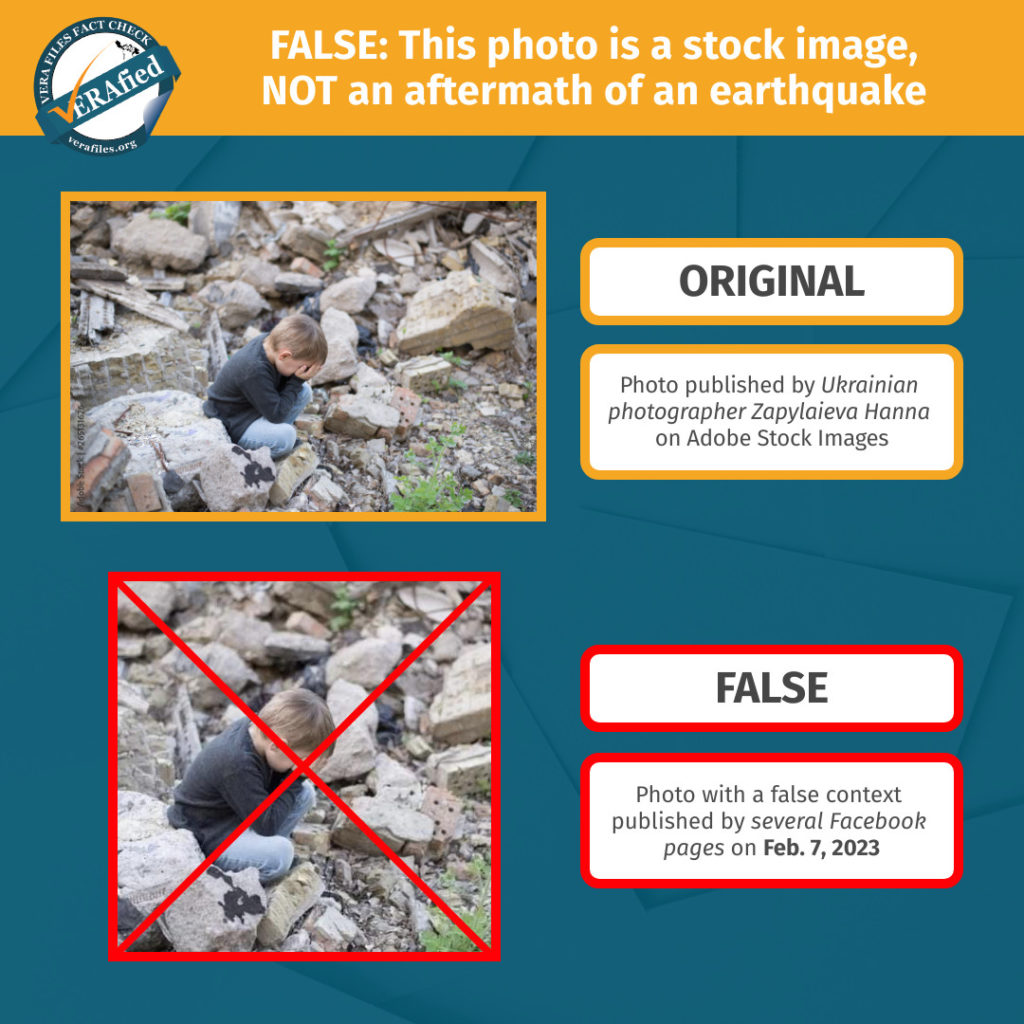 The photo of a crying elderly man holding loaves of bread was originally published by media organization CNN Turk in a November 2022 story on a 6.1 magnitude earthquake that hit Düzce, a town in northern Turkey.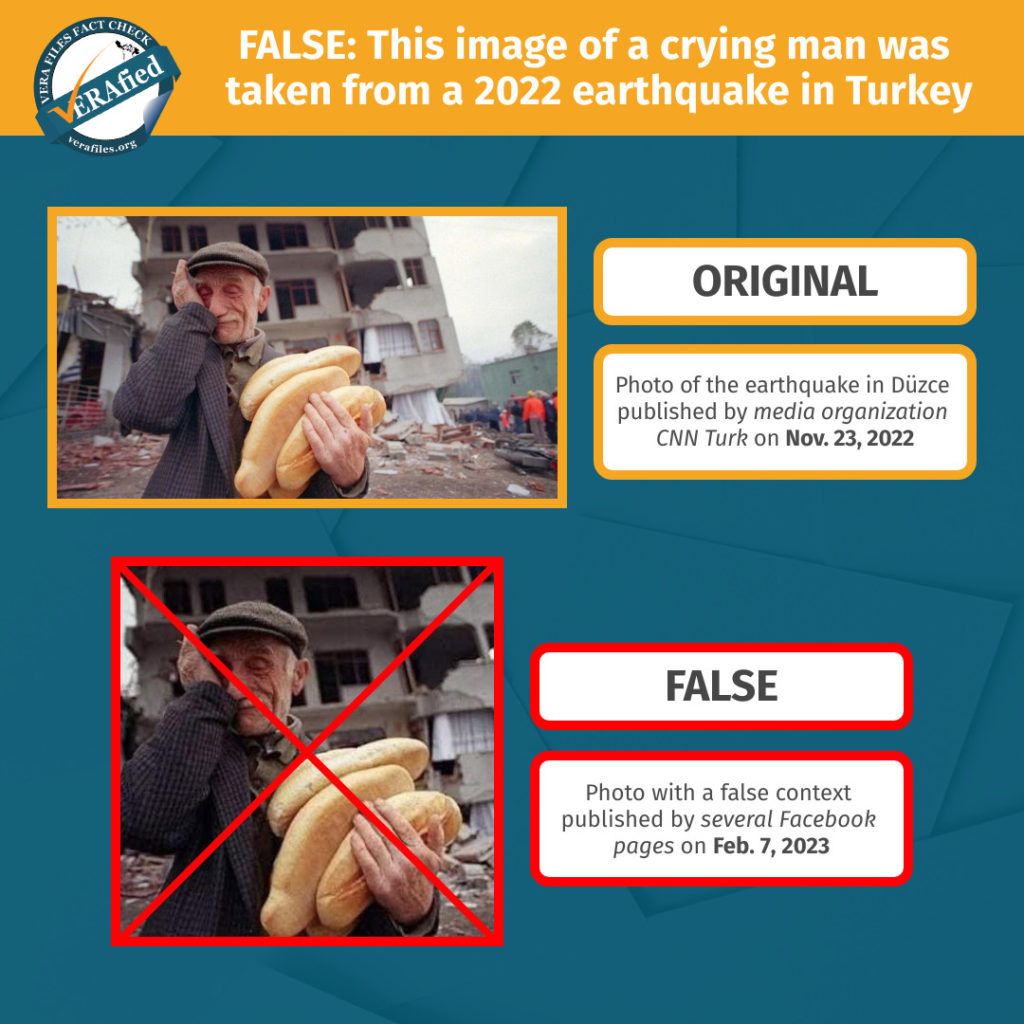 The picture of a rescuer carrying a child to safety was first published by British media The Guardian in January 2020, reporting on a mother and child found alive under a building after a 6.8 magnitude earthquake devastated eastern Turkey that year.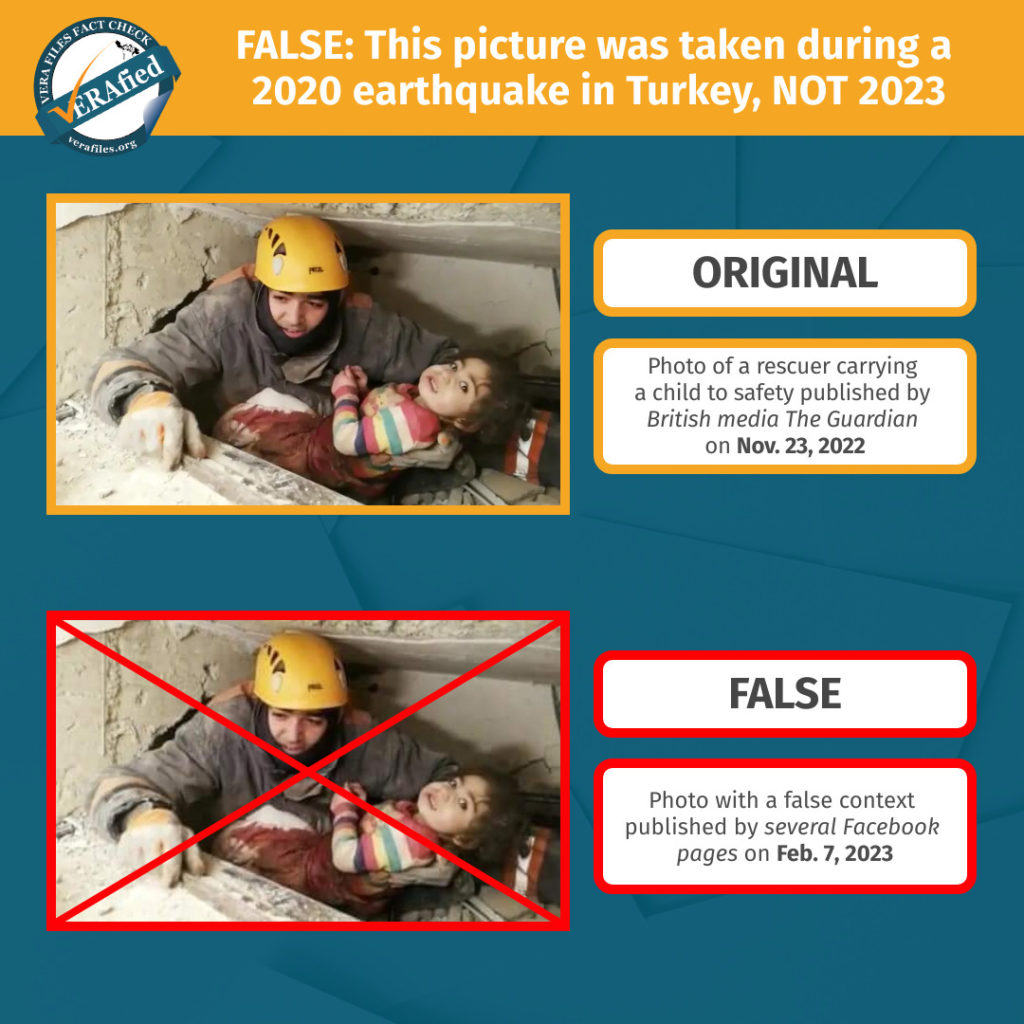 These images made the rounds online after parts of Turkey and Syria were hit by a catastrophic  7.8 magnitude quake and dozens of powerful aftershocks.
The Philippine Embassy in Turkey is currently contacting 248 Filipinos possibly affected by the tragedy.
FB pages Information on Dagupan (created on July 1, 2019), Hirit Ph (Oct. 15, 2018), Tamaraw News (March 18, 2016) and Mga Balitang Pilipinas (May 7, 2021) published the photos, garnering over 2,500 reactions, 60 comments and 260 shares.
Have you seen any dubious claims, photos, memes, or online posts that you want us to verify? Fill out this reader request form.
(Editor's Note: VERA Files has partnered with Facebook to fight the spread of disinformation. Find out more about this partnership and our methodology.)