A video, allegedly showing a tsunami caused by the earthquake in Turkey and published by an Indian news organization, is spreading among Filipinos on Facebook (FB). It is not true.
On Feb. 6, Indian news network Wion News uploaded the video that has gained over 958,000 recent views, according to FB. It bore the caption: "Scenes from Adana, Turkiye after massive earthquake strikes the region."
The video shows an aerial view of massive waves washing ashore forcefully while people on the beach are screaming and running away from the water. The scene actually took place in South Africa more than five years ago.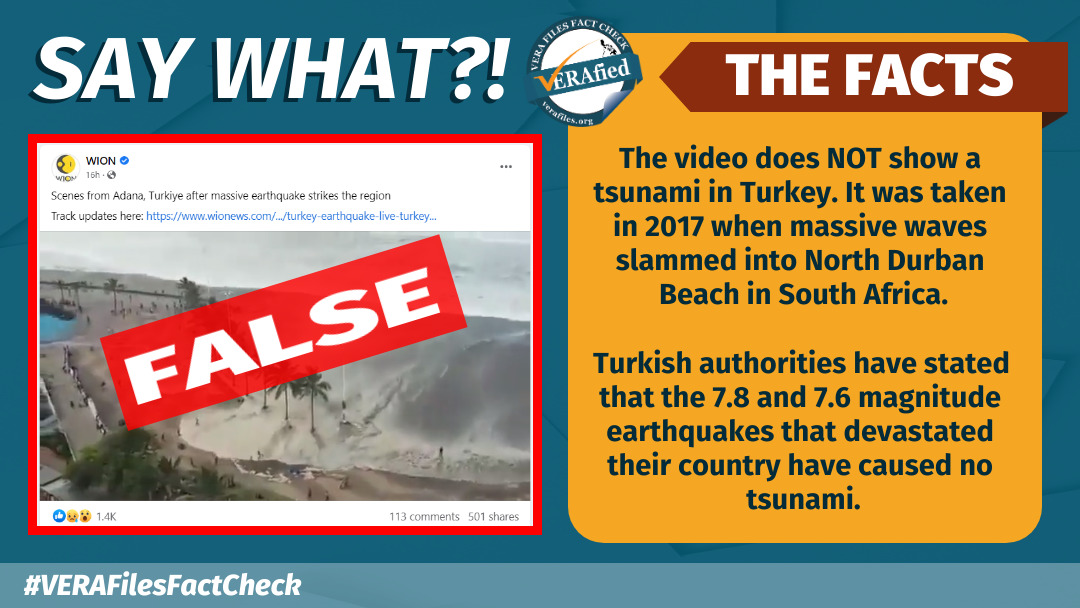 A reverse image search reveals the video was taken in North Durban Beach in 2017. Local media reports state that the tsunami-like waves flooding the barriers of the beach were due to a "tropical disturbance" in the ocean.
Turkey's Ministry of Interior Disaster and Emergency Management Authority said in a Feb. 6 tweet that the earthquakes caused no tsunami danger on its Eastern Mediterranean coast.
In the video's comment section, netizens criticized the news organization for publishing the wrong video. "This is Durban, South Africa. Come on, Wion. Your ability to relate breaking news and your reputation as a legitimate news page [are] seriously in question," one user said.
This erroneous video emerged on the day 7.8 and 7.6 magnitude earthquakes and dozens of strong aftershocks devastated Turkey, Syria and neighboring countries, resulting in at least 7,000 deaths. The death toll is expected to rise as rescue efforts continue.
The video published by the FB page Wion (created on March 28, 2016) has garnered more than 1,400 reactions, 110 comments, 500 shares, and 52,000 views. At least one Filipino FB user reuploaded the video.
Have you seen any dubious claims, photos, memes, or online posts that you want us to verify? Fill out this reader request form.
(Editor's Note: VERA Files has partnered with Facebook to fight the spread of disinformation. Find out more about this partnership and our methodology.)