A compilation video supposedly showing the devastation caused by the magnitude 7.8 earthquake that hit Turkey and Syria on Feb. 6 included unrelated footage. A video of the collapse of an old Miami condominium is being passed off as part of the damage.
Posted on Facebook the same day, it bore the caption:
"Strong 7.8 magnitude Earthquake hits Turkey and Syria. #PrayForTurkey #PrayForSyria #earthquake"
The first five clips were actual footage from cities and provinces in Turkey:
The fifth clip also shows the damage in İskenderun.
The final video, starting at the 2:03-minute mark, was not taken in Turkey or Syria. It is a security footage of the June 24, 2021 partial collapse of the Champlain Towers South condo building in Miami, killing 98 people.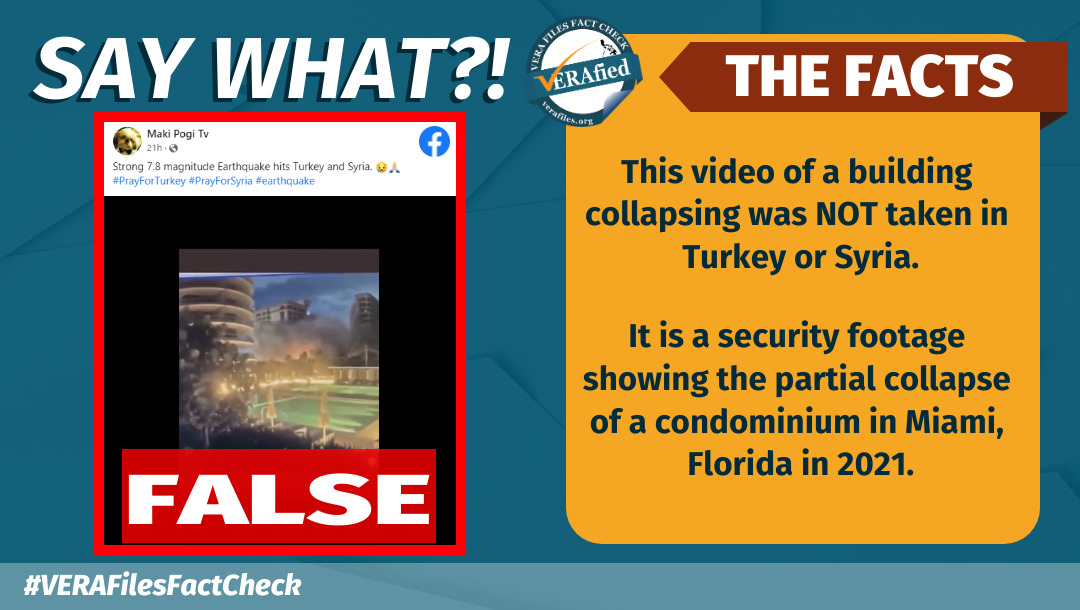 The United States Geological Survey recorded a magnitude 7.8 earthquake striking central Turkey near the Turkey-Syria border early in the morning of Feb. 6. A series of aftershocks followed, one recorded at magnitude 7.5, killing at least 15,000 as of the latest reports as rescue efforts continue.
The Department of Foreign Affairs revealed on Feb. 7 that 60 Filipinos in Syria and 248 in Turkey were affected, but none injured.
President Ferdinand "Bongbong" Marcos, in a tweet, said the "Philippines is ready to help in whatever way it can in responding to this disaster."
The compilation video posted by the FB page Maki Pogi Tv (created on June 4, 2021, as MAHAL NA MAHAL KITA. KAHIT SA FACEBOOK LANG KITA NAKILALA. <3<3<3) has 194 reactions, 12 comments, 159 shares and 6,700 views as of writing. Pages based in other countries such as Turkey TV (April 21, 2022) and কিয়দ্বাংশবিন্যাস – Kiodangshobinna (Aug. 18, 2022) also reposted the video, collectively garnering additional 1,225 reactions, 196 comments, 512 shares, and 18,400 views.
Have you seen any dubious claims, photos, memes, or online posts that you want us to verify? Fill out this reader request form.
(Editor's Note: VERA Files has partnered with Facebook to fight the spread of disinformation. Find out more about this partnership and our methodology.)