A YouTube video falsely claims that President Ferdinand "Bongbong" Marcos and Rep. Rodante Marcoleta had Sen. Raffy Tulfo removed from the Senate.
Posted on Feb. 4, the video carried the headline:
"KAPAPASOK LANG! MATINDI TO! PRES MARCOS MARCOLETA GINULANTANG ang LAHAT RAFFY TULFO TANGAL na SENAD0 (JUST IN! THIS IS EXTREME! PRES MARCOS MARCOLETA SHOCKED EVERYONE RAFFY TULFO NOW REMOVED FROM SENATE)."
The thumbnail featured edited images of Marcos and Marcoleta, with the latter made to look like he is holding a document, juxtaposed with a photo of Tulfo. It also bore the text:
"PINATALSIK SA SENADO. ITO ANG BANGUNGOT SA BUHAY NI TULFO. SUBRANG INGAY MO! (EXPELLED FROM THE SENATE. THIS IS THE NIGHTMARE IN TULFO'S LIFE. YOU ARE SO ANNOYING)!"
This is not true. Marcos and Marcoleta do not have the power to expel Tulfo, or any senator.
Section 16 (3), Article VI of the 1987 constitution states that senators can only be expelled "with the concurrence of two-thirds of all its Members." There is no motion in the Senate seeking Tulfo's removal.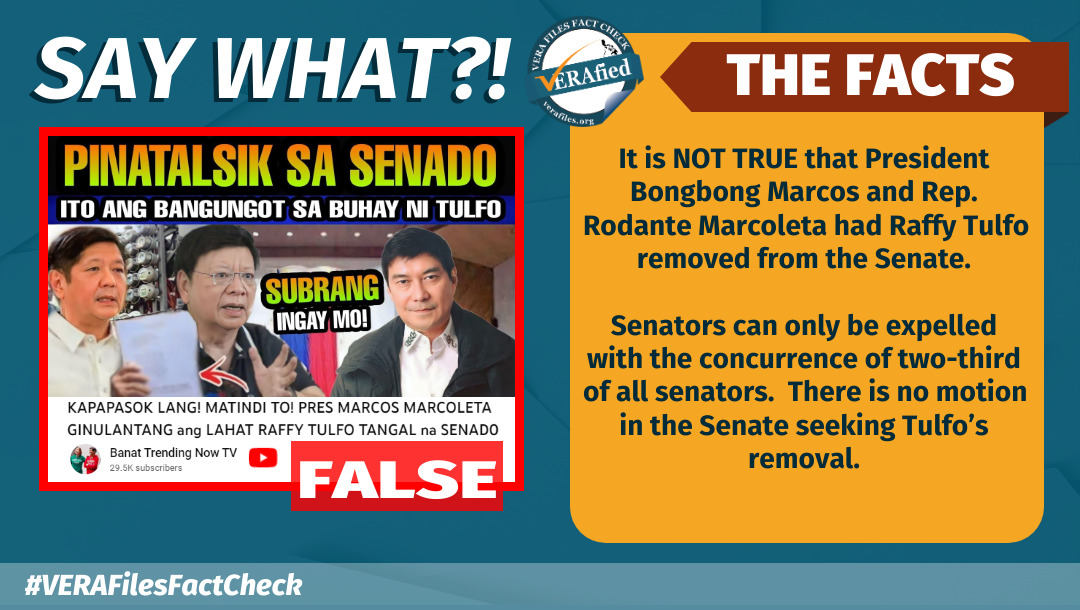 The video only played audio clips of another vlogger's comments on Marcoleta's openness to having a "healthy discussion" with Tulfo and other unrelated issues.
The vlogger was referring to Marcoleta's statement in a Dec.9 interview with the Net25 program Sa Ganang Mamamayan. 
Marcoleta alleged that Tulfo, in an event, said that he fought to allocate a 500-million budget for the Department of Information and Communications Technology (DICT) but the Lower House scrapped it.
Marcoleta refuted this and asked the senator to discuss his allegations against the House. The partylist representative added that he will challenge Tulfo to resign if he fails to prove the supposed claims.
In November, Tulfo proposed to allocate a P400-million intelligence fund for the DICT to strengthen the country's cybersecurity. The department was given P9.8 billion for its programs and projects for 2023.
Marcoleta's statements two months ago resurfaced on several YouTube channels this week..
Previously fact-checked YouTube channel Banat Trending Now TV (created on March 22, 2022) posted the video that has 4,002 views as of writing.
Have you seen any dubious claims, photos, memes, or online posts that you want us to verify? Fill out this reader request form.
(Editor's Note: VERA Files has partnered with Facebook to fight the spread of disinformation. Find out more about this partnership and our methodology.)