In her bid to promote ecotourism as the alternative to mining, Environment Secretary Gina Lopez cites as a success story Ugong Rock Adventures.
Ugong Rock is a 75-feet limestone rock formation, a site which offers spelunking and zipline activities in Puerto Princesa City in Palawan.
In press briefings and video messages, Lopez has branded it as her personal favorite among the ecotourism projects of ABS-CBN Lingkod Kapamilya Foundation Inc. (ALKFI), where she was once managing director.
The reason: Ugong Rock's earnings have spiked to 29 million in a span of six years, and she is eyeing to replicate it in heavily mined areas like Dinagat Islands and Surigao to provide jobs and in the long run, "kickass" (sic) the economy.
STATEMENT
She said in a video message posted on her official Facebook account on March 10:
"So Ugong Rock. Let me tell you why I really like them. We started in 2008 and they were generating a revenue of 7,000 pesos. Yeah? That went up to a 133,000, 611 the next year, 7 million, next year 12 million, next year 22 million, oh my God, next year 29 million. Unbelievable."
She showed more precise figures on the income of Ugong Rock during a Feb. 9 press briefing at Malacanang. In her Facebook message, Lopez said the figures represented "revenue."
(Sources: What's on Secretary Gina Lopez's mind? March 10, 2017; Watch from 02:49 to 03:16; Press Briefing by Presidential Spokesperson Ernesto Abella and DENR Secretary Gina Lopez, Feb. 9, 2017, watch from 04:29 to 05:44)
FACT
Lopez's numbers on Ugong Rock's income don't match both government statistics and the records of ALKFI.
Statistics furnished to VERA Files by the Puerto Princesa City Tourism Department show much lower annual gross income of Ugong Rock than what Lopez has claimed repeatedly.
The city tourism's numbers are based either on the monthly reports of the community-based operators of Ugong Rock or ALKFI's submissions, whichever is available.
Even gross income statements based on ALKFI's annual reports from 2008 to 2014 do not coincide with Lopez's numbers, though by a smaller margin.
Based on ABS-CBN's financial reports, revenue or gross income refers to income generated before taxes and other expenses. Net income, on the other hand, is the tiny fraction of the revenue that is left after taxes and other expenses have been deducted.
The disparity in figures can be seen below.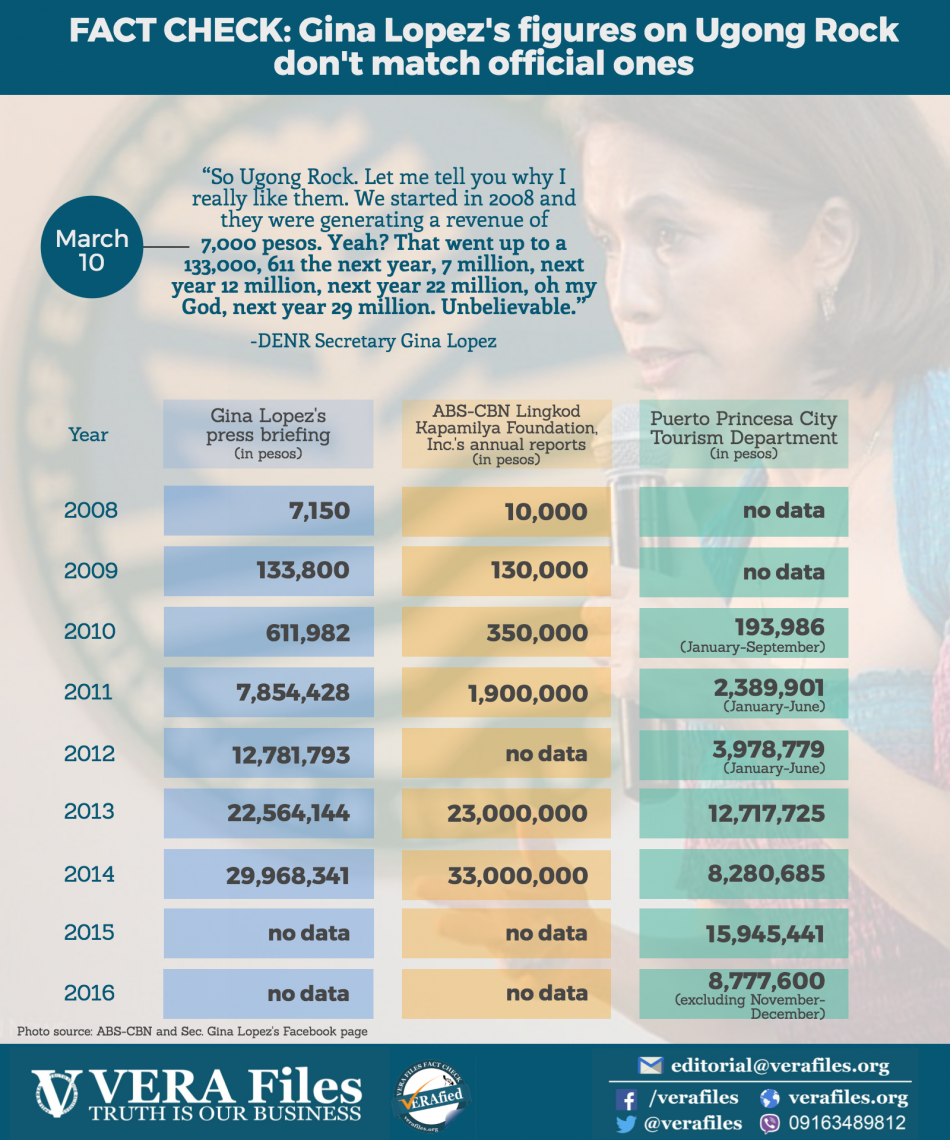 The city tourism department provided only partial figures for years 2010 through 2012. Earlier records, meanwhile, could not be retrieved by the tourism operations assistant who was employed only in 2013.
Considered one of Puerto Princesa's community-based sustainable tourism sites (CBSTs), Ugong Rock is funded by the government and maintained by locals.
It was established in 2008, the same year Lopez, representing ABS-CBN Foundation Inc., inked a memorandum of agreement with the local government establishing the "BayaniJuan" advocacy, a program to help the underprivileged.
At the time, spelunking and zipline activities were the only sources of income. The community later expanded the business by adding a restaurant, massage spa, farm and other sources of livelihood such as sari-sari store, micro lending, rice trading, food booth, photography, and travel agency.
In 2013, Puerto Princesa City passed Ordinance No. 546, which supplied the guidelines on CBSTs. Under Section 6, every CBST site is mandated to submit monthly reports of actual number of visitor arrivals, guests or clients serviced, monthly income on or before every fifth day of the month.
ALKFI complies with the monthly reporting requirement, but reports only earnings from caving or spelunking activities, according to the tourism operations assistant. Earnings from other income sources are not reflected in the reports, which could explain why the city records a much smaller income than what Lopez claims.
In addition, the tourism operations assistant resorts to doing the math when ALKFI's or the Ugong Rock community's reports include only the number of guests without the corresponding monthly income.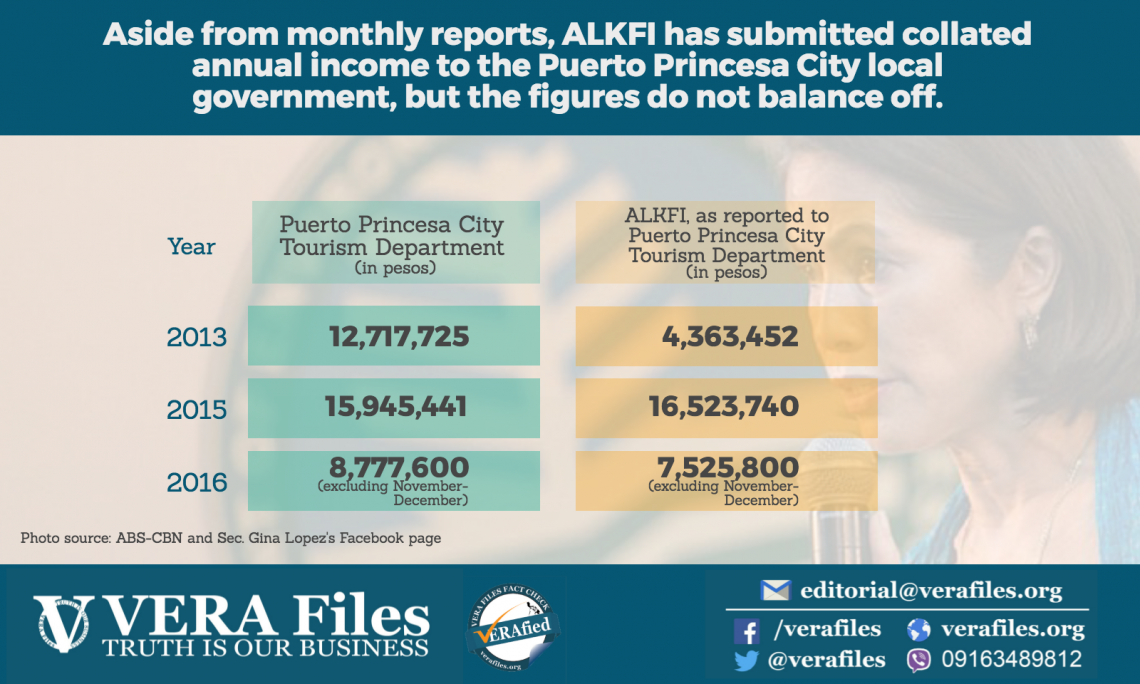 Sources:
ABS-CBN Annual Report 2008-2011 (page 27)
ABS-CBN Annual Report 2013 (page 17)
ABS-CBN Annual Report 2014 (page 21)
ABS-CBN Lingkod Kapamilya Foundation Inc. — About page