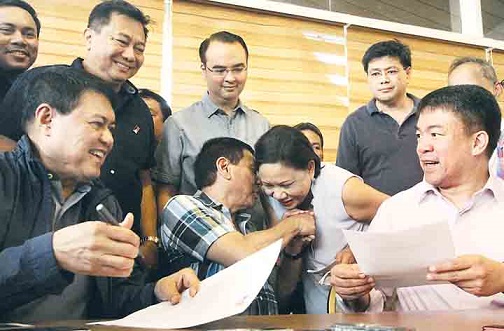 By ELLEN T. TORDESILLAS
AFTER Congress, acting as National Board of Canvassers, declared last Friday Rodrigo Duterte of PDP-Laban as winner in the presidential contest and Leni Robredo of the Liberal Party  for the  vice-presidential race in the May 9 elections, Sen. Alan Peter Cayetano, Duterte's running mate, told media that a cabinet position awaits Robredo.
"Mayor Duterte is reviewing every day names and positions [in the Cabinet], and I think from Day 1 he has been thinking about what job can be given the Vice President-elect," Cayetano said adding that the position to be given to Robredo would be "tailored to what we heard from her during the campaign that she would like to handle."
Robredo had said during the campaign that she would be interested in a cabinet position that involved lifting the people from poverty.
The following day, in a press conference with Cayetano beside him (also in attendance was Peace Process Secretary Jesus Dureza and senator-elect Manny Pacquiao), Duterte said Robredo "never entered my mind," in the forming of his cabinet.
"No, I don't even know her! ..Why should I talk to her? I said I've not considered anything for her," he said.
He said right now the names he has in mind are that of friends who helped him in his campaign. "I'm  more worried about where I would place the friends na nagkautang ako ng loob," he explained.
(In the presscon Tuesday after his meeting with those he has named to be part of his cabinet, he said he is not getting Robredo to be part of his cabinet because he doesn't want to hurt Ferdinand "Bongbong" Marcos Jr, who lost in the vice-presidential race.
(Duterte said, the Marcoses supported him and he won in Ilocos Norte while he lost miserably in Bicol, Robredo's turf. He also revealed that his father was a member of the cabinet of  the late Ferdinand Marcos.)
In the March 29 presscon, while Duterte was denying what Cayetano said the day before, there was no hiding the embarrassment of the senator, who looked like a chastised schoolboy.
Where did Cayetano get the idea of Robredo's appointment in the cabinet?
A review of Cayetano's statement showed he based it on Duterte's "earlier statements" saying that " she's welcome and that he will give a job to everyone who wants to work with him."
It will be recalled that during the campaign, Duterte said if Robredo would not win he would make her "assistant president…..because she is beautiful"
This  incident about Cayetano's false announcement of Robredo's place in the  Duterte cabinet leads one to ask, "How  "in" is Cayetano in  the Duterte power circle?
Cayetano will be going back to the Senate as his legislative term is up to 2019. Duterte said he wants Cayetano to head the Department of Foreign Affairs and that his nominee Perfecto Yasay, Jr. will hold the position in an acting capacity, maybe until the one-year ban for losing candidates expires.
But is that the cabinet position that Cayetano desires, considering that he has higher political ambitions?
Also, sources said it's not true that Cayetano had something to do with the appointment of Mark Villar as secretary of the Department of Public Works and Highways. It's the support of Manny Villar of Duterte during the campaign that got Mark the position.
A source said the Villars went for Duterte-Marcos in the last election.
Three members of the Nacionalista Party – Ferdinand Marcos, Jr, who was number two in the VP race, Cayetano (third) and Antonio Trillanes IV  (fourth)- who ran for vice –president in the last election.
A keen political observer suggested to us  to take a close look at the photos and video  of the signing of the NP-PDP alliance a few days after elections in  Davao.He said, "Take note of Cayetano's  facial expression."
Let me take a look.