By ELLEN T. TORDESILLAS
TO control the damage wrought by President-elect Rodrigo Duterte's verbal assault on media during his press conference Tuesday  justifying the extra-judicial killing of journalists, Peter Laviña, spokesman for Duterte's transition team said media, his principal's remarks were "taken out of context, misinterpreted, and misunderstood."
That is adding insult to injury. That is like saying media did not report accurately Duterte's statements.
Same thing with Duterte's spokesman and press secretary Salvador Panelo's statement that GMA-7 reporter Mariz Umali "should be complimented" for the president-elect wolf-whistling or cat-calling at her when she asked a question.

Panelo said:"Mayor Duterte is a very kind, playful individual. Pag siya'y pumito, ibig sabihin he's fond of you, ibig sabihin mahal ka niya, kaya ka binibiro. Hindi po isang pambabastos yun. On the contrary, the receiver of that should be complimented."
Matutuwa dahil binastos ka?
Umali's husband Raffy Tima, also a GMA-7 reporter is not amused and definitely he does not consider it a compliment
In his Facebook post, Tima said, "Catcalling my wife is wrong in so many levels. I expected that from a Mayor Duterte. I know his reputation well enough not to be shocked by it, but that does not make it right. For someone who espouses leadership by example, catcalling anyone in a press conference with all cameras trained on him defies logic. Then again, that's Mayor Duterte."
But what hurt Tima more was the reaction of people in the room: "What appalled me even more was how some people in the room reacted. Most laughed, others made teasing noise and basically urged the mayor to dish some more! And he did. I do hope none of them were journalists because if they were, shame on them."
Tima further said, "When you see or hear anyone say something wrong you do not encourage it, you do the opposite. Or in that particular instance at least, they should have kept quiet and in their silence gave the message that what the mayor did was wrong. Some jokes are funny and should be laughed at. But disrespecting women is definitely not one of them."
Definitely.
In fact, Duterte's very own city's  Women Development Code as embodied in Davao City's  Ordinance No. 5004 and Executive Order No. 24 considers  "Cursing, whistling, or calling a woman in public with words having dirty connotations or implications which tend to ridicule, humiliate, or embarrass the woman such as 'puta (prostitute),' 'boring,' 'peste (pest),' etc" a form of sexual harassment.
Media groups have expressed alarm over Duterte's statements saying most of the journalists killed were corrupt. He said a mouthful to amplify his stand that "You won't be killed if you don't do anything wrong… If you are a journalist who is doing what is right, nobody will touch you, especially if (what you write) us true."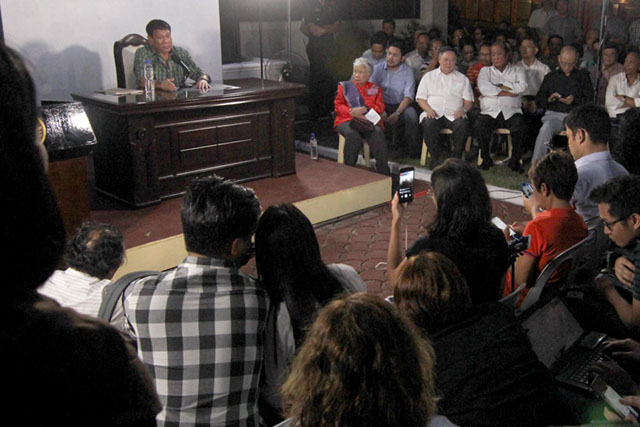 Duterte's statement is not supported by the cases of slain journalists in the Philippines (176 since 1986). The National Union of Journalists of the Philippines cites "the murders of Edgar Damalerio of Pagadian City, Marlene Esperat of Tacurong City, and Gerry Ortega of Puerto Princesa City, and, of course, the most heinous of all, the November 23, 2009 Ampatuan massacre, of which 32 of the 58 victims were media workers, making it not only the worst case of electoral violence in recent Philippine history but the single deadliest attack on journalists ever."
And even if some of those journalists were corrupt, killing them is not justifiable. There are many ways to fight media corruption – report them to their editors and publisher. File cases against them.
Reporters Without Borders (RSF), the Paris-based organization that promotes and defends the freedom to be informed and to inform others throughout the world, is appalled by the Philippine president-elect's statements. "Not only are these statements unworthy of a president but they could also be regarded as violations of the law on defamation or even the law on inciting hatred and violence," said Benjamin Ismaïl, the head of RSF's Asia-Pacific desk.
RSF urged Philippine media to demand an apology from Duterte and "to boycott the Duterte administration's news conferences until the media community gets a public apology."
Duterte went ballistic on RSF's call to boycott his presscpn. In a two-hour long presscon Thursday night, Duterte said dared media to boyrcott him.""Putang ina sinabi ko mga ugok, putang ina I can lose the presidency, my life, my honor. Just don't fuck with me. Huwag niyo na akong takutin. Boycott, boycott, leche kayo, edi mag-boycott kayo!"
I don't agree to a media boycott. That would be reneging on your responsibility to inform the public of happenings that affect them.
This is not the first time that a Philippine president has insulted media. In 2014, in his visit to Brussels, the outgoing president, Benigno Aquino III , in defending his administration's disappointing human rights record said, "For instance, in the media killings, some who used to work in media died. Did they die because they were investigative journalists? Were they exercising their profession in a responsible manner, living up to journalistic ethics? Or did they perish because of other reasons?"
During Gloria Arroyo's time, it was her husband, Mike Arroyo, who mouthed the same lines.
Whether the journalist's killing was work related or not, that is murder. Murder is a crime.
A president is supposed to fight crime, not encourage it.