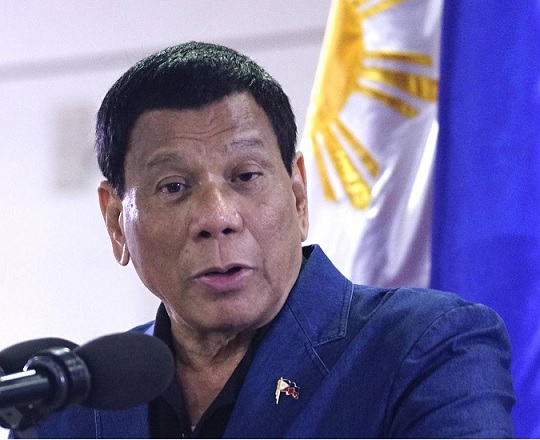 Pres. Duterte threatens to arrest ICC prosecutor Fatou Bensouda in his speech at the Davao International Airport upon his arrival from China April 16. Malacañang photo by Arman Baylon.
President Duterte's incessant rants against Prosecutor Fatou Bensouda of the International Criminal Court betray how deeply the communication submitted by lawyer Jude Sabio, Sen. Antonio Trillanes IV and Rep. Gary Alejano (Magdalo Partylist) has stung him.
He has reasons to worry about the ICC examination which Bensouda announced last February.
His situation now is like a person having stepped on a quicksand. He is panicking. The more he moves to get out, the deeper he gets stuck.
Last Friday, upon his arrival from Hongkong and Boao, China, he resumed his tirade against Bensouda without being asked about her nor about the ICC. The question was about Chief Justice Maria Lourdes Sereno.
The question was: "Sir, my last question, sir. Before going to China, you declared that Chief Justice Sereno is now your enemy and then she answered back. May I read what she said, sir? Sabi po niya, 'You have heard the pronouncement of the President. I was just asking a question that actually needed to be answered: why the Solicitor General was devoting resources of the government to oust a sitting Justice through a quo warranto petition? You heard his answer: His answer betrays the entire story.'"
He not only went ballistic against Sereno. He also vowed to erase Constitutional separation of the three branches of government saying he will direct his partymates in Congress to impeach the lady chief justice.
He went on with his ranting until it reached the ICC
and his previous argument about non-publication of the treaty which has been
debunked by law experts.
"Sinong pangalan nito si Fatou, you do not have jurisdiction even to conduct preliminary investigation. There is no basis at all because we were never —the Philippines was not ever, ever a member of that ICC for the reason that there was no publication. 'Pag walang publication, tapos mag -diretso ka lang.At tsaka diyan sa treaty na 'yan, sabi ni Professor Roque at si Professor Panelo, you know, this guy is very smart. Sa kanila, may double jeopardy. That if you are acquitted, they have the right to an appeal.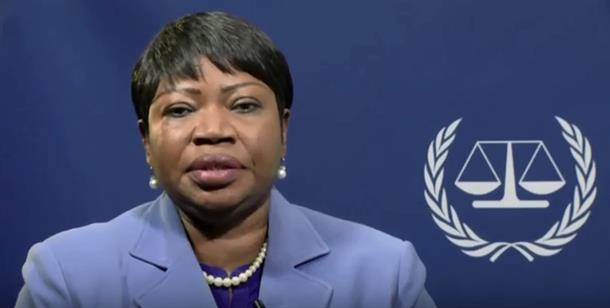 ICC Prosecutor Fatou Bensouda
"In this jurisdiction sa ating Constitution, double jeopardy is prohibited. 'Pag naka inosente ka, inosente ka. And government cannot refile the case forever because double jeopardy is never allowed.
"Nandiyan sa treaty sabi ni Panelo pati ni Roque, I did check, both of them, nandiyan, which is a violation of our Constitution. The publication is a violation of our Constitution because of the Tuvera versus Tañada. There has to be a publication. If there is no publication, it is as if there is no law at all. "
Then he issued a warning to Bensouda: "Kaya ikaw Ms. Fatou, 'wag kang pumunta dito because I will bar you. Not because I am afraid of you, I said, because you will never have jurisdiction over my person, not in a million years.
"But what is your authority now? If we are not members of the treaty, why are you f****** in this country? You cannot exercise any proceedings here without basis. That is illegal and I will arrest you. At hindi ako matatakot, I said, you can never call me to the International Criminal Court simply because your position is flawed. It cannot be corrected anymore. So stop your nonsense. "
International law expert Ruben Carranza, reparations program director at the International Center for Transitional Justice posted in Facebook Art 70 of the ICC Treaty: "The Court shall have jurisdiction over the following offences: (d) intimidating an official of the Court for the purpose of forcing the official not to perform her duties; (e) Retaliating against an official on account of duties performed."
Duterte is actually making Bensouda's job easy.