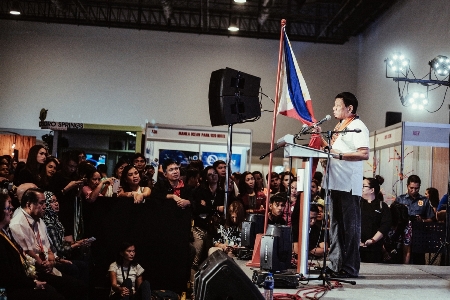 By ELLEN T. TORDESILLAS 
DAVAO City Mayor Rodrigo Duterte's proposed solution to the South China territorial conflict would make thrilling action-packed movie scene.
In a speech before travel executives at the MOA-SMX last Friday (and in all his rally speches) Duterte said, "I will ask the Navy to bring me to the nearest point in South China Sea that is tolerable to them and I will ride a jet ski. I'll carry a flag and when I reach Spratlys, I will erect the Filipino flag. I will tell them, suntukan o barilan."
When Duterte said this, he held a Philippine flag beside him. In the evening rally at Filinvest in Muntinlupa, he put in more drama: he kissed the flag.
Imagine the president of a country jet-skiing to  the  Chinese occupied Subi Reef, the nearest of the contested Spratly features  to the Philippine occupied Pag-asa island and being met by  armed Chinese soldiers. That would make a great movie.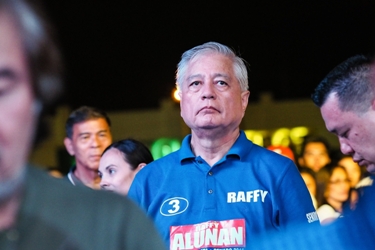 Former Interior Secretary Rafael Alunan, who is critical of China's activities in the South China Sea and is a senatorial candidate under Duterte's ticket, said he is willing to accompany if and when Duterte  makes that Spratlys flag-installing trip.
There was no chance to ask Duterte how he is going to make sure that the flag that he has planted in a Spratly rock stays there.
It will be recalled that many years ago, former Ilocos Norte Rep. Roque Ablan had also done Philippine flag-planting in Scarborougn or Panatag shoal, 124 nautical miles off Zambales, which is also being claimed by China. The Chinese had removed the flag and they are now in control of the area the last four years. Filipino fishermen complain that the two Chinese Coast Guard ships that secure the area block their access to the fishing grounds near the shoal and the Aquino government couldn't do anything except complain and protest.
But even while Duterte said he will challenge the Chinese to "suntukan o barilan" (much applauded by the adoring audience), he also said, " I will not go to war because we will not win. It will be a massacre. I will not waste the lives of Filipino soldiers and policemen. Ano ako gago, Patay lahat yan."
Whatever the decision of the United Nations Arbitral Court on the suit filed by the Philippines against China's all-encompassing nine-dash line, Duterte said he plans to talk with China even on a bilateral basis, a diplomatic strategy that the Aquino government shunned limiting itself to multilateral talks.
(In Spratlys, aside from the Philippines and China, Brunei, Malaysia, Vietnam and Taiwan are also claiming partly South China Sea features. Scarborough shoal, on the other hand, is being claimed only by the Philippines and China.)
Duterte calls the issue of jurisdiction, who has the legal power or authority over an area which is contentious in territorial disputes, "shit."
"You think that I'd waste the lives of our Filipino soldiers for the shitting issue of jurisdiction?" he asked.
He said he is open to a joint exploration with China of contested areas in the South China Sea ( "If you want joint exploration, kung wala akong pera pang-equipment ko, just give me my part") if China would build railroad infrastructure all over the Philippines.
He said he will keep quiet about China's activities if they will build railroad infrastructure all over the country: "Build me a train around Mindanao, build me a train from Manila to Bicol,  build me a train going to Batangas, for the six years that I'm president, I'll shutup."
China has reclaimed some 60 hectares in the disputed Spratlys, converting rocks into islands since last year sand declaring sovereignty over almost all of the South China Sea. The Philippine Constitution, on the other hand, states that "The exploration, development and utilization of natural resources shall be under the full control and supervision of the State."
The government of Gloria Arroyo entered into a Joint Marine and Seismic Undertaking (JMSU) with China and Vietnam in the disputed areas of Spratlys (most within the Philippine Exclusive Economiuc Zone) but its constitutionality has beed questioned before the Supreme Court by Rep. Neri Colmenares, who is now running for senator.