Duterte allows Xi to take lead on South China Sea issue from VERA Files on Vimeo.
By CHARMAINE DEOGRACIAS                                    
President Rodrigo Duterte will not initiate and will instead let Chinese President Xi Jinping to take the lead on whether the ruling of the Permanent Court of Arbitration will be discussed in their meeting today.
In a press conference in Wednesday night with Beijing-based media, on the eve of his meeting with Xi,  Duterte said, "As a friend, and I would say this now, if he (Xi) mentions it in passing I will just say, Mr. President I don't want to make hardline position. I don't want to ask you to do it now because there will be a time that we shall be doing it. But I have to wait for your President to mention it in passing for me to respond."
Duterte said the talking points will be broad enough to accommodate all issues but out of courtesy, the "oriental way" he would wait for the right time. He said the general outline of the agenda was reached in the preliminary talks between Philippines Foreign Secretary and his Chinese counterpart.
"It will not be in keeping with the courtesy and goodwill if I will be the one to open it because after all I didn't come here to agree to talk about the China Sea. If you ask if it will take a back seat, of course it will take a back seat, it is not the time," Duterte said when asked if he will request China to respect international law, particularly the arbitration ruling.
He said that when the time comes that they are ready to talk about the arbitration ruling he knows they will be on different sides, but for now he just wants to enjoy the camaraderie out of his highest respect for the Chinese president and premiere and his highest love for the Chinese people.
VERA Files reported Wednesday, quoting a Malacañang source that Duterte "will take up the South China Sea issue, 'if raised' in his four-eyes meeting with Xi on Oct. 20. He will not initiate to raise the issue of the arbitral ruling but will respond if mentioned. However, his key message on the matter of Scraborough shoal will be asserting the fishing rights of Filipinos there, but while this is his wish 'he will listen and will not make any imposition on the Chinese side.'"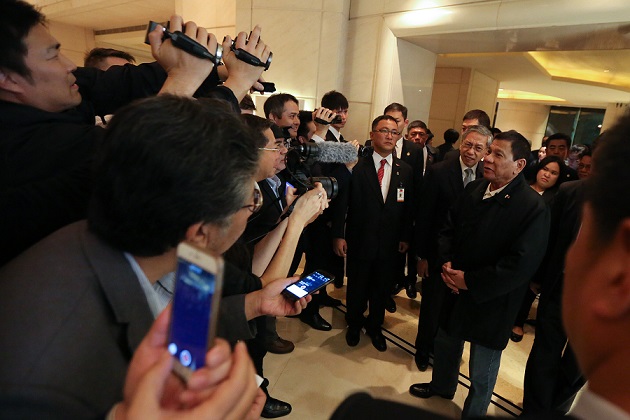 Duterte arrived in Beijing Tuesday night for a three-day visit that is seen to rekindle Philippines-China relations that was severely strained by the filing by the previous government of  a  suit against China before the Permanent Court of Arbitration in The Hague over the latter's nine-dash line map,  occupation of  some features in the Spratlys and blocking of access of Filipino fishermen in Scarborough Shoal.
The Arbitral Court  invalidated China's nine-dash line map and declared Scarborough Shoal a traditioinal fishing ground for Filipino, Chinese, Vietnamese fishermen as well as those from other countries.