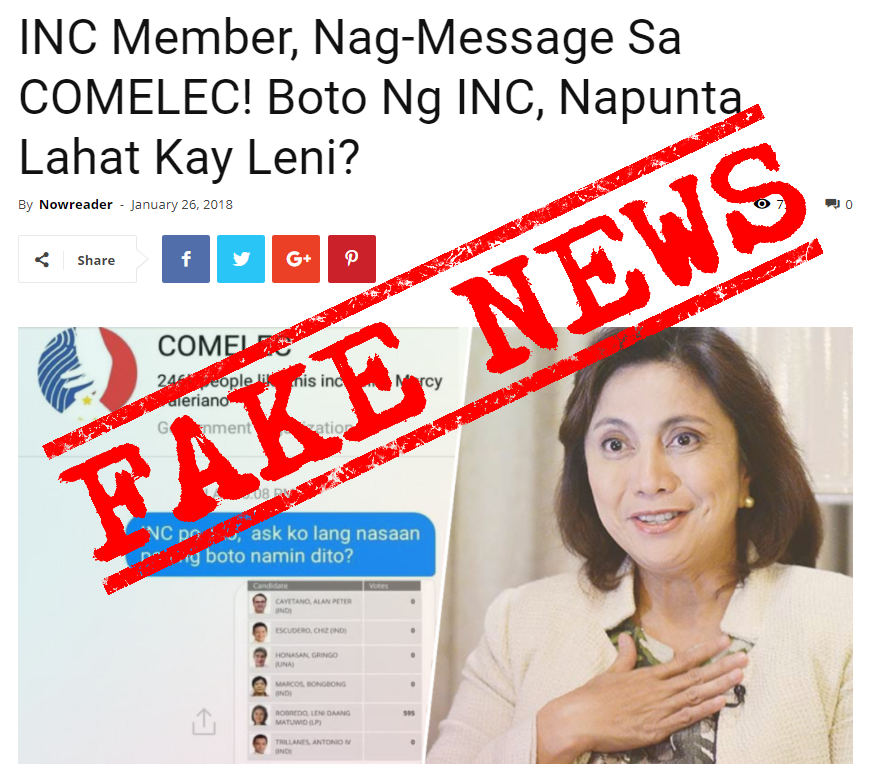 Website nowreader.com posted a fake conversation between the Commission on Elections and a member of the Iglesia Ni Cristo about poll fraud allegations.
The Jan. 26, 2018 story showed screenshots of a certain INC member "Ponce" asking the poll body why Ferdinand "Bongbong" Marcos Jr. — who was reportedly backed by his church in the 2016 election — received no votes at the Bohenange Elementary School polling center in Lamitan, Basilan. The Comelec even supposedly answered: "Are you sure there were INC (members) there?"
Comelec spokesperson James Jimenez told VERA Files the claims are untrue. "There was no such exchange. The statement that's attributed to the Comelec was never made by any Comelec social media operator," he said.
The screen grabs also appear to have been photoshopped.
Election results from the ABS-CBN election page show Marcos got 5,425 votes in Lamitan City, while 20,382 votes went to then candidate and now Vice President Leni Robredo.
The January story was reposted by several social media pages on April 6, the week the vote recount for the vice presidential post began. Marcos filed an election protest in June 2016 contesting Robredo's win.
The biggest traffic generators on social media: Duterte Kami, Unite Pinas and Marcos Loyalist.
Editor's Note: VERA Files has partnered with Facebook to fight the spread of disinformation.