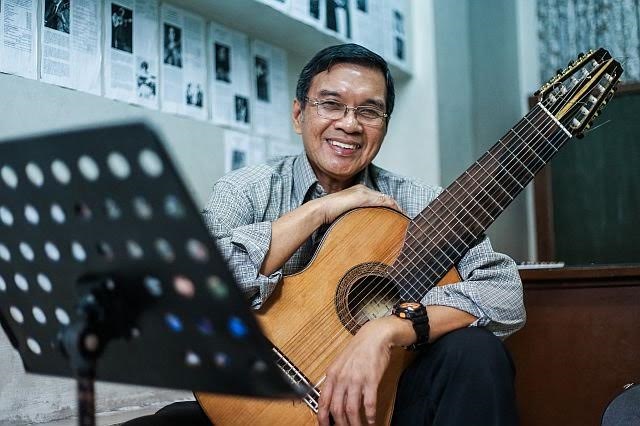 Prof. Jose Valdez. A long overdue tribute on July 20.
Prof. Jose Valdez has taught and lectured on the rudiments of classical guitar for 45 years, he has enriched guitar studies by introducing subjects such as"Applied Music with an 8 Level Course," "Progressive Studies in Philippine Guitar Music," "The Art of Transcribing and Arranging for the Guitar" and "Guitar History and Literature," among others.
These pioneering efforts resulted in the recognition of classical guitar studies by the Commission of Higher Education (CHED) as a major and degree instrument.
To this day, he is still teaching classical guitar in several schools and after decades.
The CCP Encyclopedia of Music and Arts has recognized him as a virtuoso and passionate exponent of classical guitar.
But the bigger tribute happens on July 20 at the Power Mac Center Spotlight in Makati City when classical guitarists in Metro Manila pay Prof. Valdez a special tribute as classical guitar maestro.
The event will also launch the Guitar Scholarship Fund for classical guitarists with performances by Benchito Cariño, Monching Carpio, Adrik Cristobal, Perf de Castro, Edgardo de Dios, Kriss Eusebio Gonzalo, Noel Misa, Phil Valdez, Kasilag Guitar Quartet, Metropolitan Guitar Ensemble and the St. Scholastica's College Guitar Quartet.
Classical guitarist Ramoncito Carpio — prizewinner of the Asia International Guitar Competition in Thailand, the Singapore International Guitar Competition and the Taiwan International Guitar Competition –said there is no arguing that Prof. Valdez is one of the respected figures in classical guitar and that the tribute has long been overdue. "His guitar arrangements of traditional and popular Philippine music as well as his own compositions, contributed greatly in expanding the Philippine guitar repertoire. In his long teaching career, Sir Joe has trained many students who have become competent teachers and performers. He is also instrumental in the formation of the Guitar Friends, a group of guitar aficionados consisting of business people and professionals that support guitar activities and festivals. The Guitar Friends also sponsors guitarists who join international guitar competitions."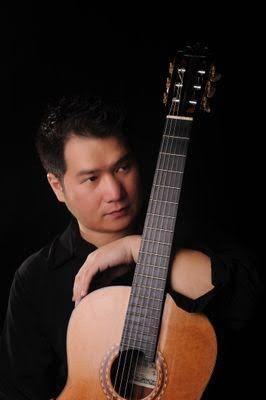 Classical guitarist Ramoncito Carpio. The maestro was supportive of young musicians and has enriched repertoire for classical guitar.

Carpio admits promoting classical music is not an easy task but Valdez persevered even with all the difficulties. "Let's face it, pursuing a career in classical music is not a very rewarding endeavor in this part of Asia. But in spite of the difficult challenges, Prof. Valdez remained committed and of course he was rewarded by a bigger audience for classical guitar and with many of his students winning local and international competitions. He also taught me that even with all the accolade and recognition, we should stay humble."
Indeed, the guitar maestro was supportive of him when he was just starting. "Whenever I would join competitions abroad, Prof. Valdez would help me raise funds and schedule tune-up concerts in different music schools. He also made me realize the importance of including Philippine music in our repertoire. I know how important it is to study the works of Bach, Tarrega and Rodrigo but it is also important that we pay attention to our own music.He has been championing Philippine guitar music in his whole career and his dedication has inspired me to do the same."
Valdez has also done extensive research from the Philippine music archives and has published 31 books on classical guitar.
Presently, Valdez is working with DEPED Davao for the national classical guitar training program for elementary and public high school teachers on top of being the trainor for the Kabataang Gitarista project of the Cultural Center of the Philippines.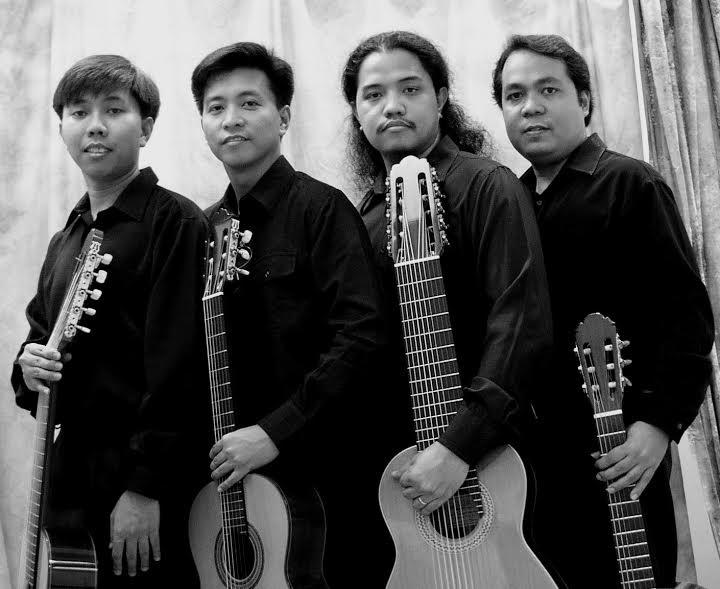 The Kasilag Guitar Quartet. Philippine music at its best.

Carpio is also behind the Manila Guitar Fest happening on August 21-25 at the University of Makati and will perform at the Cebu Guitar Festival on September 1-3. In October, he will release his second CD called Philippine Treasures Vol. 3, under VGO Recordings, USA.
Carpio said music lovers should begin to appreciate classical guitar by watching more concerts featuring the instrument. "Classical guitar has other unique features not found in ordinary guitars. The high notes in classical guitar are also very clear and it has a very good projection. It is virtually the 'voice' of the artist's musical ideas."
The July 20 tribute program include Variations on Prelude Etnika by Lucrecia Kasilag to be performed by the Metropolitan Guitar Ensemble, Sakali to be rendered by Perf de Castro, Panagimpan by Phil Valdez, Kundiman del Corazon / Damayan by Benchito Cariño, Kanayonan (Variations on Bahay Kubo)by Adrik Cristobal, Munting Bituinby the St. Scholastica's College Guitar Quartet, Elegia por Leonardo Apa by Kriss Eusebio, Diwata byGonzalo Misa, Ihip-Ugong Sa Dalampasigan / Fantasy Variations on Sarung Banggi to be rendered byMonching Carpio and Philippine Medley by the Kasilag Guitar Quartet, among others.
The July 20 tribute concert is free to the public on a first come first served basis.
For inquiries, contact 0939 378 59 08.