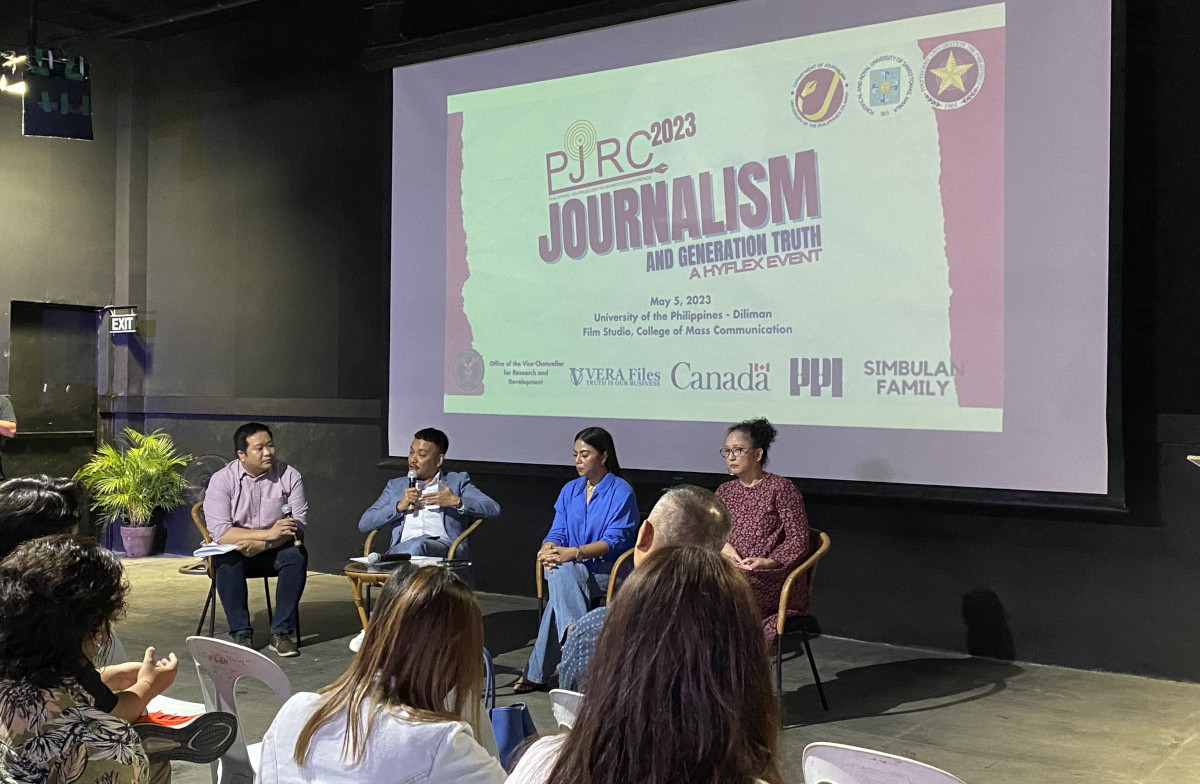 Amid the rising prevalence of social media and the persisting dilemma of disinformation, aspiring journalists are reminded that the role of the press in a democratic society remains indispensable and is needed now more than ever.
This was emphasized by McLuhan fellows and veteran journalists in a forum during the 2023 Philippine Journalism Research Conference (PJRC) at the University of the Philippines (UP) College of Mass Communication on Friday, May 5.
Joseph Morong, GMA Network senior news producer/ anchor and recipient of the McLuhan fellowship in 2015, said journalism faces an existential crisis, especially at a time when people avoid news and a majority of news consumers rely on social media.
"Journalism is evolving. It has become personal, instantaneous and multi-platform," he told the audience who are mostly journalism and mass communication students from the University of the Philippines, University of Sto. Tomas, Polytechnic University of the Philippines, Southern Luzon State University, St. Louis University, Mariano Marcos State University-Ilocos, Mindoro State University, University of Rizal System- Angono, Biliran Province State University, Ateneo de Zamboanga University, Aklan State University, Leyte Normal University, Cavite State University and De La Salle University who participated in the Chit Estella Journalism Research Awards.
According to Morong, social media has become the new battleground for journalists where conversations are no longer shaped by the press alone but also by other personalities and the ordinary public.
Miriam Grace Go, managing editor at Rappler and a McLuhan fellowship awardee in 2002, highlighted three challenges that journalism faces nowadays. This includes disinformation, distrust for the media, and the depth of the stories being told at an age where speed is often valued over accuracy.
Recounting memories of the shutdown of media giant ABS-CBN three years ago, 2022 Marshall McLuhan fellowship awardee Karmina Constantino underscored the ever-growing dilemma of disinformation and the role of the state in antagonizing journalists.
The prestigious Marshall McLuhan Fellowship is awarded yearly since 1997 by the Canadian Embassy in the Philippines to a recipient "embodying outstanding qualities in the field of investigative journalism."
Given the challenges, Go said news producers and consumers are called now more than ever to be more responsible for the information they share.
"Once you attach the word journalist to your name, may kakabit 'yon na responsibility… Everything starts with reliable reporting. Lahat reporter na, so doble 'yung responsibility sa news producers," she explained.
Go enumerated ways to overcome these challenges: collaboration, adapting to new forms of storytelling, keeping in mind the principles of accuracy and fairness, making sense of issues, and ultimately offering a path to action.
For Morong, fighting in this new battleground requires journalism to be "younger but without losing its age-old mission of truth-telling and service to the public."
"It will be difficult, as all things that give us purpose are. You will want to give up, but you will not because there are other stories to tell and voices to be heard… We have a job to do and we simply must press on," he told the aspiring journalists.
Constantino, on the other hand, highlighted the need to be relentless and fearless in seeking accountability and asking questions that need to be asked.
"When there's an opportunity to make things right, you take it. We are at war with disinformation and to put a stop to every attempt at deceiving the public is the game. And our goal at the very least is to present the public with a possibility of ownership over each decision they make," she said.
Winners
Born in 2013, the annual PJRC is organized by the UP Department of Journalism along with the University of Santo Tomas and the Polytechnic University of the Philippines. It is aimed at recognizing student excellence in academic research, investigative journalism, special projects and photojournalism.
After being held online during the COVID-19 pandemic, the conference returns to a face-to-face and virtual hybrid setup with the theme "Journalism and Generation Truth."
Among the hundred entries submitted this year, stories on poverty, inflation and rice farmers emerged at the top alongside studies concerning the mental health of campus journalists and the use of artificial intelligence in fact checking.
Here are the winners of the Chit Estella Memorial Awards for Journalism:
Journalism Research (Community Studies) – Marian Abio, Jezreel Ines and Mark Raterta from UP Diliman for their study entitled "Prevalence and Correlates of Depression and Anxiety among Campus Journalists in UP Diliman: Pathways for Intervention"
Journalism Research (General Academic Research) – Renz Joshua Palalimpa and Rhenzel Raymond Caling from UP Diliman for their research on "The Robot Fact-Checker: Prospects and Challenges of Artificial Intelligence Use for Fact-Checking in Online Philippine Newsrooms"
Special Projects (Documentary Feature) – Abigail Zara from UP Diliman for her documentary entitled "Butil ng Buhay"
Special Projects (News Documentary) – Wendell Adrian Quijado and Aira Nerize Bernardo from University of Santo Tomas for their news documentary entitled "Dalawang Daan". (Special commendation was also given to Biliran Province State University)
Photo Essay – Cris Vilchez Jr. from Polytechnic University of the Philippines for his photo essay entitled "Lubog Sa Floating Area"
No winner was declared in the Investigative Journalism category.
The award is named after the late UP professor, veteran journalist and VERA Files trustee Chit Estella-Simbulan, who died in a car crash on May 13, 2011.