Chit Estella Journalism Award Winners 2017 (from
left): UP Asst. Prof. Terry Conjuico, Panelist Tress Reyes of CNN Philippines,
UP students Celine Samson, Bryan Gonzales, Nicole Lagrimas, Karen Macalalad,
Ian Tapao, Ateneo de Manila students Stephanie Sayson and Patricia Sarmiento,
UP Assoc. Prof. Rachel Khan and emcee Kara David of GMA Network. (Photo by
Jeuel Barroso/UP Journalism Club)
Stories on drug abuse, persons with disabilities and scrap metal workers dominated this year's Chit Estella Journalism Student Research Award.
The competition, sponsored by the University of the Philippines' Journalism Department, awards outstanding journalism research among undergraduate students in three categories: Academic Research, Investigative Reporting and Special Projects.
VERA Files trustee Luz Rimban in her keynote speech said this year's participation of students is proof that "a new generation of journalists will continue the work of their elders" and that future journalists are able to report on underreported issues often ignored by the big media.
For Academic Research, Ateneo de Manila University's Patricia Sarmiento and Stephanie Sayson won the prize for their paper on visual representations of athletes with disabilities in two newspapers and the athletes' perceptions of these portrayals.
University of the Philippines' Bryan Gonzales and Celine Samson bagged the award for the best investigative report with a story on Barangay Anti-Drug Abuse Councils (BADAC) and how they've performed their role in combating drug abuse in communities.
UP students Nicolle-Anne Lagrimas, Karen Ann Macalalad, and Arianne Christian Tapao, also topped the Special Projects category with their multimedia story on e-waste dismantlers, also known as scrap workers, in Tondo, Manila and their struggle to combat the health hazards of their job.
The awards are given in collaboration with VERA Files and Professor Roland Simbulan and family. The award is named after UP Journalism professor and veteran journalist Chit Estella Simbulan who died in 2011, due to a vehicular crash on Commonwealth Avenue.
About 300 students and faculty from universities in the Philippines, Indonesia, Malaysia and Hong Kong attended the first Asian Journalism Research Conference (AJRC) at UP Diliman last April 24 to 25.
Rimban, who is also the Executive Director of the Kondrad Adenauer Asian Center for Journalism at the Ateneo de Manila University, told the students that journalists are facing a huge challenge with President Rodrigo Duterte constantly berating and threatening the media.
"(But) whether or not the president likes journalists, they have to do their jobs and act as watchdogs of people in power," she said. "Journalists must continue to do investigative reports and reveal what some people want hidden."
One way to uncover untruths is by exposing falsehoods and misleading statements, factual evidence," she said.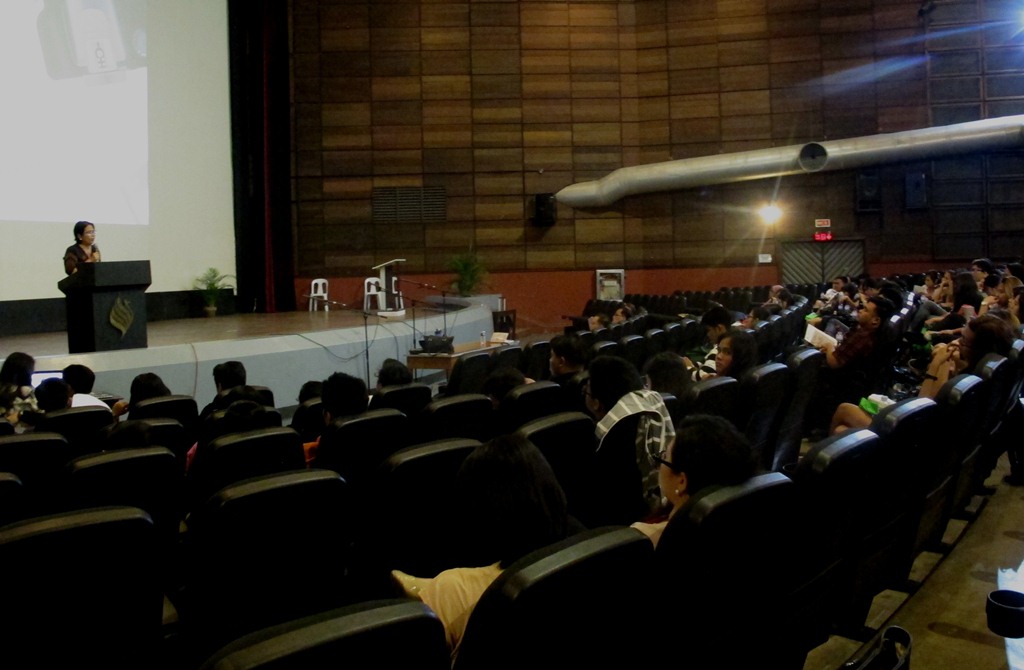 VERA Files trustee Luz Rimban speaks before 300 students during the Asian Journalism Research Conference at the University of the Philippines in Diliman.
In July 2016, Duterte's first month in office, VERA Files launched VERA Files Fact Check. At present, it is the only sustained fact-checking initiative in the Philippines, releasing at least eight items every month. It examines claims made by public figures and is guided by the code of principles of the International Fact-Checking Network at Poynter. (See fact checks here)
Rimban told students to be more discerning when sharing news on social media. She said students must verify the source of news and check if the information is true or not to help stop the spread of fake news.
"It shows the capacity of the Filipinos to be outraged and to be shocked. If we're shocked we share. We have to be extra careful with what we see and read on Facebook. Don't overshare," she said.
Rimban added: "This is the worst of times are the best of times for journalists. There is much to write about and to do."