The arts and culture section of a publication, whether print,
broadcast or online, may seem to reflect the lighter side of things.
But as the panelists, all young bloggers, in "Writing to the Beat:
Specialized Reporting for Arts and Culture" at the Philippine
Readers and Writers Festival held at The Raffles Hotel in Makati
showed, the cultural is also political and invested with a
nation's soul, including resistance versus the Establishment.
Panelists Chuck Smith, who covers entertainment, Ian Urrutia, who
does music reviews, Katrina Stuart Santiago, who writes visual arts,
theater and film critiques, Anna Bueno, who follows cultural
heritage, specifically the textile and weaving traditions, and food
blogger Michelle Ayuyao agree that there is a death of cultural
writers. They've noticed that rare is the editor who solicits
reviews or approves story pitches anymore.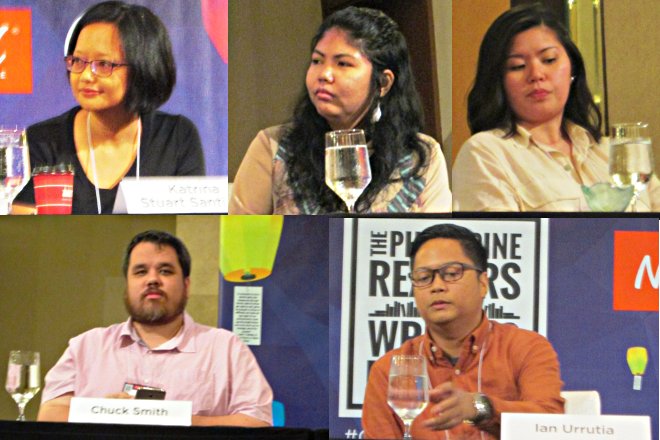 From top left clockwise: Katrina Stuart Santiago, Anna Bueno, Michelle Ayuyao, Ian Urrutia, Chuck Smith.
For better or worse, social media, specifically Facebook and
Instagram (IG), have taken over people's lives. This means lesser
gains for critics. So-called "influencers" just have to exclaim
"I love it!" and not flesh out what they mean for a subject to
trend.
Urrutia bewailed that "in the small scene of music, parang lahat
(almost all) is press releases. There are few writers in this area."
Smith said that, on the other hand, there are more and more younger
writers who want to write about entertainment. What he noticed though
is that print media has lost its power and exclusivity because posts
are uploaded on YouTube in real time.
Ayuyao, who described herself as eating better "than I can cook,"
said readers also want to know what's new or if something is good.
But often this is drowned out by articles on what's the next hot
restaurant.
Stuart Santiago, columnist of The Manila Times, observed that "there
is no space for new writers of criticism." She said it's
important to "write about issues, not just personalities." Her
practice is to go to the theater or the galleries incognito so "there
is no conflict of interest and I am freer to write."
When a theater director once recognized and waylaid her, saying he
wanted to get to know her better, she told him that she wouldn't be
able to cover his plays anymore. She stuck by this rule, but they've
remained friends.
Urrutia said he liked to "explore the fringes, the underground
culture that is not given mileage," especially those in the
provinces and regions, or explore "things that are different from
most people's taste."
Bueno, a CNN Philippines editor, has discovered through her coverage
of indigenous people's (IP) communities that one must not "treat
subjects bara-bara (irresponsibly)." She said, "Usually, people
talk about patterns and designs but not about the people who made
them."
She told the audience to be aware of the power dynamics between the
producers and users of IP products. She has learned to "appeal to
the conscience of readers when writing."
Ayuyao lamented that food media doesn't "shine a light on the
Banaue heirloom rice varieties. They're down from three hundred to
thirty because there are no more consumers or people don't know
about them. Listen to the people. Go out and see, then write about
them." Her own curiosity has led her to a talked-about tapuy that
tastes more like sherry than tapuy.
Stuart Santiago said there must be more to talking about the artists
and how they live. "They may sell in the millions (of pesos), but
they get so little from that system. There is a disconnect between
the producers of work, those who labor culturally, and we as
consumers." She reminded the audience that the "lifeblood is the
cultural worker, not the product."
She credited her editors who always cautioned her not to sound too
academic. She taught herself to use Instagram—"the shorter the
better." When she's on IG, she thinks of all the hashtags
possible.
She said cultural reporting has political meaning since it cannot be
divorced from what is happening in the country. Even if she's
reviewing a romantic comedy, she is aware that this genre is "but a
distraction." She said her type of criticism can exist without
"being pedagogical or raising a fist."
She added that the resistance against the government's
normalization of violence is strong and vocal, but this is going on
"under the radar and not being covered." She said there are many
brave elements in the visual arts, but they are not government
targets. The targets are the high-profile ones in entertainment and
music.
Smith said entertainment writers must not condescend to their
subjects. "I take seriously celebrities with strong and open
political views."
Ayuyao said food writing also has political aspects like when one
deals with the rice shortage.
Urrutia said there are many brave individuals in the music scene,
particularly in the hiphop genre who are willing to resist and
criticize. All this brings hope.#