By KIM ARVEEN M. PATRIA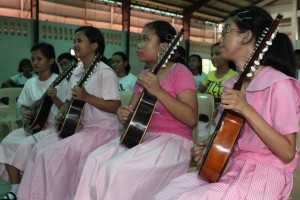 MUSIC broke the silence of a humid Monday afternoon in a small neighborhood in San Pablo City.  Inside a school gymnasium along a poorly paved road, a rondalla, an ensemble of string instruments, rehearsed melodic pieces for everyone to hear—everyone except those playing them.
Those who held the guitars, the 12-stringed bandurrias and lauds and the double bass, are students of Paaralang Pag-ibig at Pag-asa—School of Love and Hope—a public special education (SPED) center in this city in Laguna, about 100 km south of Metro Manila.
Most of the 35 members of the group suffer from hearing impairment; others are blind or with learning disabilities.
But as they plucked their strings to the tune of "Sway," the Mexican mambo song that has seen revival time and again, it was as if they wanted to dance to the music although they simply played from what their trainer, Lina Mercado, gestured to them in sign language.
"Most of them can't hear what they are playing," said Mercado, who teaches in preschool but took on the rondalla since she knew her way around musical instruments. As she conducted, her students' eyes were fixed on both her hands. The left hand told them what note to play; the right hand signaled the beat.
The rondalla is the brainchild of Elma Orosa-Paraiso, a retired obstetrician-gynecologist who has been president of the school's Parent-Teacher Association since 1974. Paraiso said she was inspired when she saw a "blind rondalla" play in the 1980s, during the inauguration of Sergio Brillantes as president of the Philippine Medical Association.
At the event, she whispered to her husband, also a doctor, about her vision of a rondalla for Paaralang Pag-ibig at Pag-asa—one composed of deaf students. Recounted Paraiso: "My husband said, 'Naloloka ka na yata (I think you're going crazy).' I smiled back and said, 'It can be done and will be done!'"
A group of students played from 1984 until they graduated in 1988. But they were never replaced. It was only in 2006, or 18 years later, that the rondalla was revived.
A mother to eight sons and a daughter who has special needs, Paraiso refers to the school as her "apostolate." At 82, she continues to manage the school alongside teachers and administrators who fondly call her "Doktora," which simply means lady doctor.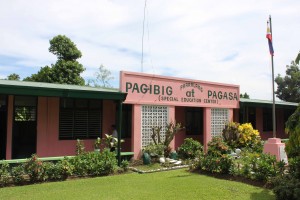 Their most recent project was a school canteen where students could buy healthy meals at low prices. Through Paraiso's efforts, the school was also able to build a gymnasium with a basement and, more recently, a home economics building.
The school is public: The Department of Education (DepEd) pays the teachers. "But aside from teachers' salary, this school is practically left to fend for itself," Paraiso said.
Paraiso said she openly solicits money from her friends, prompting a warning from her son that people might avoid her because of it.
"But I told him that these people should actually thank me; I am giving them a way to share their blessings," she quipped. Paraiso always has a booklet of receipts in hand, ready to accept donations for the school.
She said in jest: "Napakadali palang magpayaman kung magtatarantado lang (I could easily get rich were I a crook)." But she said she wants a good name to be one of her legacies.
Teachers in Paaralang Pag-ibig at Pag-asa said they could not imagine the school without Paraiso. Most of the improvements in the school are products of partnerships Paraiso arranged with private groups and individuals. The home economics building was built using funds from her classmates. Funds pooled from donations were also used for the gymnasium and the canteen.
The school also has a small computer laboratory with some desktop computers and 10 laptops donated by the Ayala Foundation in 2007. The facility boasts of a computer equipped with software that allows blind students to use the machine through audio instructions.
Stephen Egamil, an 11-year-old who is totally blind, maintains an account in a social networking site using the computer. "Pwede niyo po akong i-add sa Facebook (You can add me up on Facebook)," he said, after singing at the gymnasium where the rondalla also rehearsed.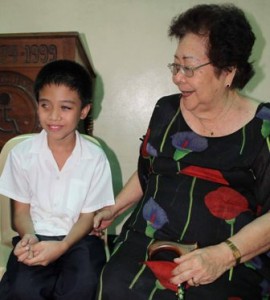 Stephen, who is now in sixth grade, recently won a singing competition for children with disabilities, besting contestants from all over Calabarzon, the region composed of the provinces of Cavite, Laguna, Rizal and Quezon.
The song Stephen sang that afternoon, Whitney Houston's "On My Own," aptly described his positive if not cheerful disposition. Although blind, he respectfully refused to be escorted back to his classroom after his number. "Kaya ko pong mag-isa (I can do it alone)," he said, while thanking the hand that offered guidance.
"This is where we see our fulfillment as teachers," said Alegria Cosico, the school principal. "Blind children learn how to read and write, the deaf can play musical instruments and all of them can hope for a better future."
Cosico said some of their high school students have been admitted to special programs in colleges and universities in Manila. She added that two of the high school graduates who took up SPED in college now teach in the school. Two others teach in other SPED centers—one in Batangas and another in Cebu.
Paaralang Pag-ibig at Pag-asa was recently named third best SPED center in the country, next to La Union SPED Center in San Fernando City and Zapatera SPED Center in Cebu City, during the DepEd's celebration of 100 years of the SPED program.
In 2005, only 151 SPED centers like the school in San Pablo City were accredited while some 1,504 public schools that only integrated SPED programs were registered. Paraiso noted that in Calabarzon, only Paaralang Pag-ibig at Pag-asa was a complete SPED center, accepting enrollments from preschool to high school.
Latest statistics from DepEd show that a total of 156,270 students with disabilities or special needs were enrolled in 2005, about 95 percent of them in public schools. Only 1,191 students were enrolled in high school.
Early this year, then Education Secretary Jesli Lapus said that number only represented 2 percent of the population in need of SPED, which he estimated at seven million.
Saying that other countries provide full support to the disabled and those with special needs, Lapus pushed for the creation of a Special Education Bureau. At present, SPED falls under DepEd's Bureau of Elementary Education as its Special Education Division.
"Most people have not yet recognized that certain children with special needs and persons with disability have very distinct talents and skills. And their integration and mainstreaming into the society will contribute significantly to national development," reports quoted Lapus as saying.
In the last Congress, DepEd supported Senate Bill 2020 which provides P600 million yearly for five consecutive years for the SPED program. The bill also mandated the establishment of at least one SPED center in every school division and three SPED centers in big school divisions.
In the new Congress, the Kabataan party-list group has filed a similar bill, House Bill 6771. Entitled "Free Special Education Act of 2009," the bill also proposes the creation of a Bureau of Special Education while stressing the need for government to provide free education for the disabled and children with special needs.
"(I)t is the obligation of the State to ensure the equality of their access to social services and life-improvement opportunities, their full participation in decisions concerning their welfare, and the eventual possibility of their economic self-sufficiency," the party-list group said in the bill's explanatory note.
Brian Malani, a 16-year-old with impaired vision, will get his high school diploma this year from Paaralang Pag-ibig at Pag-asa. Asked if he intends to go to college, he answered timidly: "The problem is tuition money."
Still, Malani, one of the few members of the school's rondalla who can hear, is not about to give up.
He said that if he could not go to college, he would work in reflexology centers, having been trained through the school's programs. He also shared his dream of forming a band with friends who, like him, are visually impaired.
That Monday afternoon, Malani played the guitar and sang Noel Cabangon's "Kanlungan" while his deaf classmates stood by. As his song told of how time swiftly passes, they smiled in their usual silence.