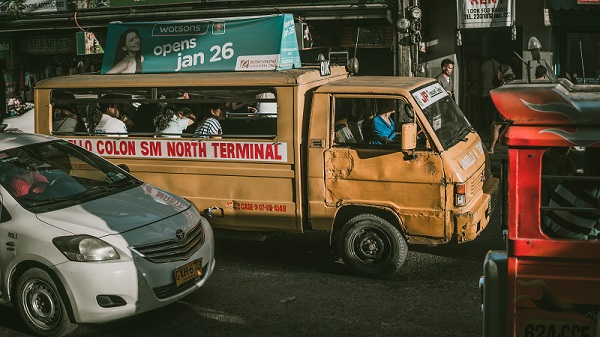 A jeepney in Cebu City. File photo.
Public transport workers have yet to fully benefit from a government initiative that would allow them to earn decent income even amid the pandemic.
The government's service contracting program was designed, among others, to address the financial woes of bus and jeepney drivers who have lost incomes because of social distancing protocols. But transport workers say this has not reached most of its intended beneficiaries.
Worse, the program's budget allocation could be cut by next month unless Congress reallocates the amount for the transport sector.
"I think service contracting is for dignity — dignified commute for our commuters and a dignified livelihood for our transport workers," said Hya Bendaña, a sectoral convenor of the transport advocacy group, Move as One Coalition, during a webinar it organized on May 5.
The service contracting program, approved in October 2020, allows public utility drivers to earn income based on the number of kilometers travelled, rather than the volume of passengers they serve, which is the norm under the so-called boundary system.
The boundary system, under which drivers pay a fixed amount to jeepney or bus operators, has been blamed for crashes on the road as drivers compete for passengers to earn more.
A total of P5.58 billion has been earmarked for the service contracting program under the Bayanihan 2 or the Bayanihan to Recover as One Act intended to provide financial assistance to sectors affected by the pandemic.
According to an April 15 report by Transport Secretary Arthur Tugade, only 9,000 jeepney drivers of the initial goal of 60000 have benefited from the program and around 38,000 have just registered. A driver who is accepted in the program receives an initial payout of P4,000.
And in celebration of Labor Day, the transport department said last May 1 that drivers who have registered under the program as of end-April would receive P25,000 as one-time incentive, while those who would come on board this month until June 15 would get P20,000.
'LTFRB backlog to blame'
Ernie Cruz, chair of the National Confederation of Transport Workers' Union (NCTU) and a jeepney driver plying routes in Mandaluyong City, said the low number of program recipients is not because they do not want to avail themselves of the project, but because it is difficult to apply for it.
He said the Land Transportation Franchising and Regulatory Board (LTFRB), which spearheads the project, has added more requirements for those applying under the program. One of these is for transport cooperatives to consolidate their franchises.
In 2019, he applied for consolidation under the Public Utility Vehicle Modernization Program (PUVMP). Until now, he has not been able to sign up for the program.
Cruz thinks this is because the LTFRB personnel have been "overwhelmed with all the cooperatives in the NCR [National Capital Region]," he said in Filipino.
"They could not properly check the cooperatives that apply that is why the process just repeats itself," he said during the webinar.
Changes needed to encourage more to join
NCTU secretary-general Jaime Aguilar offered some suggestions so that more transport workers can be part of the service contracting program.
"First of all, the process for consolidation should be fast-tracked so more transport workers can avail themselves of the program. As long as their franchise and registrations are updated, they should already be consolidated," he said in Filipino.
"Government should also ensure the promised weekly payout of P4000 from the service contracting program to convince others to join it," Aguilar said.
"Driver-operators should see this as a program with guaranteed set income that won't force you to compete with other drivers on the road," he added.
Aguilar said transport cooperatives should just apply. "Disregard the rule that requires them to be consolidated, to have a modernized unit. Everyone should benefit from the program, as long as they are cooperatives," he said.
Transport worker Monica Acha of the Province of Iloilo Transport Service Cooperative, is one of the 9,000 beneficiaries of the program.
She shared, however, that it took four months for her to receive the promised P4000 payout.
'The drivers who did not receive the payout for months had to borrow money from others just to help their families until the promised payout arrived," said Acha.
Appeal to extend availability of budget
Many transport workers, who have not benefited from the project, have been tipped "into extreme poverty," said the Move as One Coalition in a May 4 statement, adding it found the situation "unacceptable."
It said an estimated P46 million has been spent under the program so far, but "this is less than 1% pct of the allocated budget."
"It is unjust that the bulk of this billion-peso budget remains unspent while countless transport workers are reduced to begging in the streets as their families go hungry," it added.
On May 3, the coalition wrote to Congress to "extend the availability of all appropriations under the Bayanihan to Recover As One Act from June 30, 2021 to the end of 2021.
Aguilar added that it would "be a waste if the program was not extended, especially because time is already running out."
Bendaña said it is "critical to implement this program exhaustively" so that drivers will no longer need to take in as many passengers to earn enough in a day, lessening the likelihood of viral transmission among vehicle occupants.
Commuters and transport workers alike will remain at a disadvantage as long as only a few benefit from the service contracting program, she added.