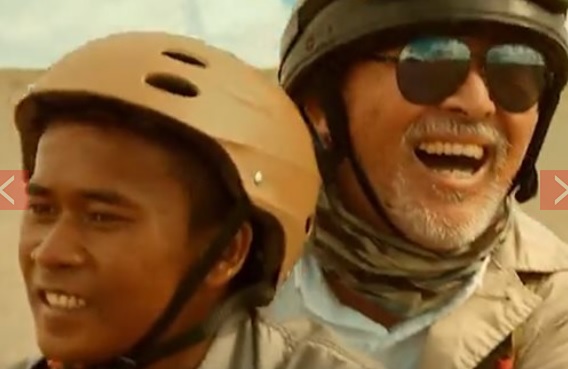 Screen grab from DOT's "Sights" ad which has been scrapped and taken off online.
I'm glad that the Department of Tourism scrapped its latest 'Sights' advertisement but not only for the reason that the officials mentioned.
Aside from it being closely similar to the South African campaign, which the same ad agency- McCann World group- is said to have also produced, the ad is so removed from reality.
It presents the Philippines as a destination friendly to Persons with Disabilities (PWD) which is a big lie.
Ask the PWDs, who have been appealing to the government for better treatment and more accessible public places, and you will hear their laments and frustrations.
DOT should listen to Abner Manlapaz, a wheelchair user. In an interview with VERA Files, Manlapaz said,"Mahirap lumakad dito sa Metro Manila. Ang dami-daming problema sa sidewalk natin. Kung hindi ka naman gagamit ng sidewalk, doon ka sa kalsada. Para kang kotse."
Manlapaz said some would ask him, probably jokingly, "Nasaan plaka mo?"
To those who consider them "istorbo" on the road, Manlapaz has a simple explanation: "Wala lang kaming choice."

The DOT, citing the "Sights" ad "glaring similarities" with one used in South Africa ad campaign, announced, "After a diligent review of the ad materials in question, the Department of Tourism has decided to discontinue its partnership with McCann Worldgroup Philippines."
Both the Philippine "Sights" video and the South African adfeature a blind man (which was revealed at the end through his walking cane)experiencing the beauty of the country through senses other than sight.
The "Sights" ad is part of P650-million budget for the DOT's ad campaign.
Tourism Assistant Secretary Reynaldo Ching said the DOT wants more than just cancellation of the contract with McCann Worldgroup Philippines. They are demanding an apology from the ad agency which denied that the Philippine ad is a rip-off from its South African product.
Ching said: "Hindi naman yata tama na we will be paying for something delivered to us which… has allegations of just being a copycat version."
Actually, this is not the first time that the DOT has been victimized by ad agencies giving them an un-original campaign ad. In 2010, President Aquino's DOT under then Tourism Secretary Alberto Lim came up with a Pilipinas kay Ganda, produced by Campaigns and Grey, which had a logo similar to that of Poland's tourism ad. It was also scrapped.
Under former Tourism Secretary Ramon Jimenez, DOT came up with the well-received campaign of "It's more fun in the Philippines."