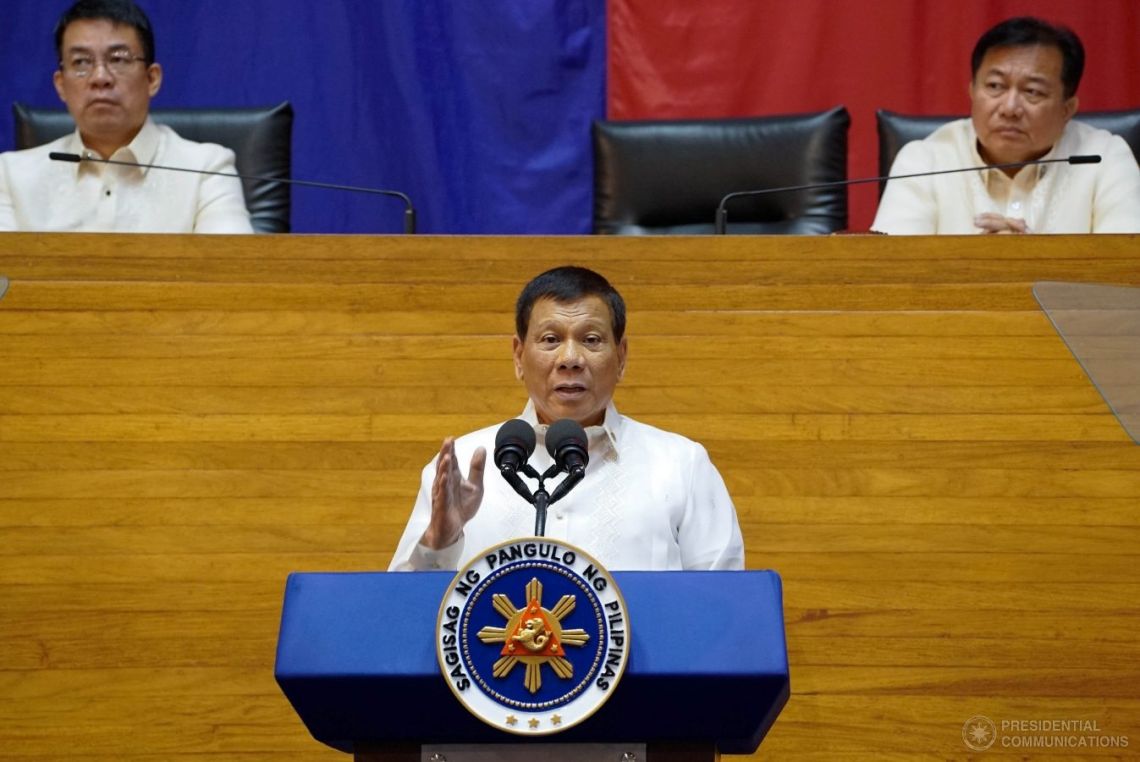 Photo from PCOO
They were still in talking terms two months ago. Today, in his second State of the Nation Address (SONA), President Rodrigo Duterte launched tirades against his latest target: the Communist Party of the Philippines (CPP).
"Kasi pabalik-balik ang mga buang, akala mo mga turista, wala naman pinag-usapan. Pagbalik dito gusto ng ganito. Masyadong demanding," said Duterte.
While he expressed his administration's willingness to persist in attaining peace to the last day of his administration, Duterte lambasted CPP's founder Jose Maria Sison and said going back to the negotiating table with the communist insurgents is useless.
Duterte also addressed Sison in his July 21 speech in Davao City.
"This war that you are fighting, I was listening to you when I was a student. That was 50 years ago. Let us renew the fighting for another 50 years. If it's what you want."
Yet, he made no specific mention on the direction of his other peace agenda including the passage of the Bangsamoro Basic Law (BBL).
Fight vs illegal drugs, crime
Declaring that his government will not be immobilized by condemnation, Duterte has vowed an "unrelenting war" against crime and illegal drugs, which he described as "the root cause of so much evil and so much suffering."
He called on Congress to act on all pending legislation to re-impose death penalty for heinous crimes, including the trafficking of drugs.
He also addressed the issue of Martial Law in Mindanao reiterating full support for soldiers fighting various wars.
"The drug war will be unrelenting as it is despite international and local pressure," he said, referring to criticisms from human rights advocates here and abroad who have called for an end to the extra-judicial killings of drug users and peddlers, most of them from poor communities.
"I do not intend to preside over the destruction of the Filipino youth by being timid and tentative…I will not allow the ruin of the youth, the disintegration of the family. I will not be immobilized by condemnation," he said.
Instead he asked for support even from his critics: "I ask you to join me in this fight…Look beyond your biases, prejudices, your ambitions, your political agenda."
Duterte said peace continues to elude the country, and that the ongoing battle in Marawi "dealt a terrible blow on our quest for peace."
"I declared Martial Law in Mindanao because I believed that was the fastest way to quell the rebellion with the least cost on life and property," he said, as we assured the military and police forces in the south of his unwavering support and commitment. "To those on the ground and risking your lives, I have your back."
Duterte declared Martial Law in Mindanao on May 23 because of the threat of widespread terrorist attacks by ISIS-inspired local Muslim groups in Marawi. Congress voted on Saturday to extend military rule in the south until the end of 2017.
Duterte used his SONA to attack human rights defenders, including those from the international community, who have been very critical of his government's rights record, but who have shown their support for detailed Senator Leila de Lima, who is facing drug charges.
"Is she a credible woman? Is she moral? he asked, referring to the opposition senator who has accused Duterte of involvement in extra-judicial killings while mayor of Davao City. A delegation from the European Union visited de Lima in her detention cell last week.
He said rights advocates can talk about human rights and due process in forums but their constant harping tends of trivialize the issues.
War vs mining
The president also declared war against those who destroy the environment, calling on the mining industry to refrain from irresponsible destruction of watersheds, and other practices that adversely affect the environment, and threatened to tax them for the destruction they have caused.
He said the protection of the environment will take precedence over mining.
"Declare correct income pay correct taxes," Duterte told mining companies during his SONA, while ordering local government units to go after irresponsible miners.
The president also called on Congress to pass a law establishing a new department that will be responsive to the 21st century conditions on disaster resiliency and response, especially in the capital, which is the seat of government, and the center of business, commerce and the academe.
Duterte on economy
Much like his first SONA, Duterte again only spoke of his economic programs in broad strokes. (See SONA Promise Tracker: Economy)
In his second SONA, Duterte generally spoke about the health of the Philippine economy in relation to what is ostensibly the core issue of his administration, peace and order.
"I have learned that the economy surges only when there is peace and order prevailing in places where investors can pour their capital and expertise," Duterte said.
"I have learned from my experience in Davao City that investor confidence (is) bolstered and fortified only if a potent force and mechanism for protection of local and foreign investments are in place," he added. (See VERA FILES FACT CHECK: Is Davao City's economic growth unprecedented in the country's history?)
Duterte, mayor of the city for 22 years and four months, also said, "Makita mo ang (Look at) Davao ngayon. What city is now hitting 9 growth percent?" (See VERA FILES FACT CHECK: How long did Duterte serve as Davao City mayor?)
In terms of fiscal policy, Duterte was similarly vague, urging the Senate to "support my tax reform in full, and pass it without haste."
Seemingly in jest, he said, "If you think that's a waste, fine. If you think it's not good, that's ok with me."
The House of Representatives approved the Duterte administration's proposed Tax Reform and Acceleration and Inclusion Act (TRAIN) in June. Duterte had certified the bill urgent, and the Senate is expected to take it up when Congress reopens in July.
Said Duterte, the passage of the tax reform law is "needed to fund the proposed 2018 budget," which he submitted to Congress after he delivered his SONA.
Media
Duterte slammed media organization Rappler for allegedly not being owned by Filipinos (as required by the Constitution) but by Americans.
Rappler's Maria Ressa said their company is 100 percent owned by Filipinos.
Procurement procedures
Duterte singled out the Commission on Audit and Health Secretary Paulyn Ubial on the issue of procurement.
"COA, you're here. Malaman na lang ninyo na may violation ako. Doon sa military, I do not allow them to bid. Just buy weapons from everywhere because almost all countries are making arms," Duterte said.
VERA Files fact checked a similar statement and found that Republic Act No. 9184 or the Government Procurement Reform Act does not give the president the powers to order an institution to bypass the bidding process.
Central to the GPRA is the requirement of "competitive bidding" or "public bidding," which opens the entire bidding process to any interested party, regardless of whether the source of funding is local or foreign.
More, it is not COA that conducts the bidding process but the respective Bids and Awards Committee of each procuring government agency. COA's duty is to audit all government expenditures and observe the bidding proceedings.
Duterte encouraged Congress to enact laws that will improve procurement processes and amend the existing law.
Foreign relations
Duterte emphasized pursuing an independent foreign policy. Overstressing the principles by which he want to engage nations, he mentioned twice the basic tenets of mutual respect, sovereign equality and non-interference.
But it's in the same breath that he noted the warmer relations with China having bilateral dialogues and mechanisms now in place for the West Philippine Sea. He said that the issue of the West Philippine Sea would be tackled soon. The bilateral consultation with China has already began, and the draft framework of the Code of Conduct will be tabled in the ASEAN ministerial meetings next month.
After China, he talked about the United States but in the context of Philippine-American war in 1901 when he asked for the return of the Balangiga Bells that are now in two US military bases.
He recalled how then US President Barack Obama scored him on human rights because his drug war, but has changed with President Donald Trump. He quoted Trump telling him as "hero of your country." But that is nowhere in the transcript of the telephone conversation between Trump and Duterte on April 29, 2017.