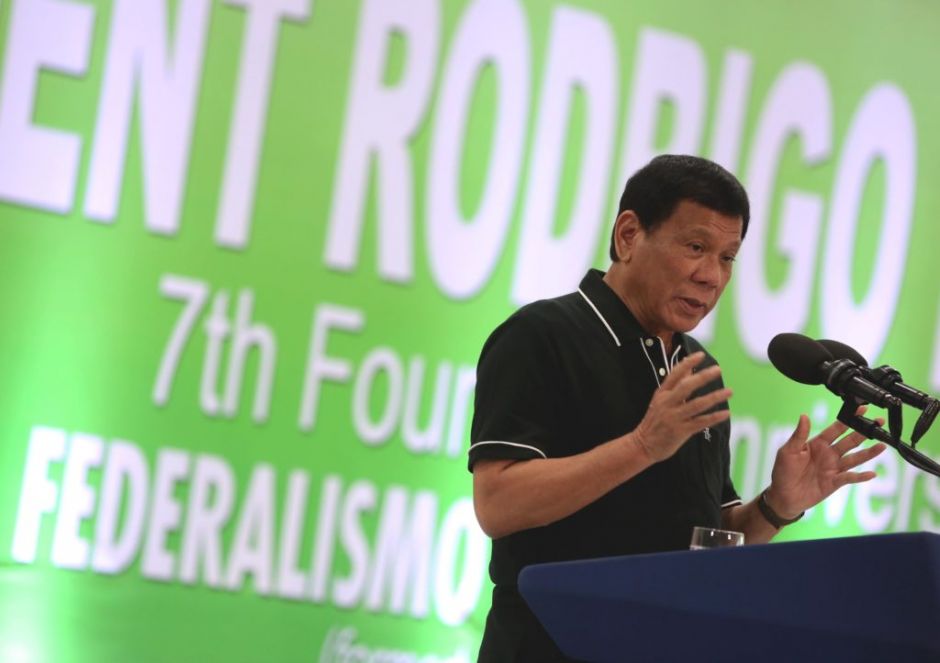 HE'S the president who wants to be mayor.
"Call me 'mayor'," used to be his usual line, within weeks after winning the election and even months after, unwilling to do away with the title.
In his speeches, Duterte likes to say he had served for 23 years as local chief executive. He has made that claim at least 31 times since August.
The most recent one was during the 7th anniversary of Federalismo Alyansa ng Bikol in Legazpi City on Dec. 8. In discussing the roots of the Mindanao rebellion and federalism, he said:
STATEMENT:
"Laki akong Mindanao (I grew up in Mindanao), I've been mayor for 23 years of Davao City. Once upon a time, congressman."
(Source: RTVM, 7th anniversary of the Federalismo Alyansa ng Bicol, Legazpi City, Albay. Dec. 8, 2016. Watch from 7:17-7:23)
Nicknamed "Dirty Harry" for his anti-crime stance, and once dubbed "The Punisher" for allegedly sanctioning extrajudicial killings in his city, Duterte flaunts the number "23" when he needs to stave off criticisms on his bloody war on drugs.
During the inauguration of the multi-million Mega Drug Abuse Treatment and Rehabilitation Center in Fort Magsaysay on Nov. 29, Duterte said:
"I know the gravity of the problem. I was mayor for 23 years in Davao City kaya alam ko kung gaano kalalim ang laro. But I was not really expecting it as terribly as it would come to me when I became president.
I was very strict in Davao. Totoo iyan and there are allegations of extrajudicial killing. But you know, we cannot dwell on our sins if there are any. We have to dwell on what to do to improve the situation especially if it is the country that is at stake."
(Source: RTVM, Inauguration of the Mega Drug Abuse Treatment and Rehabilitation Center – Phase I, Fort Magsaysay, Nueva Ecija. Nov. 29, 2016. Watch from 1:59-2:46)
And if only to emphasize the years of service he had rendered, he often pairs his statements with the time his term was interrupted, when his daughter, Sara Duterte, warmed the seat for him from 2010 to 2013, and he took on the role as vice mayor.
Was he mayor for 23 years? Let's help the president do the math.
FACT:
Duterte first served as OIC Vice Mayor of Davao CIty from 1986 to 1988.
When the local elections were held on Jan. 18, 1988 under the new 1987 Constitution, he won as mayor. He would go on to serve as such for three terms until 1998, for a total of 10 years. That's four years from 1988-1992, and two more terms at three years each.
He then ran for Congress as Representative of the 1st District, and stayed for only one term.
In 2001, he again ran for mayor and finished another three-year term until 2010. That's nine years all in all.
And by 2013, he sought to be elected back as local chief executive and served for another three years.
So if you add them up or 10 plus nine plus three, that's a total of number of 22 years in office as mayor, or 22 years and four months to be exact.
There's another thing that he keeps getting wrong.
Of the seven times he mentioned being the vice mayor of his daughter Sara, he twice said he served as such for "four years."
The more recent one was on Nov. 4 during the regional convention of the Integrated Bar of the Philippines in Manila.
"I've been a prosecutor for 10 years. I did trial work for eight years and then I became mayor for 23 years sa Davao. One term in Congress and another term, four years being the vice mayor of my daughter. My anak ako 'yung kuwan, yung nanuntok ng sheriff. Yun yun."
(Source: Integrated Bar of the Philippines' Regional Convention, Manila Hotel. Nov. 4, 2016. Watch from 18:24-18:55)
It seems, Duterte likes to add a year more to whatever position he occupies.
Other sources:
President Rodrigo Roa Duterte Bio, Embassy of the Philippines
Profile: Who is President Rodrigo Duterte?, Inquirer.net