President Rodrigo Duterte falsely claimed Mindanao is not hit by destructive storms.
STATEMENT
In a speech Aug. 25, Duterte said:
"Alam mo, ang Mindanao holds the promise, kasi dito walang bagyo. Kung meron man, 'yung mga baha but because of the heavy precipitation, tubig. But wala ditong bagyo in the sense na maraming nasisira na bahay, hangin and everything (You know, Mindanao holds the promise because there are no storms here. Floods are caused by heavy precipitation, water. But there are no storms here that destroy houses, with strong winds and everything)."

Source: Speech of President Rodrigo Roa Duterte during the Talk to Troops, Aug. 25, 2018, Jolo, Sulu, watch from 3:10 to 3:32
FACT
A United Nations list of the most destructive storms to hit the Philippines includes two which made landfall in Mindanao:
Tropical Storm Sendong (international name Washi) in December 2011, which caused torrential rains that led to flooding in Cagayan de Oro and Iligan City, killing at least 1,901, affecting some 698,000 people, and causing P2 billion damage to infrastructure, agriculture and private properties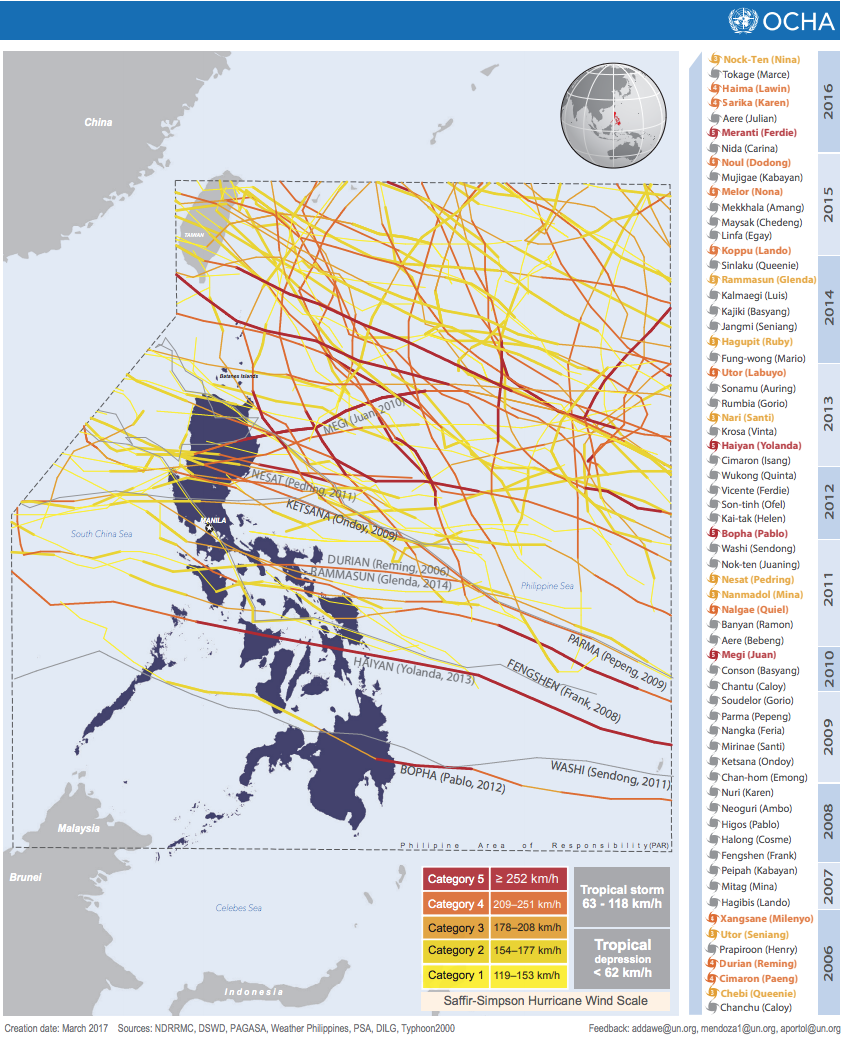 The list, prepared by the UN Office for the Coordination of Humanitarian Affairs, covers 99 storms that entered the Philippines from 2006 to 2016, and is based on data from government agencies and weather organizations.
Not included in the list is Typhoon Vinta (international name Tembin), which made landfall in Cateel, Davao Oriental in December 2017, during Duterte's term.
Vinta killed at least 200 people based on several news reports, and caused P2.1 billion damage, according to the National Disaster Risk Reduction and Management Council (NDRRMC).
Typhoon Yolanda (international name Haiyan), which hit Visayas in 2013, has been the most destructive storm to hit the Philippines, killing over 6,000 people and causing P95.4 billion damage to property.
Sources:
ABS-CBN News, Vinta death toll climbs to 240, scores missing, Dec. 25, 2017.
Inquirer.net, Vinta death toll climbs to 200, Dec. 24, 2017.
NDRRMC, Final Report on the Effects and Emergency Management re: Tropical Storm "Sendong" (Washi), Feb. 10, 2012.
NDRRMC, Situational Report No. 38 re: Effects of Typhoon "Pablo" (Bopha), Dec. 25, 2012.
NDRRMC, Situational Report No. 26 re: Preparedness Measures and Effects of Typhoon "Vinta", Feb. 11, 2018.
NDRRMC, Final Report re: Effects of Typhoon "Yolanda" (Haiyan), November 6 to 9, 2013.
ReliefWeb, Philippines: Destructive Tropical Cyclones From 2006 to 2016.
The Philippine Star, Vinta death toll tops 200, Dec. 24, 2017.
(Guided by the code of principles of the International Fact-Checking Network at Poynter, VERA Files tracks the false claims, flip-flops, misleading statements of public officials and figures, and debunks them with factual evidence. Find out more about this initiative and our methodology.)
2018-08-28 11:29:16 UTC