By JENNY  S. SANTIAGO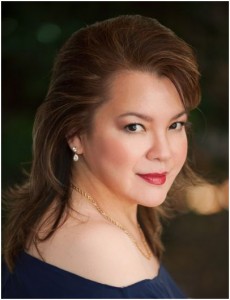 "IF you have a dream, go after it…Wrestle with destiny to make it happen."
This advice came from Ella del Rosario who,  at the height of her singing career as Manila sound diva of the 1980s, left the country 22 years ago to reinvent herself and pursue the American dream.
Ella, the first female vocalist of the popular rock and roll band Hotdog, will perform her mega-hit songs like "Pers Lab" (First Love), "O, Lumapit Ka" (Come Closer), "Mr. Disco," and "Shake It, Baby," as well as her new songs "Ayokong Tumanda" (I Don't Want to Grow Old) and "Stay" in her homecoming concert series "Ella" in Manila at Strumms on Dec.14  and Music Museum on Dec.16 and 17.
Despite a successful career in music, Ella realized singing could not offer her financial stability.
She was in her late 20s when she opted for a drastic career change, one that was related to the college degree she earned with flying colors at Maryknoll (now Miriam) College. She finished her Marketing Communications course in only three-and-a half years, graduating summa cum laude.
Now based in the United States, Ella works as marketing director of a Silicon Valley technology company engaged in digital marketing services, end-to-end event planning, conference management, and tradeshow booth builds worldwide.
According to Ella, her business travels all over the world has dramatically changed her outlook in life. She said, "My maturity level has taken on a whole new meaning of life and that is no matter how much you work hard to accumulate (wealth), you can't take any of it with you. So spend time being nice to yourself and wonderfully generous to others."
It was not an immediate career shift, though.  She started with a series of Hotdog concerts at the Oakland Coliseum, then went on to do a yearlong series of solo shows in Canada and Los Angeles.
After her singing contract ended, she entered the Silicon Valley marketing arena and settled in the San Francisco Bay Area.
Looking back, Ella said, "I do not regret one day of offering my then 6-year-old (child) a better life, one filled with opportunity and the positive possibilities of choice and freedom. I believe, standing where I am now, I made the right decision. My son Charles Jason is now 28 and thankfully blessed."
There was one other reason for Ella's hasty flight, which she candidly admitted, "I was honestly heartbroken. In 1979, I fell madly in love with one perfect someone…I figured distance would help ease the pain of separation."
She has moved on since then, saying she is currently in a "committed relationship." What has obviously not changed about Ella is her being a hopeless romantic.
"I am simply committed to waiting for destiny to unfold the rest of our love story," she said.  "I hope it ends with a happily ever after… if not in this lifetime, most definitely in the next."
On her concerts, she said Dennis Garcia (Hotdog band leader who discovered her) is "the mastermind and creative genius" behind the project, which will feature DIMSUM band as special guest.
Garcia, who wrote most of Ella's hit songs, went to the U.S. to ask her to record "Ayokong Tumanda." That recording was the start of a December homecoming concert idea.
"Dennis' songs for me now have more of a realistically adult theme and yet, are so across-the-age-span downright heartwarming," she said. "'Ayokong Tumanda' speaks for everyone past 35 or 40, who has achy bones when you get up in the morning, or has to deal with no-sugar sugar, like me, I'm diabetic. It's a sexy, samba song that defies growing old, which I totally am in spirit. I do not want to grow old. If I could, I would be Peter Pan's Tinkerbell."
Asked to describe the changes in her singing style through the years, she recalled that when she joined Hotdog she used to copy Sergio Mendes, Bette Midler, Lani Hall and Carly Simon. Then she slowly developed her own style although to this day, her voice tone and range change depending on the song she sings.
"It's kinda like a chameleonic voice," she noted. "So if you revisit my songs, some of them are straight-shot melodic singing glee-club style like 'Pers Lab,' some have a lilt of a teasing tremolo at the end of a sentence like 'O, Lumapit Ka,' some are power songs."
Of all her hit songs, her favorite is "O, Lumapit Ka" because, said, said, "It is such an innocent, flirty fun to sing song."
"My absolute and personal favorite one now is 'Stay'," she added. "I love the wish-you-were-here theme, the honest lyrics, the melody and I am told Samba songs fit my voice and my charismatic persona perfectly."
At next week's concerts, Ella will sing songs that will showcase the different nuances and power levels of her voice. They will pay tribute to "awesome women singers who never got the top-billed credit they deserve" like Randy Crawford, Angela Bofill, Grachina Leporace, Basia, Bette Midler and Taylor Dayne.
What made her decide to stage a homecoming concert at this time?
"Destiny somehow wanted me to come back at this season in time, to sing once more for all of you, make you all smile this Christmas time as my gift to you all," she said.