By ELLEN TORDESILLAS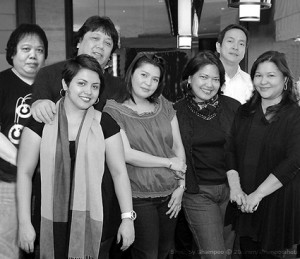 MUSICIAN and advertising executive Dennis Garcia said there are five simple reasons why you should be at Dusit Thani on July 26, Tuesday, 8 p.m.:
One, you will enjoy one and a half hours of fond memories.
Two, you will enjoy more hits than going to a concert of any other group — past or present.
Three, the core original members who truly molded the success of the legendary Hotdog band will be there plus Gina Montes, straight from London and Nadia Moore from Canada.
Four, maybe, this would be Hotdog's time together on stage.
Five, you only live once.
Dennis is one of the founders of the trailblazing Pinoy pop-rock band Hotdog that delighted the Filipinos with their exuberant music the past four decades.
Hotdog is the band behind such classics as "Pers Lab," "Ikaw ang Miss Universe ng Buhay Ko," "Bongga Ka 'Day," "Annie Batungbakal," "Beh Buti Nga," "Bitin Sa Iyo," "Langit Na Naman," "O, Lumapit Ka" and that ageless ditty beloved by homesick Filipinos, "Manila."
With what was known as the "Manila sound," Hotdog revolutionized the music scene in the 1970s, a challenging period for the country that was then under martial law and for the world grappling with wounds of the Vietnam war.
For the first time, the elite embraced the music of the masa, singing the songs in Taglish: Hotdog became the equalizer. Everybody sang the iconic "Manila, Manila" and danced to "Bongga Ka 'Day."
In the 80's, Hotdog members moved on to separate careers; a number of them settled outside the Philippines. In 1988, Hotdog staged their first reunion concert.
Last May 16, Hotdog staged a not-so-easy-feat–another reunion which turned out to be hugely successful, attended by no less than President Aquino and some members of his Cabinet.
Public relations strategist N. Mark Castro described that one Monday night of May: "A magical night that transported you back in time, that excited you to what lay ahead, of a nation united, of a nation dancing, of a nation singing. There were no labels. There were no titles. There were no political affiliations. There was only an audience, having a grand time."
"For one glorious evening, they all danced, they all cheered, they all celebrated to the music of their youth, to the music of their time, to the vocal groove of the nation, of what once was, of what yet could be again," Castro rhapsodized.
Music and arts aficionado Lala Usis, who flew all the way from the United States for the May concert wrote on Facebook: "I've never seen a concert inside a premier hotel's ballroom so jam-packed and yes, literally overflowing with people. Not screaming fans but very distinguished personas, willing to pay a ransom even on SRO."
It goes without saying that with such success, it deserves another round.
Rene Garcia, another Hotdog co-founder and lead guitarist, said: "We owe it to our loyal fans, particularly those not able to watch the first show, by giving them one more chance to experience what many have been raving about — a Manila Sound fest and celebration of Pinoy pop like no other."
As in the May 16 gig, the Garcia brothers, Rene and Dennis (who plays bass), will be joined on stage by a cousin, Philippine Airlines executive Jess Garcia on drums, and female vocalists Maso Diez, Joy Reyes and Rita Trinidad.
An added treat is the participation of two Canada-based former members of Hotdog — Nadia Moore and Elaine Evangelista. Moore was the female vocalist during Hotdog's North American tour from 2000 to 2004 while Evangelista fronted the band in the late 1980s.
Usis tried to explain the magic of Hotdog: "I was star-struck not because they are big superstars but because their music is simply spell-binding."
She said it comes from "the naturalness" of the group which is a reflection of their "genuine warmth and love for music."
She rates a Hotdog reunion as "Priceless."
"Hotdog Reunion: The Repeat" is a project of Diva! Incorporated.
Tickets are available at the Dusit Thani Manila concierge, and through telephone numbers 886-6186 and 0915-359-8228. Covered are dinner, drinks and all-night dancing.