By  YOLANDA  L. PUNSALAN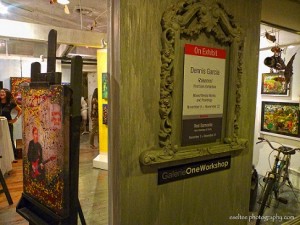 ROCK  and roll legends never cease to hog the limelight.  After sold out concerts and composing more music that multitudes love, they transform into other adorable personas.
Bono got knighted and did advocacies for Africa.  Paul McCartney painted excellently and also obtained knighthood.   And  the Hotdog's  Dennis D. Garcia went into advertising , political  strategizing, creative direction, and acrylic mixed media painting.
Last Tuesday, Garcia opened "Rakenrol", his first one-man show, which will run up to Nov. 22,  at Gallery One Workshop at the LRI Bldg on Nicanor Garcia st. in Makati.
The exhibit laid out exquisitely the varied-sized canvasses, predominant of which were images of personalities that have profoundly touched the artist, in one way or another.
"Stevie",  the smallest in the collection, is of blind singer Stevie Wonder, with white cotton on his ubiquitous dark glasses.  Apple's main man  Steve Jobs, looking healthy and handsomer than Omar Sharif, although with a receding hairline.  At the lower right hand of the frame is the mask of an executioner.  Beneath Jobs' photo is an opened Apple laptop, and at the center of the painting is the graffiti, "Kapag sexy libre, pag mataba doble".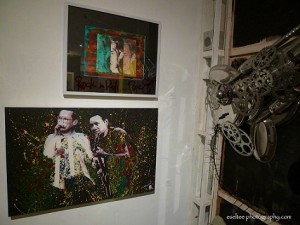 The Aquino-Cojuangco family members appear in several paintings.  President Noynoy and first cousin Gibo Teodoro are dueting in a musical number, with Noynoy doing the vocals and Gibo accompanying him on guitar.  Cory appears in a separate frame, her face silhouetted, copied four times in four quadrants, with shades of blue, yellow, gray, pink and magenta.  Benigno "Ninoy" Aquino, Jr. is drawn floating in streams of yellows and greens, with a cocoon enshrouding his head.  He appears like he is in a corner of heaven.
The three generations of the Roxases are represented as well.  "Lolo ni Mar" has our first president of the Philippine Republic in a collared shirt, displaying his muscular arms, as he is surrounded by colorful glickee falling downward like musical notes.  Gerry Roxas is depicted  sporting  Adidas sneakers, in a suit with a yellow scarf, slim fit jeans and playing an electric guitar on board a train.  Mar Roxas is shown in electrifying shots, four quadrants of the same pose on a single frame, a shot, color-treated in different combinations.
"Jojo" is the title of Binay's image, as Garcia shows him off gloriously shining and in a victorious mood.  The air around him seems to be that of champagne just popped.
Seemingly illuminating the past and bringing to the fore our national heroes, Garcia gave importance to "Joey" (Jose Rizal), shown on a frame mounted on black palo china easel, right at the door.  The author of the "True Decalogue", who Garcia must have heeded when this Sublime Paralytic wrote, ":attain thy true perfection", Apolinario Mabini's face shines largely, and smiling in the corridor infront of the gallery portal.
The protagonist of our Propaganda Movement , Marcelo H. del Pilar, is characterized by Garcia as a drummer  of a band called  Bayani's.  "Plaridel"  is drawn holding a drumstick on his right hand in the air, with a rosy necktie, and his eyes looking at his audience.
Manuel Luis Quezon, ("MLQ") is painted  wearing a pin-striped  suit, looking aristocratic and cool as he  holds an electric guitar.
"Sometimes When We Tats" is a large canvas, all slathered in intense bloody maroon, with Manny  Pacquiao's serious face outlined on it and a microphone dangling below his mouth.
The true to life rockers stylized by Garcia are Jimmy Hendrix, John Lennon,  Pepe Smith and the two living Beatles, Paul and Ringo ("Two Down"), adopting their Abbey Road album cover, walking on what seems like piano keys, but colored red and green instead of black and white, and looking more like strawberry fields.
Garcia's self-portrait is as colorful as Dippin Dots, the ice cream of the future, with a mustard mass right off center.  Some guests likened the mass to a penguin, or the condiment that blends well with a piece of hotdog.
Guests who loved the Hotdog Band couldn't get over their glory days and missed their music.  Garcia's three paintings, "You Make Me Blush", "Ayokong Tumanda", and "Stay", are all musical productions too, and are included in the commemorative CD given as souvenirs during the exhibit opening.
"Lumang Tugtugin" depicts a gramophone, the very first crack in fine arts executed by Garcia in 2008, the only piece he signed with his full name.  Ironic but , it's a fact that rock and roll wasn't born yet when gramophones were in vogue.
Rockers have their own wild but relevant universes.  They will continue to make life more interesting and colorful for the audience who are thrilled by them.  "Electric Dreams", Garcia's solitary painting at the tail end of the exhibit summarizes it all.  A  man's deep blue face profile with a fuchsia eye is shown lying down and above it is an undulating white wave.  There is a firmament of wild colors with many stringed guitars floating askance, embedded upon each other.  The painter's ocean of imagination accessorized by these stringed instruments.  Ready to bring music anew.