The increase in consumer prices further slowed down in August, the lowest level since October 2016.
According to the Philippine Statistics Authority, inflation fell to 1.7 percent in August, lower than the 2.4 percent rate the previous month. It is also the first time in three years that inflation settled within government's target of 2 to 4 percent.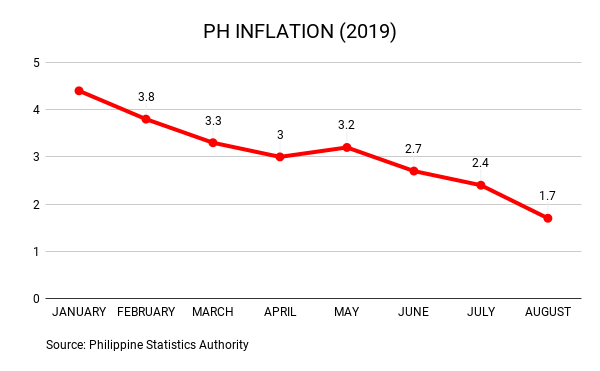 In August last year, Filipinos had to dig deeper into their pockets as inflation hit 6.4 percent, before surging to a nine-year-high 6.7 percent in September amid the implementation of the first package of the Comprehensive Tax Reform Program, which added higher taxes on vehicles, fuel, tobacco, and sugar-sweetened beverages.
The high inflation rate prompted economic managers to fast-track policies meant to help stabilize prices, such as rice liberalization or the removal of quantitative restrictions (QR) on rice imports.
Philippine Institute for Development Studies (PIDS) Senior Research Fellow Roehlano Briones said he expects inflation to remain below 2 percent the rest of the year as more imported rice enter the market, slashing down the prices of the staple food. Rice inflation rate in August slumped to -5.2 percent.
However, local farmers have been at the receiving end of the rice tariffication law. Farmers from rice-producing regions are complaining over the decline in their income as prices of locally harvested grains have fallen to as low as P6 to P7 per kilo.
Under the law, P10 billion from tariff collections must be allocated to the Rice Competitiveness Enhancement Fund in order to fund mechanization, credit, seeds, and training programs for local farmers.
Briones said the government should immediately come up with solutions to help local farmers cushion the impact of the rice liberalization.
"Let's pay closer attention to the voices of our farmers na (who are) claiming for relief. If the way we deliver the safety nets is too slow, maybe it's time for us to think of emergency measures," he said.
In a Sept. 5 press conference, President Rodrigo Duterte said he wants the Department of Agriculture, through the National Food Authority, to buy all locally produced grains to help Filipino farmers recover.
However, Duterte said farmers cannot set a price to the government. "You arrive at a compromise of how much you are willing to lose a little bit…Medyo tapatan lang basta hindi malugi na ano 'yung pagod nila (Just pay them in a way that they won't be on the losing end and their hard work is)…compensated."
In a press statement, the DA said 30 provincial local government units have expressed full support for the measures presented by the agency that would help arrest low local grains prices.