By ARIEL C. SEBELLINO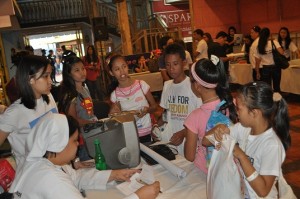 SEVENTEEN-year-old B-Jay has not attended school for the last two years. Instead, B-Jay helps his father David in occasional carpentry works in some subdivisions in Cavite to augment the family's income.
He dreams though of becoming a seafarer someday. 
"Wala man ako choice (I didn't have a choice after all.)," his father said.  "Bilang panganay kailangan talaga niyang tumulong para mabuhay pamilya namin (As the eldest, he has to work for our family to survive)."
For his part, B-Jay said: "Okay lang naman sa akin mag-work to help my parents basta lang makapasok pa rin ako (It is okay for me to work to help my parents for as long as I can still go to school)."
B-Jay is among today's 5.5 million Filipino working children under 18 years of age, documented in the latest survey on children of the National Statistics Office (NSO), which showed a 35 per cent increase from  four million in 2001.
The NSO 2011 survey was presented during the recent World Day Against Child Labor, "Batang Malaya: Child Labour Free Philippines" campaign launch.
Working children refers to those who are allowed to work, but not in child labor or in any hazardous economic activity.
According to the survey, almost three million of the 5.5 million working children are in hazardous child labor, a 25 per cent increase from  2.4 million in 2001. Hazardous child labor was higher among boys with 66.8 per cent as compared to girls with 33.2 per cent.
Under the law, child labor is defined as any work or economic activity performed by a child that subjects him or her to any form of exploitation, or is harmful to health and safety, physical and mental, or psycho-social development. 
The International Labour Organization (ILO) further defines the term child labor as work that deprives children of their childhood, their potential and their dignity.
"We have to get to the root of child labor which is linked with poverty and lack of decent and productive work," Lawrence Jeff Johnson, director of the ILO Country Office for the Philippines, said. "While we strive to keep children in school and away from child labor, we need to ensure decent and productive work for parent and basic social protection for families."
The NSO survey, funded by the ILO, is the first one that utilized its framework for statistical identification of working children, or children in employment, child labor, and hazardous child labor.  The last surveys were in 1995 and 2001.
"It took us a decade to come up with the latest statistics because surveys are really very expensive," NSO Administrator Carmelita Ericta said. 
The Department of Labor and Employment (DOLE) welcomed the results of the survey as it will provide the government a more accurate and more comprehensive picture of the child labor situation in the country, which the previous surveys failed to do.
It vowed to make every barangay of the country's over 1,500 municipalities child labor-free to achieve the country's goal of reducing by 75 percent all worst forms of child labor by 2015.
"We at the DOLE reiterate our pledge to do our utmost in making every barangay in the country with high child labor incidence child labor-free," Labor Secretary Rosalinda Dimapilis-Baldoz said.  "We will meet the challenge head-on."
Central Luzon (10.6 per cent), Bicol (10.2 per cent), Western Visayas (8.5 per cent), Northern Mindanao (8.2 per cent) and Central Visayas (7.3 per cent) are the regions that posted the highest incidence of hazardous child labor. 
Hazardous child labor is defined as being likely to harm children's health, safety or morals by its nature or circumstances.  Children may be directly exposed to obvious work hazards such as sharp tools or poisonous chemicals. 
Other hazards for child laborers may be less apparent, such as the risk of abuse or problems resulting from long hours of work. Hazardous work is considered as one of the worst forms of child labor.
Republic Act No. 9231, an act providing for the elimination of the worst forms of child labor and affording stronger protection for the working children, gives four broad categories of the worst forms of child labor, as follows:
1.All forms of slavery or practices similar to slavery such as sale and trafficking of children, debt bondage and serfdom and forces or compulsory labor, including recruitment of children for use in armed conflict;
2. Using, procuring, offering or exposing of a child for prostitution, for the production of pornography, or for pornographic performances;
3. Using, procuring or offering of a child for illegal or illicit activities, including the production and trafficking of dangerous drugs and volatile substances prohibited under existing laws; and
4. Work which, by its nature or the circumstances in which it is carried out, is hazardous or likely to be harmful to the health, safety or morals of children.
The same Act provides penalties for violations such as imprisonment and fines.