Text and photos by COOPER RESABAL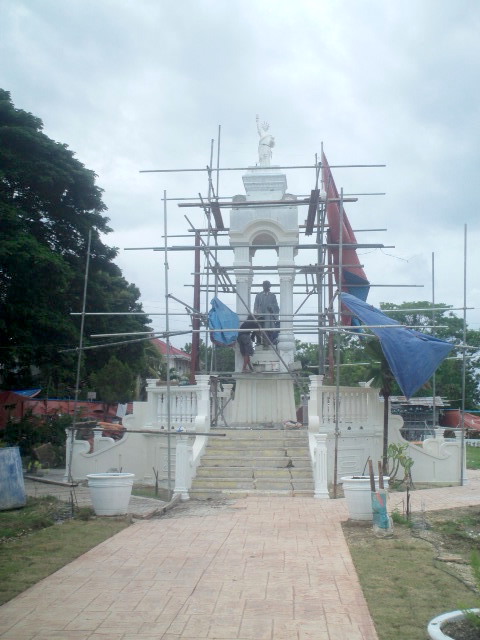 LOON, Bohol. Three years after the October 15 earthquake that hit Bohol hard, some residents of this island province are still haunted by the sudden loss of their loved ones.
Many, however, have picked up the pieces of their lives shattered by the powerful tremor, and have since focused their recovery efforts on rebuilding and preparing themselves to face all types of natural hazards through a variety of sustainable, creative approaches.
From a distance on a hill in barangay Moalong, one can see bancas and what looks like a coastal community, but on closer approach, the visitor notices the remains of 30 or more damaged houses apparently abandoned by residents there not too long ago, leaving the area like a ghost village.
"We used to stay there, some 48 families engaged in fishing, but had to evacuate to a tent village near Loon town, after the October 15, 2013 shook so hard, it shattered all our houses, the nearby bridge, and our lives," narrated Alfonsa Gallo, 43, president of the Moalong Fisherfolks Association (MOFA), as she stood in a row of new cottages being installed with a sewage system.
"Even while we stayed in tents, we continued going to sea at 4:00 a.m. with our banca, usually husband and wife, or father and child (the students take turns), to catch fish using a "pukot" net for our daily rice and other needs. We were usually back before 7:00 a.m. with at least some one to three kilos of fish. The students use some of the sale of the catch as 'baon' to school," Gallo shared. Her husband drives a tricycle after fishing.
In 2014, the evacuee fisherfolks decided to return to the old Moalong site after having been given livelihood assistance which included oyster (talaba) culture by the local government unit.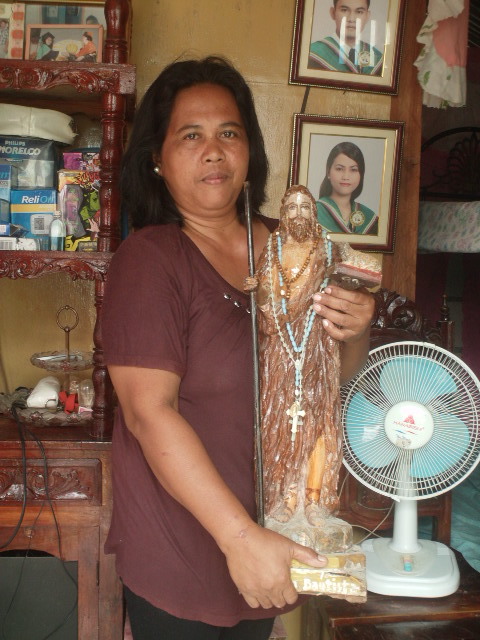 However, when typhoon Senyang struck in December 2014, they had to be evacuated again at the nick of time, as the five days of continuous rain brought flashfloods that inundated their houses located at the mouth of Moalong River. "The waters rose so fast, we did not have time to gather anything. We lost everything. We lost the oyster culture project. It was worse than the earthquake!" Gallo recalled.
Now the New Moalong, twice- evacuated- barangay, stands with 48 houses for 48 families (with a 220 total population) almost overlooking the Old Moalong village. The construction, complete with power and water, was facilitated by Loon Mayor Peter Lloyd Lopez. "We like the site because it is near our fishing livelihood site," said Miriam Sausa, 30, another resident.
Carrying a wooden statue of St. John the Baptist, patron of the fisherfolks here, Gallo said, "With his help, we stood up. We went back to fishing because it's part of our way of life. Through fishing, three of my five children have graduated. One is preparing to board a ship as a seaman, one works as a nurse at the DOH, and another one has been hired as part of the Loon town ambulance."
Just like her children, many in the New Moalong see education or training as key to uplifting their lives. Some of the youth study under a two year course in TESDA, like Information Technology and Hotel and Restaurant Management. Some of the menfolk work in construction projects after fishing, she added. Ten families avail of the government's Pantawid Pamilyang Pilipino program.
In World War II, Moalong village was the site of an ambush staged on September 27, 1942 by 80 Boholano resistance guerillas armed only with bolos against 70 fully armed Japanese military who were on their way to burn Calape and Tubigon towns that resulted in 60 dead on the Japanese side, and two casualties on the Filipino side.
In barangay Katipunan of Sagbayan, a town near the epicenter of the 2013 tremor, the Bohol Chronicle featured Genera Somoro, a middle aged woman, could hardly look at what is left of the once scenic Bayong Falls "because this was the place where her two daughters and three others lost their lives."
Three years ago in the early morning of October 15, 2013, Somoro's daughters Jonalyn, 13 and Joelene, 11 and three other friends were swimming and taking a bath at Bayong Falls "when the earthquake struck, triggering a landslide that buried the children. " Their bodies were never found.
In Boholano, Somoro told the Bohol Chronicle that while she's been trying to accept and forget the horrible event, she still sheds tears when she remembers what happened to her two daughters, and the fact that she was not able to bury them properly.
The Bayong Falls had since been abandoned as a tourist destination. Families of the five children visit the area on Oct. 15 and November 1.
Meanwhile, observers here noted that the 2013 tremor and typhoons in 2014 taught Boholanos to be better prepared for disasters, particularly at the community level.
[metaslider id=48607]
While students in Napo, Loon, still hold classes in emergency classrooms, some donated by volunteer tourists, they have been exposed to a number of disaster preparedness activities and campaigns.
There are instructions pasted on the schoolhouses about what to do in case an earthquake struck, and there's a warning near the Napo shore of the dangers of a storm surge.
At the Cogon Norte Elementary School here, one of the hardest hit areas by the tremor, the local media noted the use of "kuratong", a bamboo communication device to warn students and teachers of coming hazards.
Grade one teacher Inocencia Reyes was reported by Bohol Chronicle to have shared that her school revived the use of "kuratong," traditionally employed to call residents to a meeting, "as part of disaster risk reduction efforts, especially when earthquakes strike" or during typhoons.
In Maribojoc town, one of the most damaged by the tremor, some entrepreneurs in barangay Toril designed an eco-cultural tourism disaster recovery program involving volunteer tourists who provided village folks with bamboo houses while experiencing the cultural practices of the community.
"We arranged the volunteer tourists' tours in three trails, making them first experience fiesta fare with local songs and cuisine and craft demos, then a nature trek, and a fisherfolks' trail that includes a tour of a century-old mangrove forest," shared Ma. Elena Borcelas, coordinator of the Bol-anon Village Cultural and Nature Tours.
"We are thrilled to hear that the people of Bohol are celebrating their heritage as a means of community recovery from the disasters that hit the area in 2013," stated a Facebook post by Maggie Renzi, producer of the American independent film "Amigo" which was filmed entirely in Bohol in 2010, upon hearing of the novel disaster recovery program.
On a road concreting project in barangay Toril and three other neighboring communities, a sign says it is part of a P 121 million national and provincial government's Bohol Earthquake Assistance to areas considered to be "tourists' destination."
Bohol Governor Edgar M. Chatto told local media that the third anniversary of the earthquake in Bohol focused on offering prayers to all those who died and still recovering from injuries, and thanking all those who assisted the islanders in the quake's aftermath.
"As we commemorate the third anniversary of the 7.2 magnitude earthquake, we remember with our prayers those who died and those who were injured." He said that the road to complete recovery from the devastation in 2013 remains a "long and difficult journey."
The 2013 tremor claimed 222 lives, injured at least 1,000 people, totally damaged 15,000 houses and structures and partially damaged 73,000 structures in the region, according to the National Disaster Risk Reduction and Management Council (NDRRMC).