Tagbilaran City – Colorful lanterns line the main roads in many coastal municipalities while most town plazas have elaborate Christmas lights as residents came together to celebrate Christmas more than a year after Typhoon Odette (Rai) ravaged the province, known for its cultural festivals, while in the midst of a pandemic.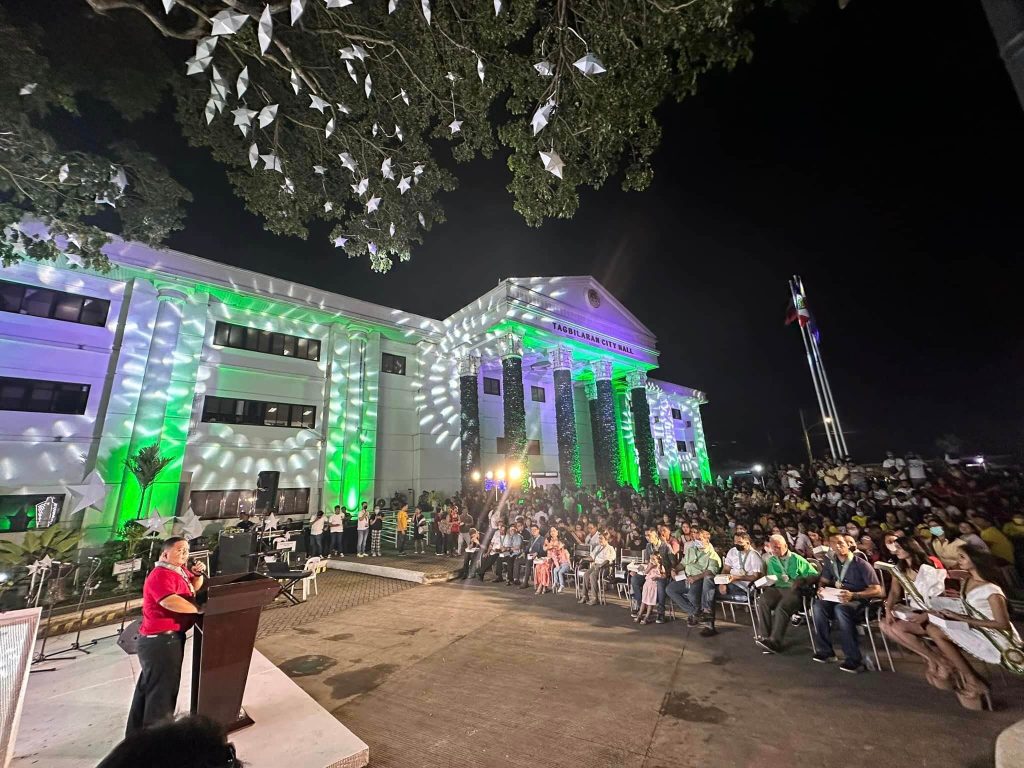 "A lot of Boholanos really prepared for this particular Christmas season in many ways to compensate for all those years during the pandemic when we could not gather together, and when Christmas was cancelled last year when typhoon Odette struck Bohol badly," explains Red Lanzadera, 30, who works at the Oasis Balili Heritage House in Tagbilaran.
"Karon magpabongga ta! (Now, we can be ridiculously elaborate). Every town has bongga Christmas lights, every house prepared something for Christmas reunion, even puroks in the villages. We miss the social gatherings. We want to express joy that after all those calamities and trials, we still managed to survive," adds Lanzadera.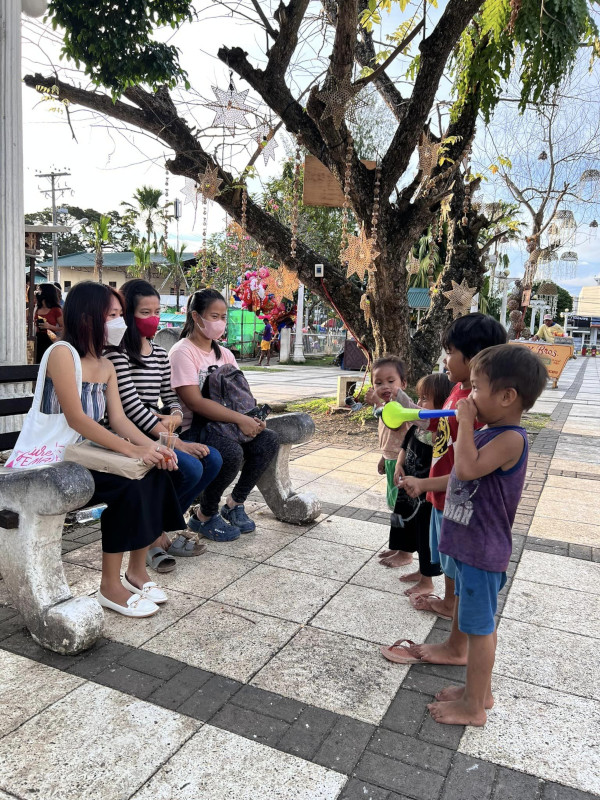 "We are thankful to God for guiding us in overcoming those harrowing days of pandemic lockdowns and howling winds of Odette," says 23-year-old Joemar Tadlas of Garcia-Hernandez town, who is part of the housekeeping staff of the heritage hostel.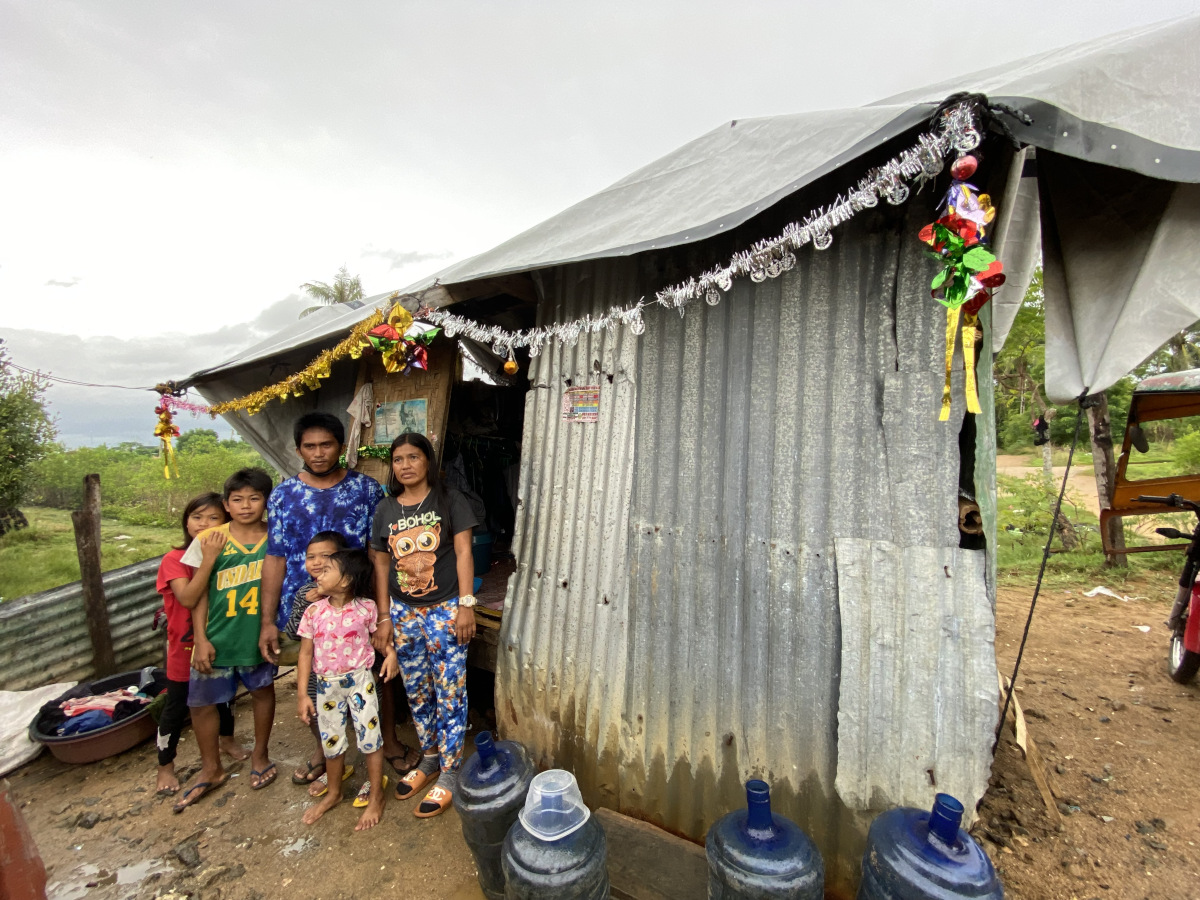 But while many communities, including those in makeshift shelters, are in a festive mood during the Christmas holidays, there are those who still show signs of trauma from the impact of the strongest typhoon that hit the country in 2021.
In Toril in Maribojoc, the 64-year-old lead comparza banjo player, Hermogenes Baldicana, who is visually impaired, can no longer play the banjo or the guitar due to a combination of stress and weakness. His mother, who evacuated with the family in the middle of the storm, died a few weeks after the disaster of pneumonia.
"He could not sleep well at night, and has become edgy," says Myrna Baldicana, a niece, adding that this started after his mother's death, followed by the demise of an impaired sister.
Some 15 days before Christmas in 2021, cultural bearers of the Daygon tradition of Bohol in Toril were practicing their repertoire of songs in verse, narrating the circumstances of the birth of Jesus Christ more than two thousand years ago, for a scheduled live online appearance.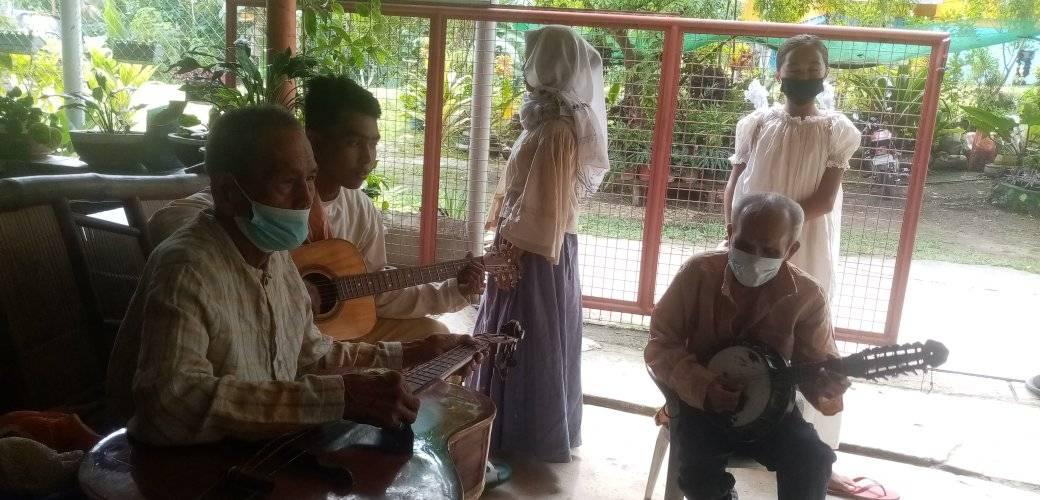 What would have been the start of the first set of the Daygon sa Igue-igue sa Pasko, the Christmas musical theater of devotion which is fast disappearing in Bohol, was aborted by super typhoon Odette that made landfall on the island province on December 16 last year.
Roofs and walls of many houses were blown away by the 179 to 260 km per hour winds, some dwellings hit by fallen trees, prompting many to flee and seek shelter at the barangay hall.
"The howling wind was too strong with heavy rain, we were all wet, we had to run in the middle of the night," says Allan Borcelas, 48.
The winds started at 5:30 pm of December 16, built up to a howling storm at 8:00 pm, and lasted up to 3:00 am December 17, making many residents cry, pray and wonder if they will ever survive the powerful cyclone.
The howler took a total of 111 lives with 5 missing, 2,040 injured, and 26,117 families evacuated (61,010 individuals) in Bohol, according to the Bohol Post-Odette Rehabilitation and Recovery Plan/Report 2022 (June 24, 2022).
The National Disaster Risk Reduction Management Council earlier reported fatalities in the Visayas and Mindanao totalling 405 with at least 82 persons missing. The displaced persons numbered over 650,000, most of them sheltered across 1,325 evacuation centers.
Melyn Borcelas, a health worker and Daygon cultural bearer, has been monitoring Baldicana's state of health. She laments that the musician was unable to be part of the community's ensemble during this year's Christmas Daygon performance and Misa de Gallo.
Another cultural bearer Ambrosio Amon, 86, a bajo (bass) player who was also tuba gatherer, had to stay with his daughter in a nearby barangay after the typhoon destroyed his house and damaged his coconut trees. He had been exhibiting signs of trauma, like being extremely forgetful and getting lost, says his daughter.
"We filled the front of the chapel with star lanterns a few days before typhoon Odette struck. They were all blown away just as we were all recovering from the effects of COVID 19 pandemic. Now, a year after the devastation, we can truly celebrate Christmas in thanksgiving for a second lease on life," says Nino Talinda, who now works at Henann Panglao after losing his business in the village.
Residents of Busao, a village adjacent to Toril, are slowly going back to planting on their farms just beside the Napo stream, a tributary of the Abatan River.
With a backdrop of the flood embankment being constructed, Homer Balagulan, 40, can be seen cleaning his vegetable garden trellis of patola and string beans.  He narrates that the floodwaters reached the roof of his house at the height of Odette. He and his family had evacuated a few hours before the super typhoon struck as advised by local officials.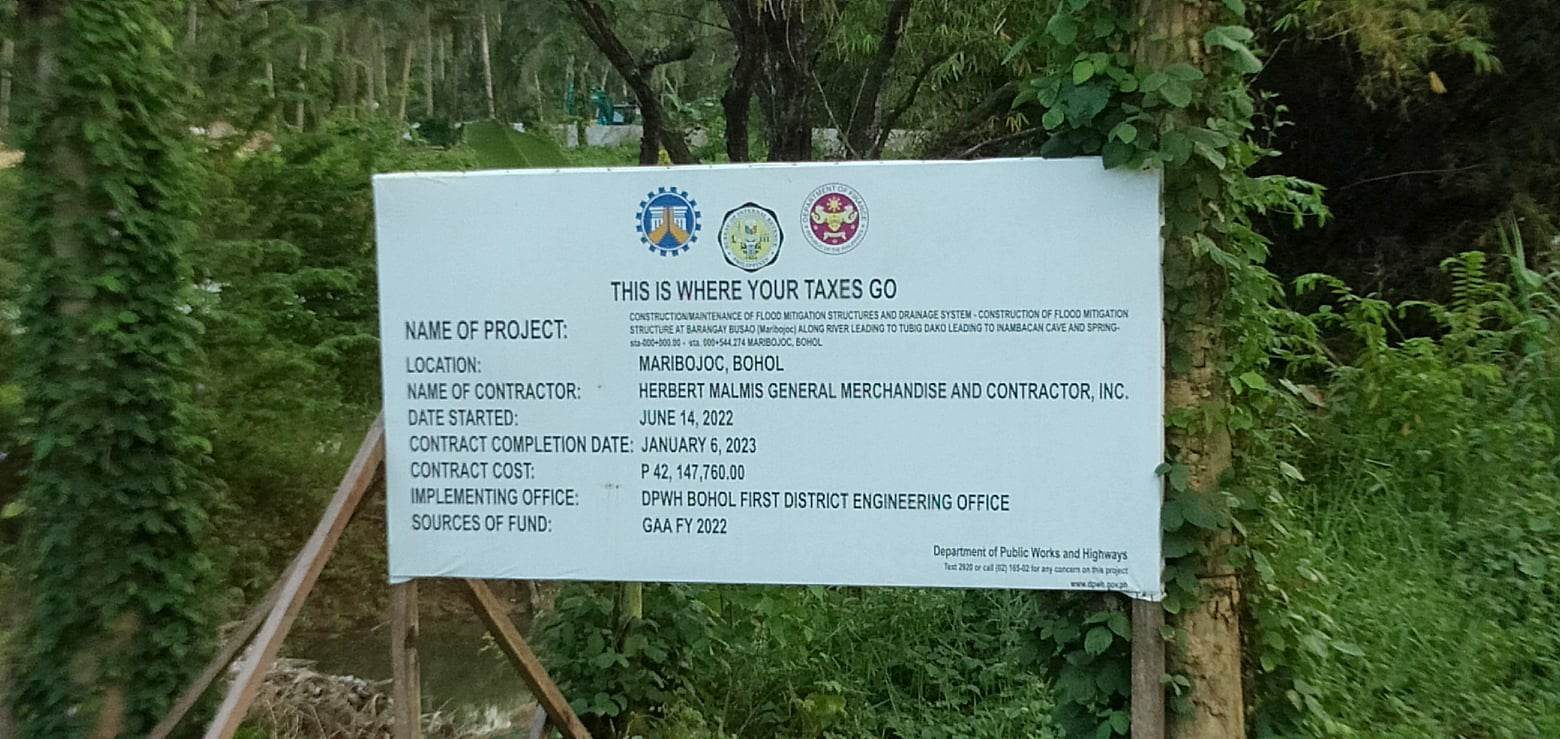 Also in Busao, a billboard marks a P42-million-construction project "to maintain flood mitigation structures and drainage system along (a) river leading to Tubig Dako leading to Inambacan Cave and Spring." Herbert Malmis General Merchandise and Contractor, Inc., is identified as the contractor of the project which started June 14, 2022 and is scheduled to be completed on January 6, 2023. It falls under the management of DPWH Bohol First District Engineering Office.
Residents in the area observed that there had been at least four contractors for the construction of the flood mitigation and drainage system structures but typhoons and floods have come and gone and they are still waiting for their completion.
Showing her damaged house needing major repair, Busao resident Margarita Bagase, 73, says she received four sheets of roofing from the local church, but not one roofing material from the local government. "For more than a year, I have been waiting for some official assistance, but received none, except for some nails and relief goods," she declares, adding thatshe still sleeps in her damaged house at night.
In many parts of Bohol, effective flood prevention moves or structures have either been absent or remain unfinished, leaving residents near flood prone sites exposed to the risk of flooding when the next typhoon comes.
In Poblacion, Ubay, 124 km northeast of Tagbilaran City, a resident narrates how they were too complacent and refused to evacuate when they were told to do so early in the morning of December 16, 2021. Pinky San Pedro, 56, former school cashier, whose house faces the new Ubay seaport, says, "We were complacent because for several years, we have experienced and survived many storms."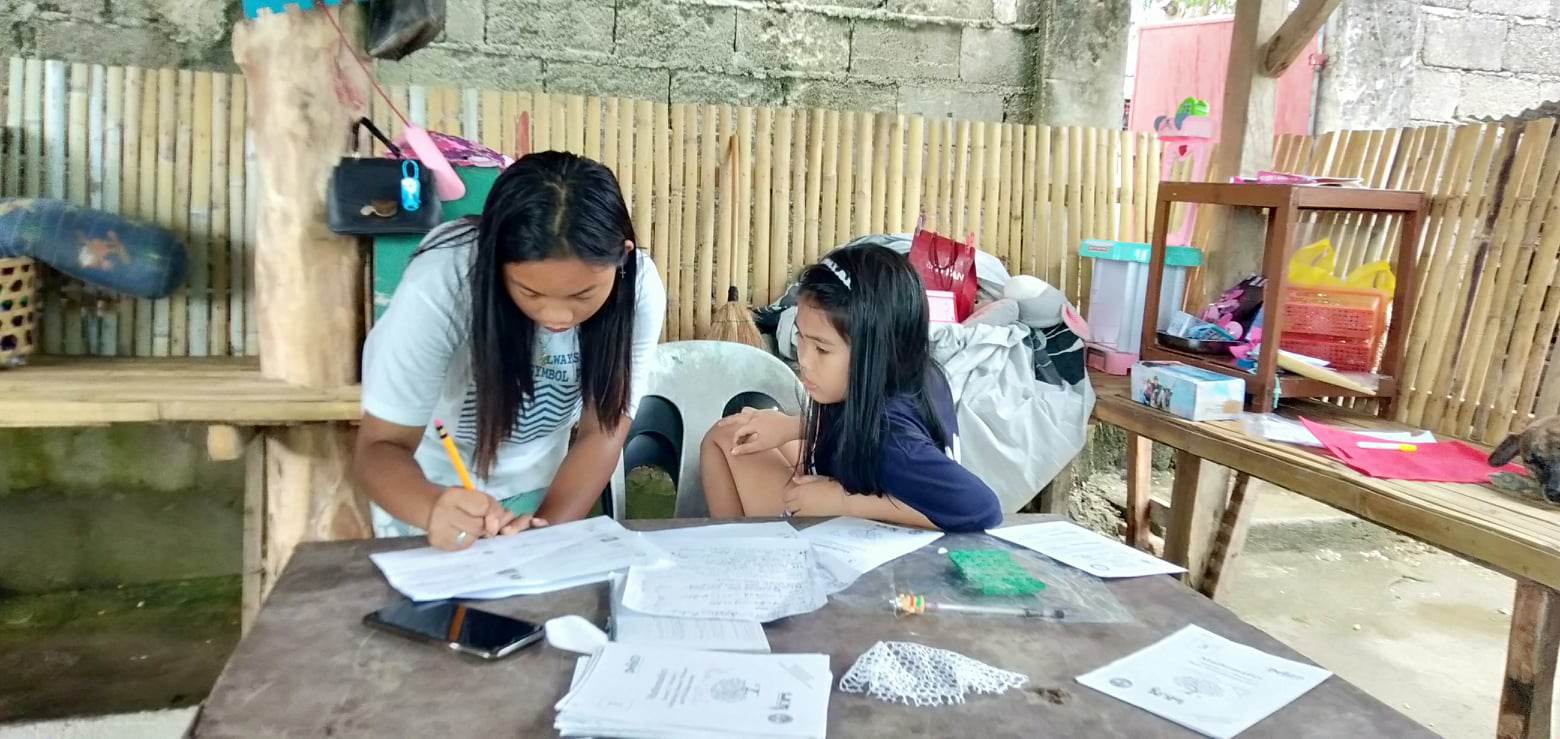 They were wrong. "We thought that was our last, everything was swept away– our house, our things, the boarding house, etc. The water reached the road, and I was trapped upstairs with my 96-year old mother and two grandchildren whom I placed in a closet. But we survived, and evacuated to nearby Pacheco Inn which also sustained major damage," San Pedro narrates.
She says they are thankful that relief came immediately from the local government, consisting of rice and food packs.  All of the neighboring barangays received immediate relief assistance right after the water subsided, she adds.
There is an ongoing diversion road project (which serves as a barrier) connecting the village of Poblacion to the Tapal Port.  While the unfinished structure may have lessened the impact of the water surge, San Pedro says it would have been better if it was completed before Odette struck.
"The Alturas barrier helped save residents of neighboring barangay Tapon, otherwise they would have been all swept to the sea. If the Poblacion barrier had been completed at the back of our house, it would have prevented the sweeping away of our place," San Pedro states.
She says she heard that there is land reserved for relocation in barangays Tuburan and Kamambugan in Ubay. The grandmother expressed willingness to move out if they are assured of a good relocation site with regular transportation for people whose means of livelihood are located a distance away from the proposed site.
Observers who visited Ubay on November 30, 2022, noted the presence of survivors of the super typhoon still living in makeshift shelters in barangay Tapon.
A municipal information officer of Ubay disclosed that the local government had declared the shoreline a no-build zone and that a relocation site had been identified for the families living in stilt houses.
Meanwhile, there have been livelihood recovery interventions for some 400 beneficiaries facilitated by a consortium composed of Bohol Integrated Development Foundation (BIDEF), Save the Children Philippines (SCP), and Ranao Women and Children Resource Center (RWCRC) in Ubay, Carlos P. Garcia, Bien Unido and Candijay, shares Ivan Gamana, BIDEF project officer.
Assistance from the NGO consortium comes in the form of conditional cash and livelihood training from  October 2022 up to March 2023.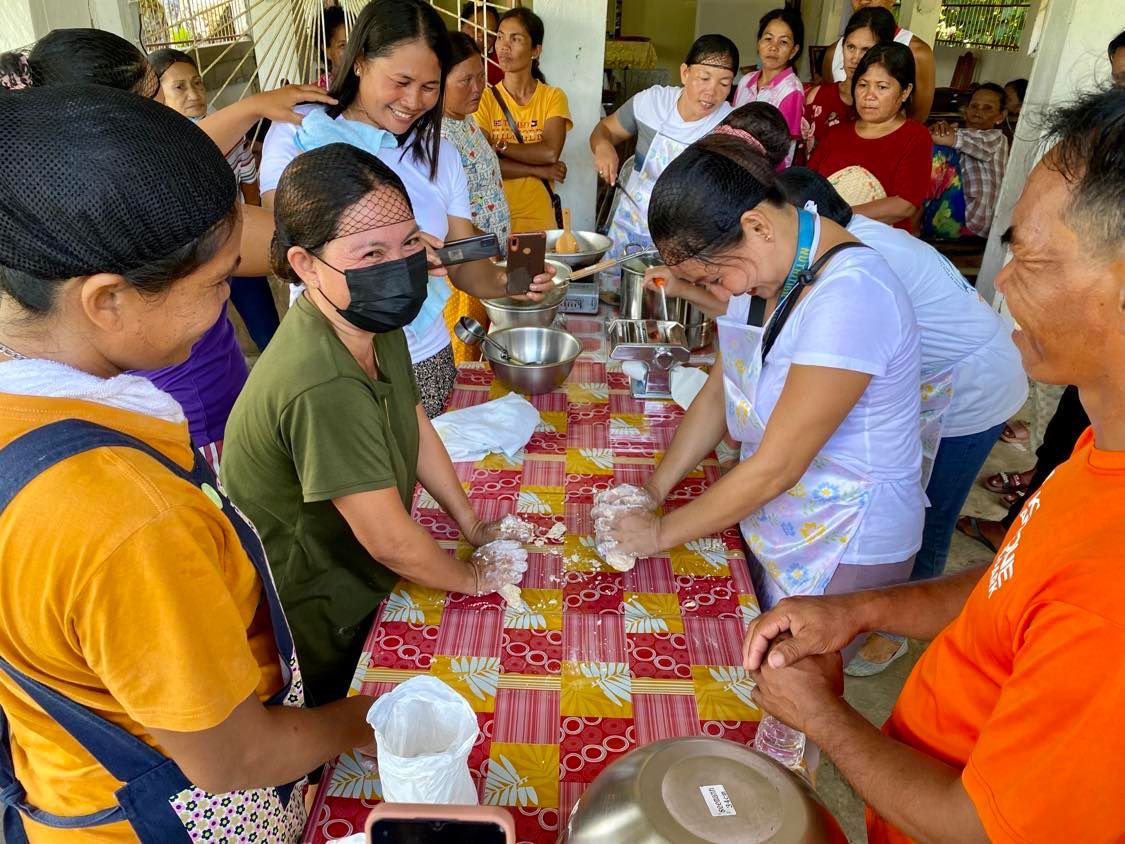 The Inclusive Livelihood and Protection Early Recovery Project aims "to improve access of typhoon Odette-affected communities … to livelihood recovery interventions and child recovery services," according to a project brief.
It targets the improvement of access of fisherfolk to recovery interventions through training and environment-friendly economic activities. It also has an awareness campaign on appropriate response of victim survivors to all types of violence and abuse after a disaster, it adds.
A press release from the Bohol provincial government on Nov. 28, 2022 said that the National Housing Authority (NHA) distributed an early Christmas gift to the storm-stricken families from Ubay — P10,000 cash for each family for the repair of their houses, adding that the money was drawn from the NHA's Emergency Housing Assistance Program and distributed to almost 500 beneficiaries, mostly from barangays Fatima, Tapon and Poblacion in Ubay, which was the worst hit by typhoon Odette in the province.