To many families, politics is a family business. And they prefer it to be a monopoly.
Certificates of candidacy filed this week reveal that they are determined to hold on to their privileged positions. Here are some of them: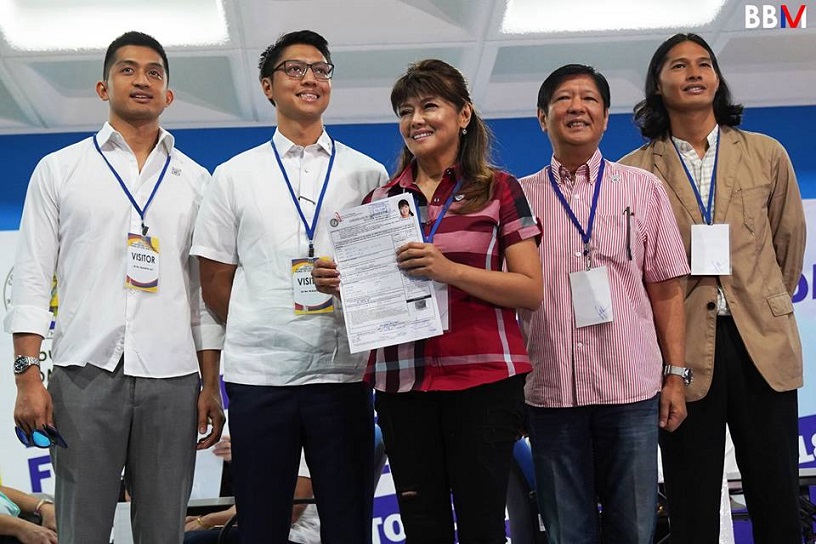 Imee Marcos files her certificate of candidacy for senator accompanied by her brother Bongbong Marcos and her three sons. Photo from Bongbong Marcos Facebook.

The Marcoses
Eighty-nine year old Imelda Marcos, widow of the late authoritarian President Ferdinand E. Marcos, walks assisted by an aide but she is still running for governor of Ilocos Norte, a position vacated by her daughter Imee, who is running for senator.
Mrs. Marcos holds the congressional seat for the second district ofIlocos Norte,
The youngest of Imee's three sons, Matthew Manotoc, is running for vice governor. Ilocos Norte is an acknowledged Marcos territory so it is expected that Matthew would be the one to run the province if he and his grandmother win the provincial posts.
Ferdinand "Bongbong" Marcos, Jr. is not running for an elective position in the May 2019 elections. He is still protesting the result of the 2016 vice presidential contest where he lost to Liberal Party candidate Leni Robredo by a slim margin.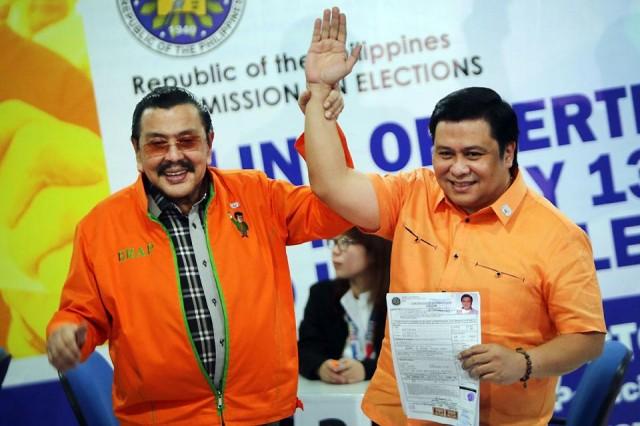 Manila Mayor Joseph Estrada raises the hand of son, Jinggor, after the latter filed his certificate of candidacy. Photo by GMA7.

The Estradas
Eighty-one year old Joseph "Erap" Estrada can hardly keep himself awake in official functions but he doesn't want to give up his post as Manila City mayor. He is running for re-election against another octogenarian Alfredo Lim, 88, and 43-year old former vice mayor Isko Moreno
A former movie actor, Estrada has made a successful career in politics. He had been president, vice president, senator and San Juan mayor
Two of his sons are running for senator. Sen JV Ejercito, Estrada's son with Guia Gomez, is running under the Nationalist People's Coalition while former senator Jinggoy Estrada, his son with his wife, Loi Ejercito, is running under his Pwersa ng Masang Pilipino.
Jinngoy Estrada is out on bail after the Ombudsman found him guilty of plunder for allegedly pocketing P183 million of public funds under the Priority Development Assistance Fund.
Jinggoy's daughter Janella, San Juan City vice mayor has filed her certificate of candidacy for mayor to keep the post within the family as Guia Gomez, mother of JV, completes her three terms as mayor in June 2019.
Jerika Ejercito, Erap's daughter with actress Laarni Enriquez, is running for councilor in Manila.
Pres. Duterte and his children during his oathtaking as president on June 30, 2016. Malacanang photo.
The Dutertes
President Duterte's three children are all running for an election:daughter Sara Duterte-Carpio is running for Davao City mayor. Her running mate is her brother, Sebastian, whom the president always says his only interest is women.
Former Davao City vice Mayor Paolo Duterte, who has been implicated in smuggling, is vying to represent the 1st district of Davao City.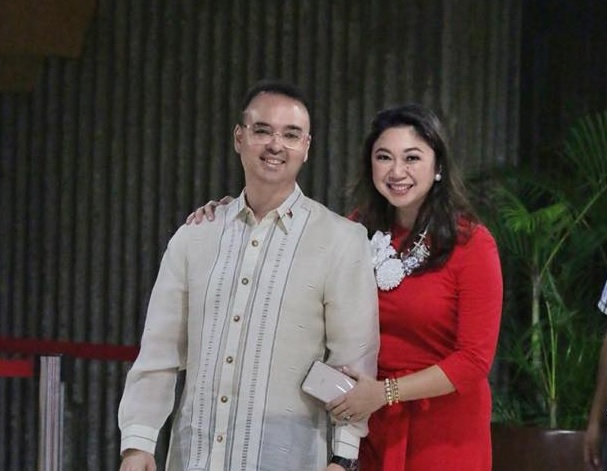 The Cayetanos
Former Foreign Secretary Alan Cayetano is running to represent the first district of Taguig.His wife, the incumbent mayor of Taguig is running also for Congress to represent the second district of Taguig, whose current representative is her sister-in-law, Pia Cayetano, who wants to return to the Senate.
Television director Lino Cayetano, brother of Alan Peter and Pia, who also held the congressional seat for the lone district of Taguig from June 2013 to June 2016, is running for mayor to replace his sister-in-law.
One of the qualifications to be a member of the House of Representativesis a resident of the district you are going to represent "for a period of not less than one year immediately preceding the day of the election."
That means in the past year Alan and Lani were living separately?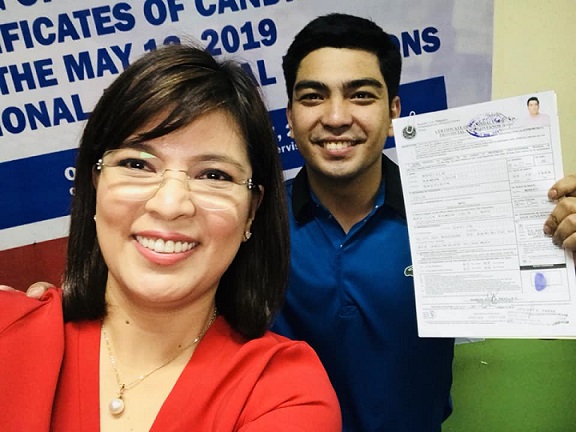 Bacoor Mayor Lani Mercado and her son, Jolo. Photo from Mercado's Facebook.

The Revillas
Former Ramon "Bong" Revilla Jr is under detention for plunder. Like Jinggoy Estrada, Revilla, a former actos, has been accused of pocketing more than P200 millionintended for the less privileged Filipinos.
But that didn't deter him for aspiring to go back to the Senate, where he will be able to dip his hand on more of the people's money. Through his wife, Lani, Revilla filed his certificate of candidacy for the Senate.
Lani herself is running for re-election as Bacoor mayor.
Her son, movie actor Jolo Revilla, is running for Cavite vice governor.
Bong Revilla's brother, Strike, is running for re-election for the 2nd District of Cavite.
There are more
The list is long perpetuating political dynasty which put family interests above democratic values of truth, justice, equality, freedom. That explains why in this country the rich are becoming richer and the poor are becoming poorer.