Bluntly put, Filipino politicians tend to have very bad reputations. Greedy, thieving, dishonest, opportunistic, corrupt, callous, and self-interested are the adjectives that immediately come to mind. Under the present dispensation, one could even add "murderous," "criminal," and "revolting." There's also the dynastic character of the country's politics. The ability to game the system is in the DNA of these rotten individuals. They have imbibed their skills of scamming along with breast milk. And they belong to a political clan and operate in a pack. They behave like the mafia.
How many of our politicians embody decency, honesty, independent-mindedness, intelligence, empathy, and patriotism? Who has even come close to those virtues? I can only think of a handful: Claro M. Recto (1890-1960) opposed American imperialism. Lorenzo Tañada (1898-1992) prosecuted Japanese collaborators. Jose 'Pepe' Diokno (1922-1987) defended human rights and the rule of law during the Marcos dictatorship. Juan Flavier (1935-2014) championed public health, including reproductive health, for everyone. Raul Roco (1941-2005) was a fearless education reformer. And Miriam Defensor Santiago (1945-2016) fought all her life against graft and corruption. These politicians are so uncommon, so rare.
But there is no dearth of people of this caliber today. Some just haven't chosen or have been reluctant to enter the mire of Philippine politics. Those who do decide to work within the system, work hard not be swallowed by it. They put in a lot of effort to remain principled, to stay clean. Otso Diretso constitutes such people. In the fetid murk, these candidates shine.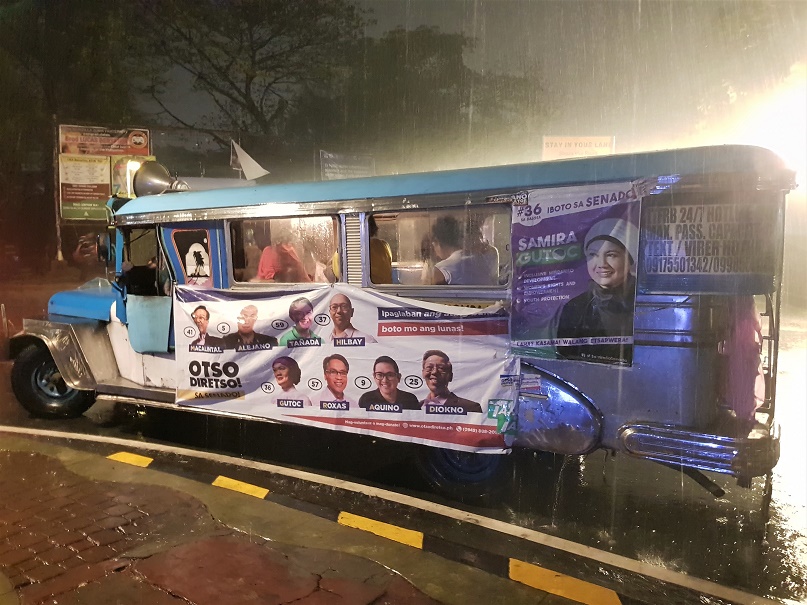 Photo by VJ Bacungan
After 90 days of campaigning, you will by now have gotten to know them. They are the outstanding lawyers: Chel Diokno, Pilo Hilbay, and Romy Macalintal. Bam Aquino, champions education; Gary Alejano, a congressman who comes from a cohort of idealistic military men; Mar Roxas, even-tempered elder of the Liberal Party; former congressman Erin Tañada; and the impassioned Muslim activist Samira Gutoc. Here's why we deserve them.
First, more than any other president in our history, Duterte governs with near absolute impunity. His savage drug war has resulted in the murder of some 26,000 people from the ranks of the desperately poor.
Otso Diretso will uphold the rule of law and ensure due process is followed. They will fight for an independent judiciary and an impartial justice system for all. This has evaded us for so long we can hardly imagine what getting real justice feels like.
Here's what Chel said to me when I asked him how he would obtain justice for those killed in the drug war. "We have started our own documentation with victims willing to come forward. We have ordered the Solicitor General to turn over all the documents related to the war on drugs. This is the start of accountability. We have been pushing the International Criminal Court [in the Hague] to take cognizance of the cases as we cannot sue the President until his term ends, and it may not end in 2022."
Here's what he said in response to my question on what could be done to restore trust in the judiciary. "Number one we should prohibit the use of narco-lists that have been issued left and right by the President. [Also] his use of matrices and diagrams that have no evidential basis. These have had a strong chilling effect on the judiciary. Judges fear their names will get on the next list. We will strengthen judicial accountability. The SALNs, especially of the higher courts, should be published. The Ombudsman should be required to conduct regular life-style checks on judges. This would help to restore the confidence of the public. We need to make a lot of substantial reforms on the way we dispense justice. The process of our [judicial] appointments is highly politicized which has also affected the quality of our justices. That has to change. We have to start now. Our justice system is almost at the point where it is not functioning." These are the words of a man of conviction and determination.
Second, Duterte has allowed China to occupy and militarize our territories in the West Philippine Sea. He is signing loan agreements tied to extortionate interest rates that hostage our natural resources, land, and a gamut of other patrimonial assets. It is almost inevitable that we will fail to repay China. That the Duterte administration allows this is not just wrong. It is traitorous.
Otso Diretso are staunch defenders of the country's sovereignty. Alejano has consistently denounced Duterte's pro-China pivot and condemned the loans for what they are – debt traps. This man has nobly served his country as a soldier. He has demonstrated his willingness to defend the country with his life.
Third, Duterte and his bootlickers will play fast and loose with key Constitutional safeguards. The bill now pending before the Senate, devised by an unholy alliance between Duterte and Gloria Macapagal Arroyo yes men in Congress, intends to institute a federalist government that threatens to concentrate power and money in the hands of local warlords, remove anti-dynasty provisions, allow full foreign ownership of land and natural resources, and give unlimited terms for national and local government officials.
Otso Diretso will defend the Constitution. Gutoc cherishes the Constitution. She knows what it is to be a war victim, uprooted from one's land and evacuated due to conflict and war. Her family home is in ruins, and lies in Marawi's ground zero, the once-proud Islamic city in Mindanao Duterte destroyed in a bid to ferret out a handful of terrorists. She calls the current proponents of federalism in Congress "suspect political personalities." "They are not really credible enough to pass a law that will limit their terms," she says. With a clear note of defiance, she states: "There's this Samira Gutoc who understands international protocols. Who understands human rights? Who understands cultural sensitivity? Who understands trauma? And I will remind the President of that."
"We are at the point of falling into the abyss," Diokno thinks. "If we get an independent Senate, I think we will be able to stop the plunge and restore some semblance of sanity in the country."
The mid-term elections are a choice between sanity and madness. And choosing between the villains and the valiant.
Email: rachelagreyes@gmail.com