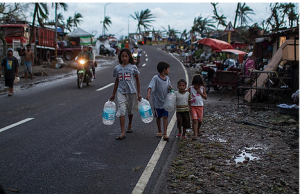 By REYAN ARINTO
TACLOBAN CITY — After super typhoon Yolanda swept away her home in Guiuan, Eastern Samar, 14-year-old Noemi was forced to beg for food. Her family lost everything, and had nowhere to go.
So off she went to Tacloban with a relative to find work as a domestic helper. "I had nowhere to go and I didn't know what to do except to beg at the jetty port in my hometown so I decided to go with my aunt."
But Noemi ended up working as a waitress cum entertainer in a small sing-along bar on the fringes of Tacloban, which was also reeling from the impact of the powerful typhoon.
"My small salary has forced me to surrender to sexual propositions made by some customers in the bar," she said.
Noemi's story has become commonplace. Since Yolanda, also known by its international name Haiyan, hit Eastern Visayas in November last year, hundreds of boys and girls have reportedly been smuggled out of their hometowns to Tacloban, Cebu and even Manila by traffickers out to exploit the situation.