To boost voters' education for the upcoming May 9, 2022 elections, Inquirer Mobile launched an election bot: Inquirer PILIpinas and formed a partnership with media nonprofit organization – Vera Files.
The bot has features that aim to help the Filipinos understand the Presidential and Vice-Presidential candidates' stand on burning topics and an avenue for users to rate their candidates' answers.
Through the 'Rate the Candidates' tab, one can review the candidates' profile, biography, and achievements. The feature enables users to rate the candidates based on their stands on various important national issues. To view the pulse of bot users, one can tap the 'Approval Ratings' tab to see the overall results.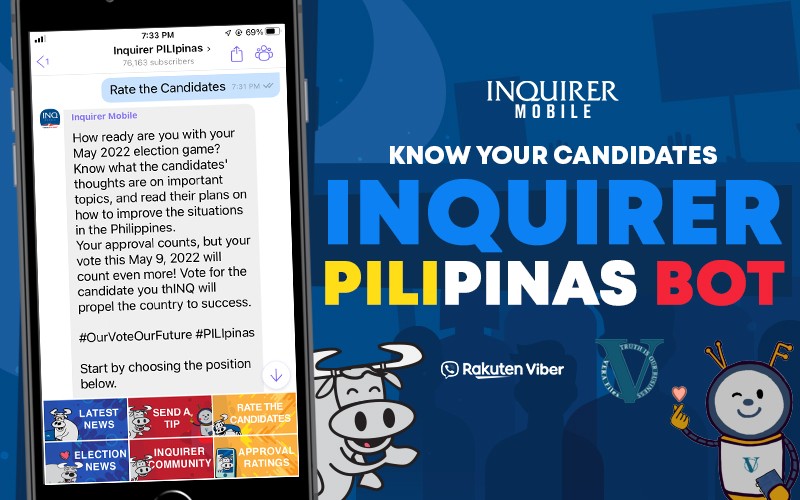 For anyone who wants to send a tip for fact-checking, one can tap the 'Send a tip' to send a message to the bot. Users who send a message will have it go through the fact-checking process of Vera Files. Vera Files was founded by veteran Filipino journalists in 2008, focusing on investigative journalism and in-depth reporting of Philippine social issues.
Other sections of the bot are the 'Election News' and 'Latest News' where they can access fresh updates from Inquirer Mobile. Users can also be redirected to Viber Philippines' biggest news channel Inquirer through the 'Inquirer Community' tab.
The Inquirer PILIpinas bot was created with the help of Inquirer Mobile's 2021 interns from Bulacan State University namely Allison Estrella, Bianca Meneses, Mary Joy Salcedo, Mary Angela Puntilar, Chabelita Santiago, and Noelyn Joy Matitu and the rest of the Inquirer Mobile team.
Access the bot here: https://inq.news/INQPILIpinasBot