Politiko recently complained about our Oct 16, 2018 Fact Check of its post on Rep. Antonio Tinio's comment on Pres. Duterte's trip to Hongkong which we tagged as "Misleading."
In its Oct. 11, 2018 post, Politiko titled the 25-second video clip featuring Tinio's comment as, "Pera ng bayan, pinang-shopping ni Duterte sa HK – Tinio."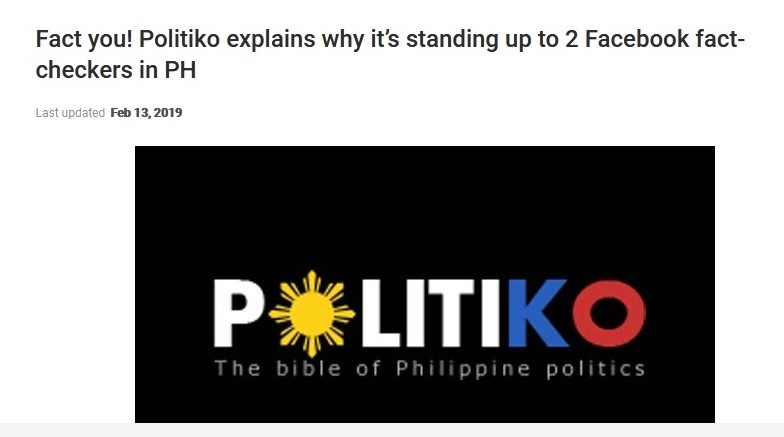 In its Feb. 13, 2019 statement, Politiko said "there was nothing misleading" in its article adding that "Vera Files' hasty conclusion that Politiko tried to mislead readers shows its lack of knowledge— or naiveté— about the cutthroat competition in the online news arena."
They also said, "Politiko needs to come up with interesting titles for our posts to stand out in the battle for clicks and eyeballs. The traffic generated by Tinio's video showed our strategy works."
There is no problem with "interesting titles" as long as it is an accurate and factual account. Accuracy should never be sacrificed for clicks.
We regret that Politiko did not complain immediately after VERA Files fact-checked its post. Facebook Fact Check has an appeals process for those who believe their post was tagged wrongly.
In the appeals process, we could have given them the chance to correct their post and if it was done, we could have removed the tag.
Being a certified fact-checker by International Fact-Checking Network (IFCN), we are guided by the code of principles of the IFCN, including a commitment to open and honest corrections.
Email us at appeals@verafiles.org for appeals on our fact-checks.
Ellen T. Tordesillas
President
VERA Files