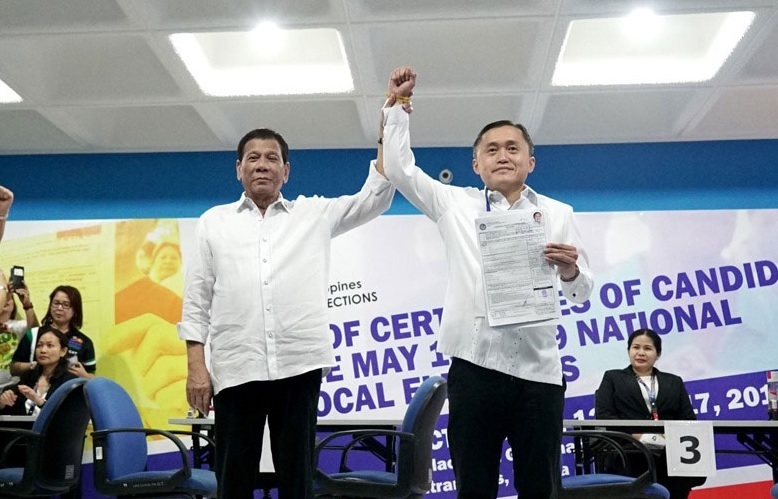 Pres. Duterte with Bong Go when the latter filed his certificate of candidacy for the 2019 senatorial election. Malacanang file photo.
A political analyst-friend has an interesting observation about how Pres. Duterte is preparing for post- 2022.
He said contrary to what many assume that Duterte is grooming his daughter, Davao City Mayor Sara Duterte-Carpio, to succeed him in 2022, it's actually his most reliable, ever loyal aide, Bong Go, that he wants to install in Malacañang after his term.
"No, no, it's not Sara, without an "H," he said. He explained father and daughter don't see eye to eye on many issues and choice of people. 'He can't control Sara. He does not want that," the analyst said.
He makes sense.
With Bong Go, it will truly be an extension of the Duterte presidency. Unlike Sara, Bong Go will do what Duterte says. He knows his role in this world: a Duterte gofer.
Sara has made a number of political moves that apparently were not approved by Duterte, foremost of which was the ouster of Duterte loyalist Pantaleon Alvarez as speaker of the House of Representatives and replaced by former President Gloria Arroyo, whose agenda may not exactly be in sync with that of the irreverent chief executive.
Duterte, reflecting a contempt for the institutionalseparation of powers, said his choice for next speaker of the House of Representatives is Marinduque Representative Lord Allan Velasco. Sara showed the same contempt for the independence of the Legislative body but she has another politician in mind. While campaigning in Tacloban, Sara called former congressman and now candidate Martin Romualdez as the "next speaker." (What happens to former Foreign Secretary Alan Peter Cayetano, whom Duterte encouraged to run for Taguig congressman and be the next House Speaker?)
Father and daughter also differ in their senatorial candidates. Sara's Hugpong ng Pagbabago has 13, one more than the 2 slots to be filled in the ballot. Some of her allies are not comfortable with the bloated ticket because there's the danger of voters checking all 13 names and the vote would be invalidated.
Others also say it reflects her policy of unprincipled accommodation. There are many places in the provinces where Hugpong has more than one candidate for the same position.
Former Interior Secretary Rafael Alunan and singer Freddie Aguilar are in the PDP-Laban ticket which Duterte endorses. They are not in Hugpong's slate.
Two former senators charged with plunder, Bong Revilla and Jinggoy Estrada, are in Hugpong's ticket. Duterte is not supporting the two, who are doing well in pre-election surveys.
Analysts see the exclusion of Estrada and Revilla from Duterte's choices as a strategy to pave the way for the inclusion of two of his favored candidates: former Police Chief Ronald de la Rosa and Go.
In the latest survey of Pulse Asia (Feb. 24 to 28, 2019) de la Rosa is already in the Magic 12 and Go has jumped to number three following re-electionists Grace Po and Cynthia Villar. He has surpassed former movie actor Lito Lapid.
"Duterte will make Bong Go number one. Mark my word," the analyst said.
The analyst said it is important to Duterte that Bong Go will be the senatorial contest topnotcher in the May 2016 election, because he interprets it as the power of his endorsement which he thinks he can extend up to 2022.
President Bong Go in 2022. God save the Filipino people.