Text and video by LALA ORDENES
A radio broadcaster who spent two years in jail for libel is one of several journalists and human rights advocates who have asked the Supreme Court to declare unconstitutional the government's controversial new law, the Cybercrime Prevention Act of 2012.
The law takes effect Oct. 3, and would penalize journalists and other Internet users for exercising their rights to free expression and free press.
Alex Adonis, a broadcast journalist based in General Santos City in Mindanao and commentator for the program Radyo Alerto, has asked the Supreme Court to strike down the law for violating the right to free speech.
Adonis has been advocating the decriminalization of libel since he was imprisoned in 2007, for commentaries he had made way back in July 2001. In those commentaries, he criticized the alleged illicit relationship between then Congressman Prospero Nograles and Davao City television personality Jeanette Leuterio. Nograles would later become Speaker of the House.
He called Nograles "Burlesque King" after Leuterio's husband allegedly caught the two in bed in a Makati Hotel. In his commentaries, Adonis said Nograles ran naked from the room to escape the husband's wrath.
Nograles filed two libel cases against Adonis.  In April 2007, Adonis was convicted on the second libel case, and was sentenced to four years and six months in prison.  He served time for two years.
The Department of Justice Board of Pardon and Paroles granted his parole in December 2007 but he wasn't released until a year later because Leuterio filed another libel case against Adonis based on the same "Burlesque King" report.
Leuterio withdrew her suit when Adonis apologized. In a statement upon his release, Adonis said that the apology does not "in any way mean a capitulation of the truth I have been pursuing nor did it mean an admission of my guilt."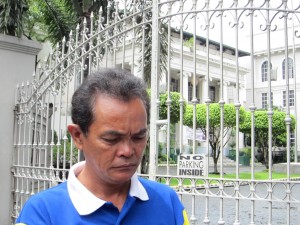 While he was in prison, he sent a Communication through the help of Center for International Law before the United Nations Human Rights Committee (UNHRC) questioning his imprisonment, saying that it violated his right to free expression.
In April 2012, the UNHRC issued a View saying that the Philippine law on criminal libel is incompatible with Article 19 of the International Covenant of Civil and Political Rights (ICCPR) to which the country is a signatory.
Article 19 states, among others, that "Everyone shall have the right to freedom of expression; this right shall include freedom to seek, receive and impart information and ideas of all kinds, regardless of frontiers, either orally, in writing or in print, in the form of art, or through any other media of his choice."
The Philippines is one of the world's top 10 most dangerous places for journalists, according to the international group Reporters Without Borders.
There have been 72 journalists killed in the line of duty in the Philippines since 1992, according to the Committee to Protect Journalists.