Text and Photos by VINCENT GO 
VARIOUS media groups, along with individual journalists, bloggers and press freedom advocates continue to challenge the constitutionality of the government's new Cybercrime Prevention Law.
The 10th petition was filed Thursday, Oct. 4, by a group of netizens led by the blogger Tonyo Cruz.
In their petition, the bloggers allege that the new law "destroys the idea and reality of the Internet as an open public forum and marketplace of ideas."
They bloggers argue that the Cybercrime law poses a clear and present danger on the internet as "a platform for close to one-third of the population" where users "discuss issues and concerns, respond during disasters and crises, demand improvements in various aspects of national life and, most importantly, to speak truth to power"
On Wednesday, two other petitions were filed before the Supreme Court assailing the Cybercrime law.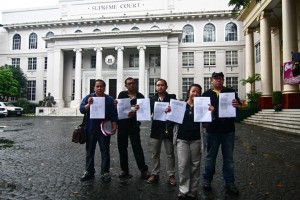 Lawyers from the Ateneo Human Rights Center filed the 8th petition while 20 media organizations including the National Union of Journalists of the Philippines, the Philippine Press Institute and the Center for Media Freedom and Responsibility,  filed the 9th petition.
These suits came in the heels of petitions filed last week, including one signed by VERA Files represented by its president Ellen Tordesillas and writer Lala Ordenes-Cascolan, broadcaster Alex Adonis and lawyer Harry Roque.
The petitions seek a repeal of the law, Republic Act No. 10175, which media practitioners believe curtails freedom of speech, expression and the press through provisions that allow the government to clampdown on dissent online.