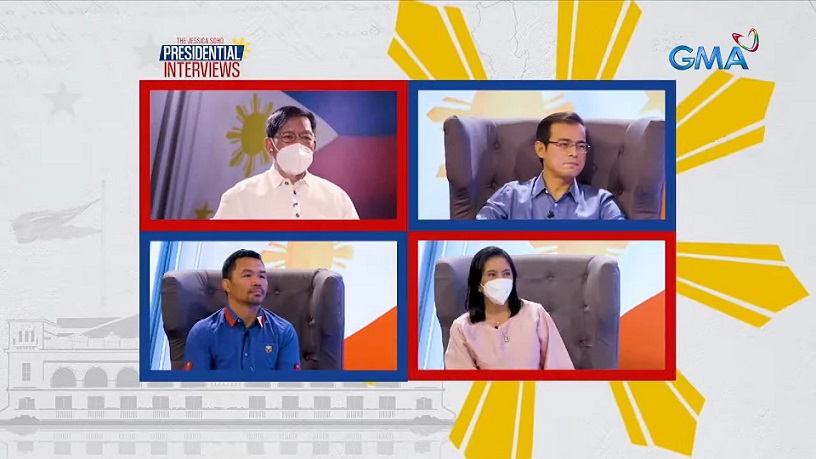 From left to right, Sen. Panfilo Lacson, Manila Mayor Isko Moreno, Sen. Manny Pacquiao, and Vice President Leni Robredo. Screengrab by Bryan Manalang.
There are many good things going for the three-hour GMA 7's Jessica Soho Presidential Interviews aired Saturday night.
It started at exactly 6:15 p.m. and wrapped up at 9:15 p.m. at which time you realize you have just watched one hell of a TV interview involving at least four presidential contenders.
It was a refreshing experience because the state of the country's talk shows has sunk so low after the disappearance of good TV hosts who lost the ratings war and pushed to late night slots.
For the Presidential Interviews, the subjects looked prepared- from Vice President Leni Robredo to Sen. Panfilo Lacson , Manila Mayor Isko Moreno and Sen. Manny Pacquiao.
From beginning to end, the questions were thoroughly fleshed out, honest and thought-provoking.
The exchange was thoroughly rewarding you have no time to look for one missing contender, Ferdinand Marcos, Jr., who backed out.
For three hours you heard questions you would not dare ask your subjects in a regular interview.
The research team of Soho covered a lot of ground and dug through possibly embarrassing personal issues.
They unearthed the number of times Pacquiao was absent in the House and in the Senate, the number of fights he won and lost and even the number of broken promises of not returning to the boxing ring to focus as public servant.
In the personal record of Lacson, they unearthed the Kuratong Baleleng case and involvement in the Corbito-Dacer murder cases.
Pacquiao was asked about his tax cases and denunciation of the LGBTQ community; Moreno was reminded of the corruption charges hurled at him by Duterte after his presidential ties were cut off by serious exchanges, and Robredo was asked about some feedback (mostly petty) on her lugaw feeding program.
Indeed, the research group sifted through past and present records and pronouncements involving the presidential candidates. The result left their TV audience agreeing on one thing: that Soho and her research team did their homework thoroughly.
Not only did the team ask relevant questions they also elicited reactions by flashing photos of personalities like Duterte, some typhoon victims, hungry Filipinos, and jobless families.
One reaction that stood out was when Lacson sighed "Sayang (What a pity) " when he saw the photo of Duterte being flashed on the TV screen.
The subject most discussed by the presidential contenders was the government's poor response to the pandemic.
They agreed the government has done some good things but on the whole, they deplored the slowness of response and why are military people taking over Philhealth and other sensitive government offices that were supposed to be run by men of science.
Lacson said: "The government should be initiating moves to solve the nation's problems. But in our case, the problem is the government. We are in the middle of crisis but the thing is these officials are making money out of the nation's misery."
If Soho was prepared, so were her subjects.
Robredo was prepared with her statistics, Lacson was cool and to the point, Moreno's charm was oozing, and Pacquiao was suddenly articulate.
Hearing their response, one could almost feel the TV audiences not minding if any of them won and their earlier choices lost.
That's how good and decent and spontaneous the presidential contenders were Saturday night.
Moreover, they agreed and disagreed on some points.
They were unanimous in the suggestion that the government should resume peace talks with the Communist Party of the Philippines and not allow the re-imposition of death penalty. They were also one in endorsing the Visiting Forces Agreement with the United States.
All of them shared their bad experience with online trolls and vowed to make social media platforms accountable.
Moreno said there are existing laws that can be used against those who engage in online disinformation: "Hinahayaan nilang gawing outlet ng mga maling impormasyon 'yong kanilang sistema. Now, beware by the time may awa ang Diyos palarin ako, lahat ng magiging bahagi ng fake news whether their system o the one person who did it under our law," he said.
(They are allowing the use of their outlet for false information. Now, beware when the time comes when by God's grace that I would make it, all those who were part of the fake news whether their system or the one person who did it under our law.)
The four candidates were in favor of the Philippines rejoining the International Criminal Court (ICC).
The Philippine government withdrew in 2018 after the Hague-based body took up complaints against Duterte's brutal war on drugs.
The candidates, however, differed on whether ICC should prosecute Duterte. Lacson said Yes, while Moreno said, No. Pacquiao said if ICC finds Duterte committed the crime he is accused of, he must be prosecuted. Robredo declined to answer because the case is still at the level of preliminary investigation.
The four candidates were on the same page to work on the country's legal victory at the Permanent Court of Arbitration in The Hague against China's all-encompassing claim and aggressive activities in the West Philippine Sea. They differed, however, on how to go about it.
Lacson stressed the need to build alliances with countries with countries with strong military like the United States, European Union countries, Japan, Australia.
Robredo's answer was along the same line. "Pag-isahin natin 'yung coalition of nations para sabay-sabay nating harangin 'yong ginagawang militarization ng West Philippine Sea. Meron tayong armas: ang armas natin 'yong ating pinanalunan and sa atin ito 'yong armas natin para mahikayat 'yong ibang bansa na tulungan tayo, para sabay-sabay nating harangin 'yong ginagawang pagsakop ng ating teritoryo."
(We have to form a coalition of nations so we can jointly stop China's militarization of the West Philippine Sea. We have a weapon: our weapon is our court victory, and we will use our court victory to convince other nations to join us in our fight to stop aggression in our territory.)
Saying the Philippines should not allow itself to be bullied by China, Pacquiao batted for more talks."Kailangan din pag usapan kung ano 'yong mga problema, kasi hindi po naresolba ang problema sa isang pag uusap o dalawang pag-uusap."
(The problem needs to be discussed further because a problem will not be resolved just by having one or two discussions.)
Moreno said he will not allow China to expand further in Philippine territory and will take back Philippine-claimed territories China had taken over. He also assured Filipino fishermen that they should be able to fish freely in Philippine waters, "Hindi na lalawak pa kung ano man 'yong mga nakuha nila habang binabawi natin 'yong mga nabawi—nakuha na nila hindi na sila makalalawak.
(I would not let them expand and we will take back what they got.)
The candidates also disagreed on same sex-marriage but with some tolerating same sex union.
In the end, the superb interviews and the equally superb answers they elicited became an indictment of corruption and bad governance ailing this administration.
As for Soho, she deserves another citation for a good TV interview. She has certainly earned her credentials and still getting better as broadcast journalist, documentarian and news director.
She is the first Filipino to win the British Fleet Journalism Award in 1998. Her report on a hostage incident in Cagayan Valley earned her the first Filipino to win Best Coverage of a Breaking Story at the New York Film Festival, among others.
Meanwhile, the GMA Network has objected to the statement of the camp of presidential aspirant Ferdinand "Bongbong" Marcos Jr. that the broadcast journalist was biased against the Marcoses.
The broadcast giant stressed that throughout her career, Soho has consistently been named the most trusted media personality in the Philippines by both local and foreign organizations. "It is unfortunate that Mr. Marcos has chosen to decline the invitation extended by the network to participate in 'The Jessica Soho Presidential Interviews. True she asks tough questions mainly because the job of the presidency is equally tough."
Meanwhile, Boy Abunda is all set to interview Marcos along with four other presidential candidates in the 2022 Presidential one-on-one starting on January 24 at the Boy Abunda Talk Channel on YouTube.
But truth to tell, that Soho presidential interview Saturday night is a tough act to follow.