An old election campaign video of Vice President and presidential aspirant Leni Robredo was altered with the use of unrelated images to present misleading information about her.
A netizen changed the background of her 2016 campaign ad to show screenshots and photos, including one of a collapsed footbridge, to mock her legacy.
At the end of the video, three screenshots of news articles were flashed, insinuating that the Office of the Vice President (OVP) was flagged by the Commission on Audit (COA) for questionable transactions. The news articles were unrelated to the video.
A request to fact check this video came through the VERA Files Viber Misinformation tip line. We debunk the claims here: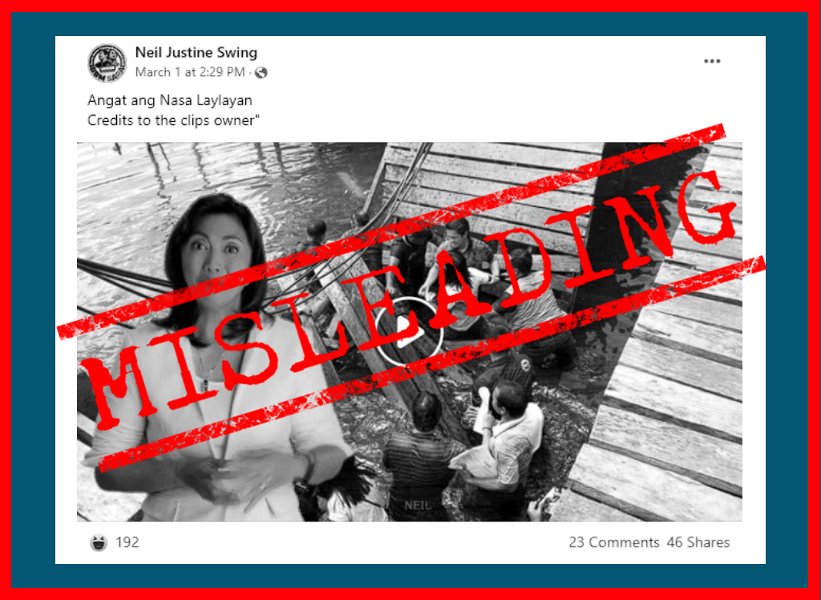 Robredo's official YouTube channel posted the original copy of the video on March 18, 2016, when she was running for vice president. The misleading video used the original audio, but it omitted the word "vice" so it could pass as an ad for her 2022 presidential campaign.
Photos of a wooden footbridge in Zamboanga that collapsed on April 27, 2018 were inserted in the video just as Robredo said "Dalhin natin ang pag-unlad kung saan kulang (Let's bring progress where it's lacking)."
The bridge was not a project of Robredo but was part of the local government's initiative to help victims of the 2013 Zamboanga City Siege.
One screenshot used in the video was a June 12, 2019 Politiko article where COA cited reporting deficiencies in Robredo's anti-poverty project, as well as the lack of clear-cut guidelines in choosing beneficiaries.
In response, the OVP said in a June 13, 2019 statement that the recipients were selected based on the "localities' needs or their record of good governance."
Another screenshot inserted into the video was that of a Sept. 6, 2020 Inquirer.net article about COA flagging the OVP on its slow utilization of medical funds worth P195 million. But Robredo clarified that slow utilization of funds is not tantamount to corruption, as per the COA's comment.
The third screenshot is that of a Feb. 22, 2022 CNN Philippines article about state auditors flagging their own colleagues over P12.3 million of unliquidated cash advances. The article doesn't refer to Robredo, and was previously rated as misleading by VERA Files Fact Check.
Posted on March 1 by a Facebook user, the misleading video got a total of 1,315 interactions. It appeared two days after CNN Philippines organized a presidential debate on February 27.
Have you seen any dubious claims, photos, memes, or online posts that you want us to verify? Fill out this reader request form.
(Editor's Note: VERA Files has partnered with Facebook to fight the spread of disinformation. Find out more about this partnership and our methodology.)