All images are screenshots from 21AM, CCP.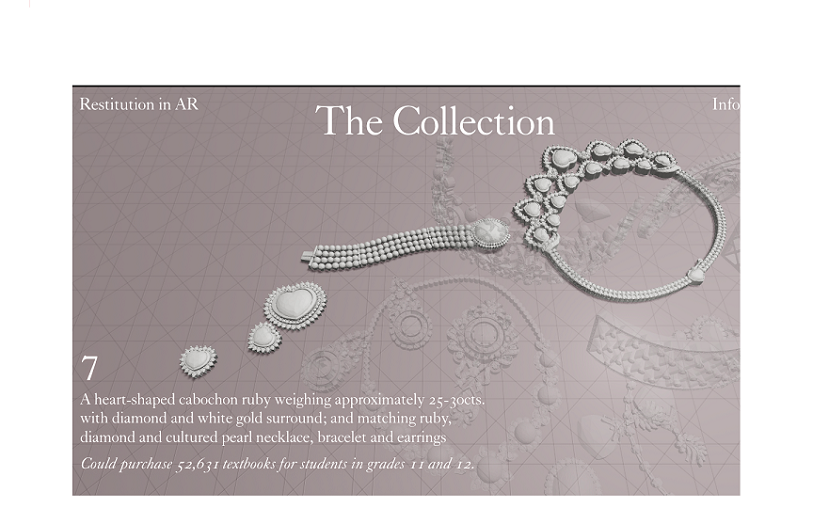 The Collection of Jane Ryan and William Saunders: Jewelry in Augmented Reality by Pio Abad (b.1983, Manila) and jewelry designer Frances Wadsworth Jones. (https://21AM.culturalcenter.gov.ph) is the inaugural exhibit of 21AM, the new digital museum of the Cultural Center of the Philippines.
Jane Ryan and William Saunders are false identities used by Ferdinand and Imelda Marcos to open bank accounts in Switzerland in 1968, and to conceal large amounts of wealth.
The exhibit presents ten 3D printed replicas of Imelda Marcos' jewelry, known as the Hawaii Collection, based on photographs taken by Christie's, the auction house that appraised the collection in 2016.
Presented in austere white plastic, the 3D replicas are stripped of all its glitter and colors, in total contrast to the original jewelry —a dazzling array of gold, silver, diamonds, emeralds, rubies, sapphires, pearls, and other semi-precious stones.
It becomes a spectre, haunting Filipinos about stories of impunity contained in each piece of jewelry, and serving as concrete evidence that the plunder of the Philippine national coffers between 1965-1986 did take place, with absolute veracity. It is estimated that some US$10 billion had been siphoned off through offshore banks.
3D replicas
Some of the replicas with its worth in social services include:
An antique tiara circa 1860 with Cabochon ruby, diamonds and Mabe pearl.
A matching set of antique diamond, sapphire and ruby bracelet, pendant and earrings mounted in silver and gold tiara, circa 1860.
(Could finance the four-year tuition of 20,000 students in a state university).
(Could finance the full immunization of 20,000 children (one dose of BCG, three doses each of OPV, DPT, and Hepatitis B vaccines, and one dose of measles), and provide 17,600 pneumococcal vaccines to senior citizens and infants).
A Belle Epoque platinum and diamond tiara by Cartier circa 1890.
(Could fund the treatment of 12,052 tuberculosis patients until their full recovery).
According to the World Health Organization global report for TB in 2020, the Philippines has the highest TB incidence rate in Asia, with 554 cases for every 100,000 Filipinos. The Philippines ranks fourth worldwide inTB incidence. About 1 million Filipinos have active tuberculosis, and nearly 70 Filipinos die everyday from this treatable disease. (DOH, 2019)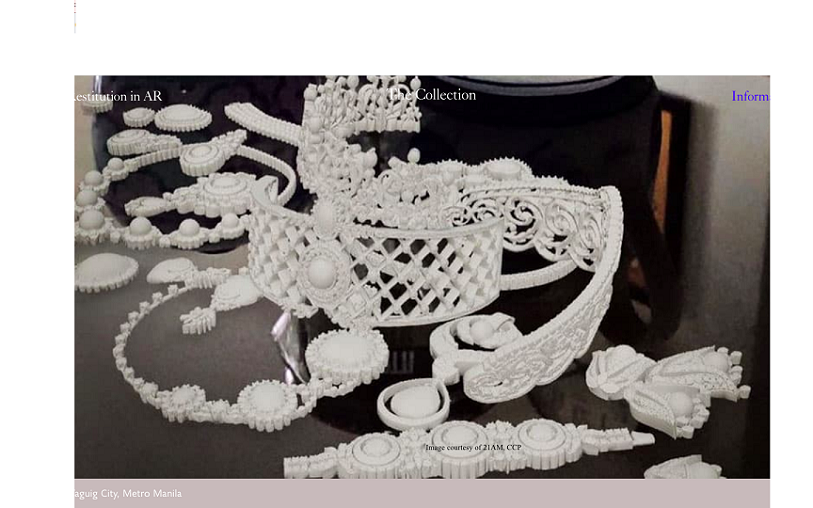 An ongoing project
First shown at the Honolulu Biennial in 2019, The Collection of Jane Ryan & William Saunders with 24 jewelry replicas in 3D became " a site of recollection," says Pio Abad.
In a 2020 interview with Studio International, Abad noted that it took two years for his wife, Frances, to reconstruct the 24 models in 3D, facet by facet, using the design software Rhino.
He also recalls that Sherry P. Broder, a human rights lawyer based in Honolulu, came up to him, and said, "I've been looking for this jewelry for 30 years!"
Broder had successfully sued the Marcoses for $2 billion, believed to be " one of the largest personal injury verdicts in U.S. history."
Digital restitution
The husband-and-wife team also launched www.janeryanandwilliamsaunders.com, where the public is invited to take ownership of the jewelry, and to project tiaras, earrings, and necklaces in their own spaces, using a smartphone.
Anybody can reclaim the jewelry, if only through augmented reality and imagine "the possibilities of restitution that remain elusive in this present day."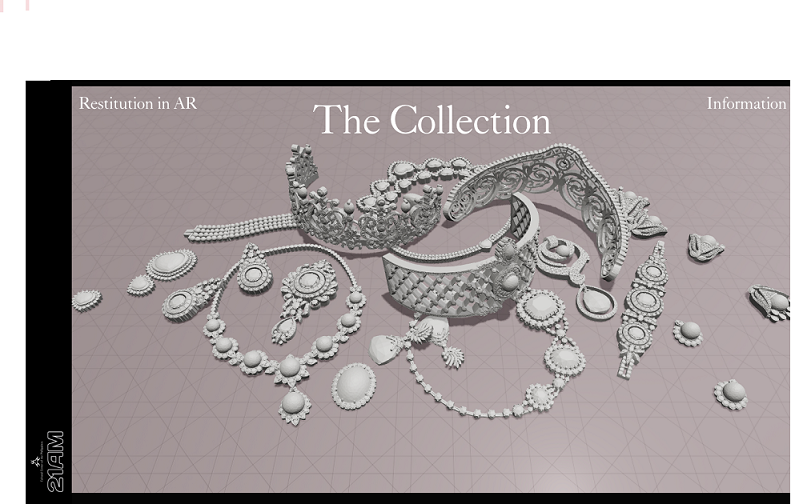 The Hawaii Collection, 1986
On Feb 27, 1986 Ferdinand and Imelda Marcos fled in exile following the 1986 People Power movement and arrived in Hawaii. The two C-141 transport planes that carried them contained 23 wooden crates, 12 suitcases and bags, and boxes that included 413 pieces of jewelry, packed among disposable diapers.
The U.S. Customs confiscated the jewelry. Among the seized items included an extremely rare 25-carat pink diamond worth $5 million and a diamond tiara taken from the Romanovs, the Russian Tsar's family in 1918.
PCGG mandate
The Hawaii Collection was returned to the Philippines and turned over to the Presidential Commission on Good Government (PCGG), an agency created by President Corazon Aquino in 1986, to recover ill-gotten wealth by the Marcos family and their cronies. The collection has been kept in the vaults of the Central Bank, hidden from public view, amidst legal challenges from the Marcos family.
In February 2016, the PCGG announced that all legal impediments had been cleared and Christie's would auction the collection. Aside from the Hawaii Collection, two other jewelry collections of the Marcoses exist, namely, the collections of Roumeliotes and Malacañang.
But when Rodrigo Duterte became president in 2016, the said collections have not been seen since then.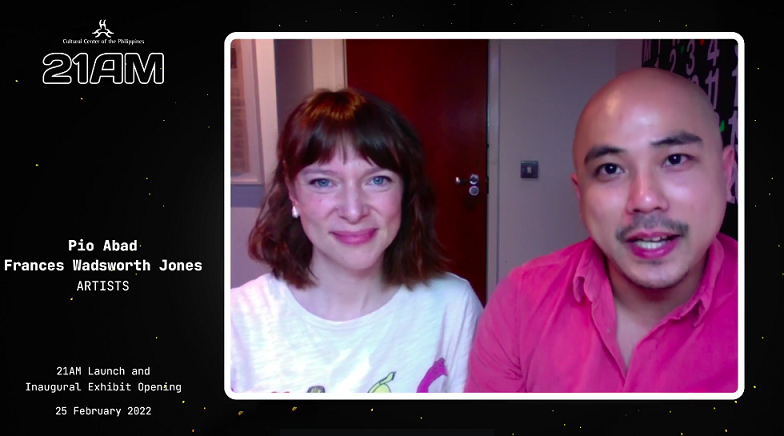 Pio Abad
London-based Filipino visual artist Pio Abad began his art studies at the University of the Philippines Diliman and received a BA in painting and printmaking at the Glasgow School of Arts, Glasgow and an MA in fine art from the Royal Academy of London in 2012. He has worked with various media such as textiles, drawing, installation, and photography. His work touches on 'the social and political signification of things."