Several Facebook (FB) groups and pages are spreading an erroneous comparison of two photos taken during Vice President Leni Robredo's Feb. 25 campaign rally in Iloilo.
One of the images showed a jam-packed crowd at nighttime and was labeled "Fake" and "Rappler Zoom shot." The FB posts claim the media organization maliciously cropped the image, so it appears that the pro-Robredo crowd was more massive than the actual. Below the photo was the supposed "real" drone shot of the same event taken during the day, showing a more scattered attendance.
Both photos showed the people's rally held at the Iloilo Sports Complex. And none was edited.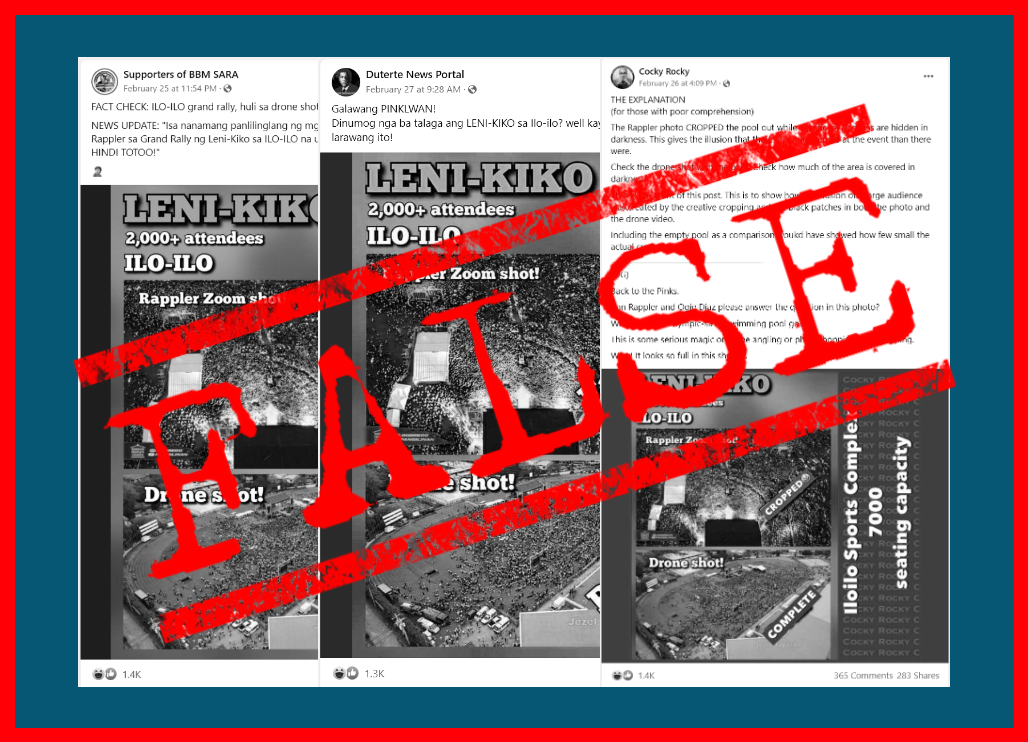 A reverse image search traced the nighttime photo to a post uploaded on Feb. 25 by the Robredo People's Council FB page at 8:28 p.m.
It was also tweeted by Rappler reporter Mara Cepada, and posted with attribution on FB by News5 and CNN Philippines.
Meanwhile, the daytime aerial photo was taken by a man named Jezel Taparan, who posted it on his FB page Jezel Taparan TV. His caption stated that the image shows the rally at 3:40 pm the same day.
The latter was taken almost an hour before the start of the event. An official poster shows the rally was to start at 4:30 p.m. Its live stream, put up on Robredo's official FB page, began at 4:24 p.m.
A camera captured the image showing the massive crowd at night hours after the rally had started. Screenshots from the live stream and two videos published on Robredo's official Youtube channel show a packed crowd similar to the one seen on the Robredo People's Council photo.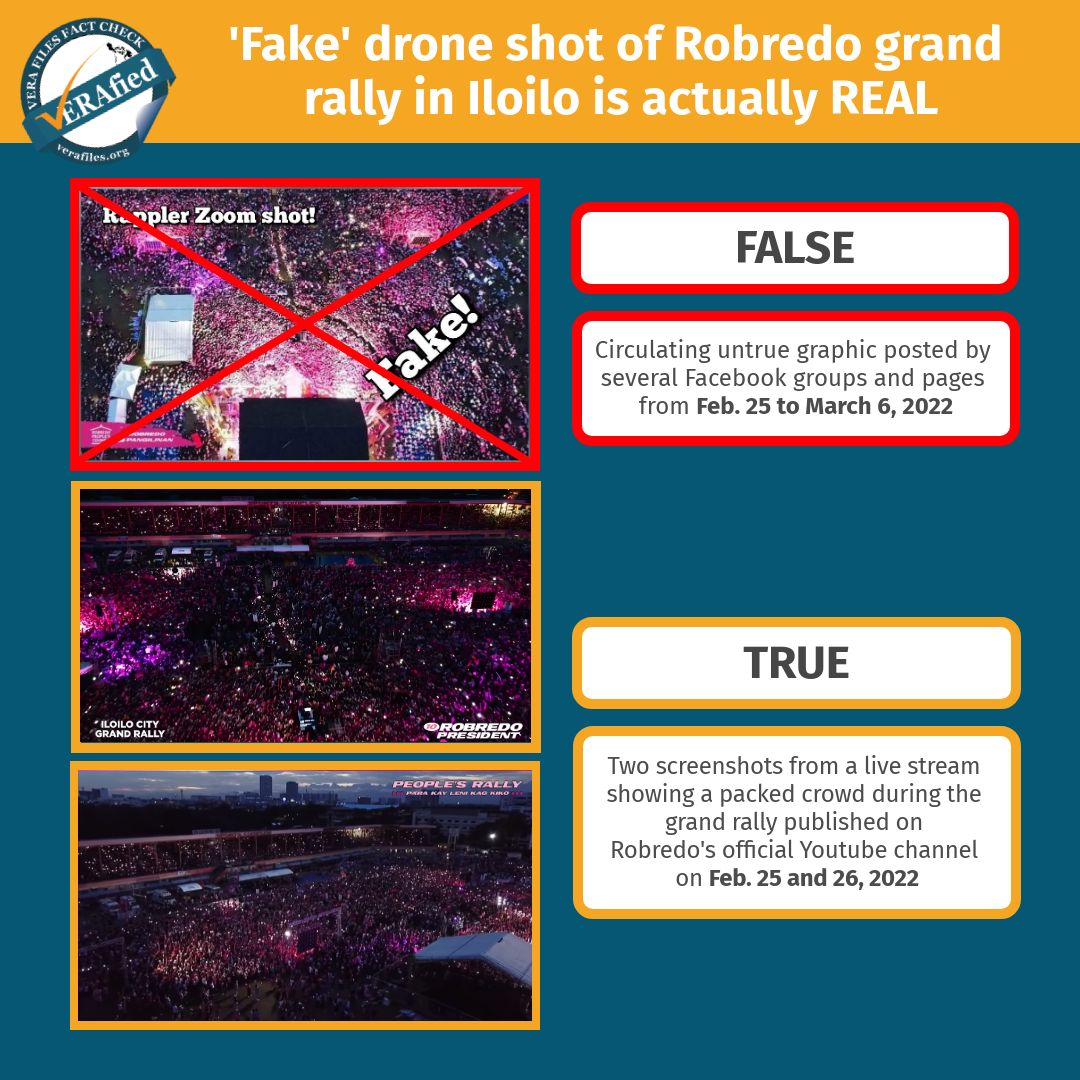 Contributed photos published by ABS-CBN reporter Adrian Ayalin on Twitter also showed a crowd similar to the circulating nighttime image.
The graphic received several criticisms in the comment section of the false posts while netizens pointed out the images shown happened at separate times.
At least 53 FB groups and pages posted the inaccurate graphic between Feb. 25 and March 6. It has garnered more than 10,220 interactions collectively, according to social media monitoring tool CrowdTangle. Its top traffic generators are FB pages Supporters of BBM SARA (created on Feb. 4, 2021), Duterte News Portal (Dec. 16, 2016), and Cocky Rocky (Jan. 29, 2017).
Have you seen any dubious claims, photos, memes, or online posts that you want us to verify? Fill out this reader request form or send it to 'VERA, the truth bot' on Viber.
(Editor's Note: VERA Files has partnered with Facebook to fight the spread of disinformation. Find out more about this partnership and our methodology.)