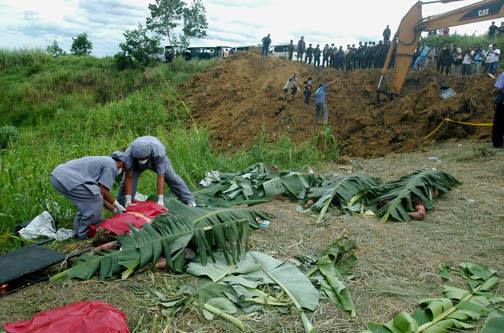 Number 58 has been left behind. Again.
At around 10:00 p.m. on Dec. 18 in the United States, Ma. Reynafe Momay-Castillo, daughter of victim Reynaldo "Bebot" Momay, watched in shock as the partial decision for the decade-long Maguindanao massacre case was read.
The principal accused in the worst case of election-related violence in the country — brothers Andal "Datu Unsay" Ampatuan Jr. and former Autonomous Region of Muslim Mindanao Governor Zaldy Ampatuan and several police officers — were handed down a guilty-beyond reasonable-doubt verdict for the murder of 57, not 58, people.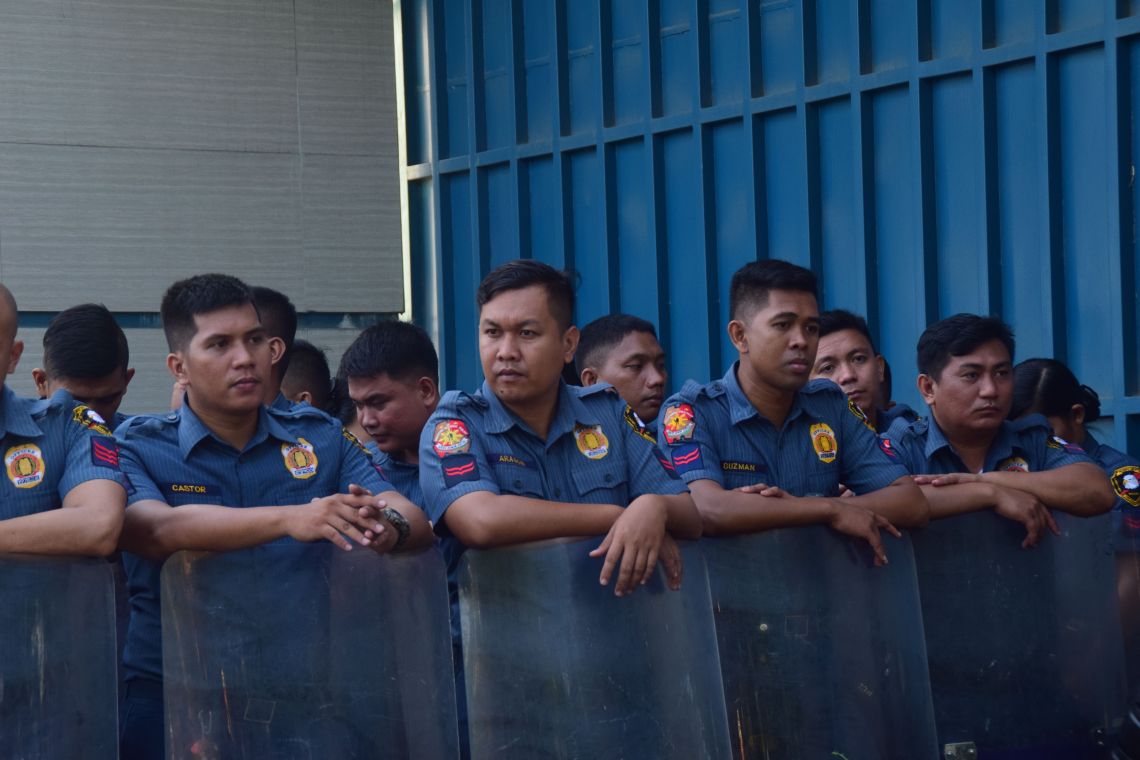 Police lock down Camp Bagong Diwa in Taguig at 7 a.m. on Dec. 19, two hours ahead of the reading of the verdict in the 10-year trial of the Maguindanao massacre case. Photo by Elijah Roderos.
Castillo cried in disbelief.
"I feel so disappointed…Sampung taon na ako naghintay…Hindi ko maintindihan. Wala akong maintindihan ngayon…Wala na nga akong katawan, wala pa akong hustisya. (I waited 10 years. Now I don't understand. I did not recover any body, and now I cannot claim justice)" Castillo told VERA Files in an interview after the decision was read.
Bebot Momay's body was never found.
Momay was a photojournalist of Midland Review, based in Tacurong City, Sultan Kudarat. On Nov. 23, 2009, he joined a convoy of the relatives and supporters of then Buluan Vice Mayor Esmael "Toto" Mangudadatu to cover the filing of the politician's certificate of candidacy for governor of Maguindanao. Toto was going against the Ampatuan family, the reigning political dynasty at the time.
About 100 men with high-powered guns stopped the convoy at a checkpoint and led it to a nearby hill. There, Momay and 57 others were murdered, then buried in mass graves. Six of them were civilians who happened to be passing with the convoy.
The slaughter, which killed 32 media workers, was the deadliest single attack against journalists in the world and reinforced the Philippines' reputation as one of the most dangerous places for journalists.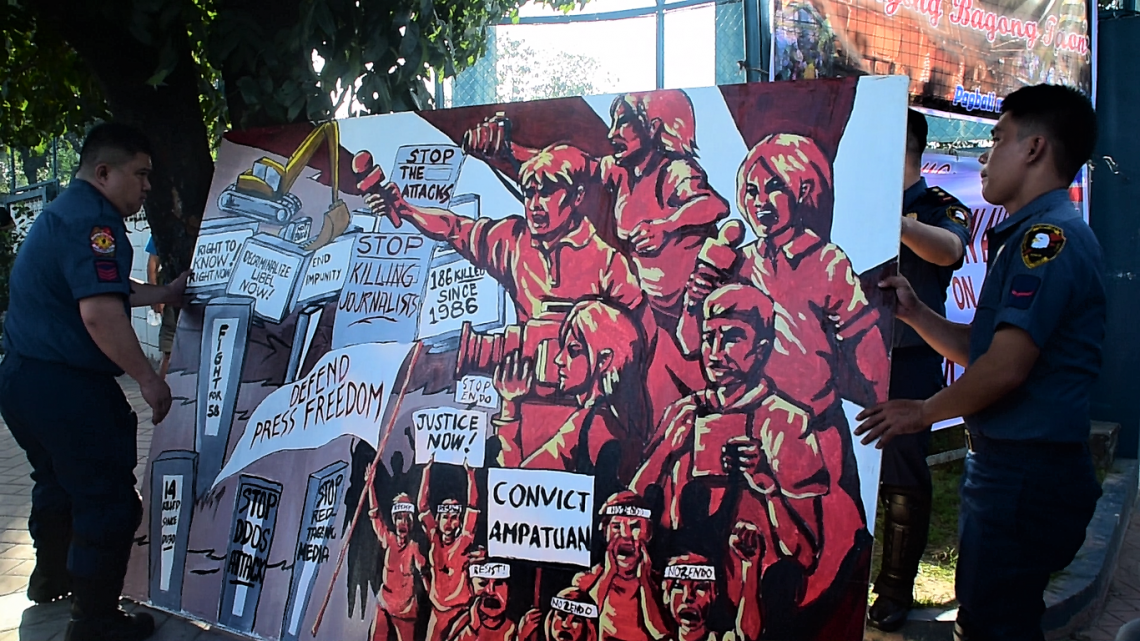 Police confiscate a poster of the National Union of Journalists of the Philippines shortly after it was laid out in front of Camp BagongDiwa in Taguig on Dec. 19, where several groups gathered in anticipation of the promulgation of the Maguindanao massacre case. The November 2009 attack killed 58 people, 32 of them media workers, including photojournalist Reynaldo "Bobet" Momay. Photo by Elijah Roderos.
Castillo had been fighting for her father to be counted as the 58th victim. In 2012, two years after the case began trial, charges against the defendants were amended to include the killing of Momay.
More than 190 suspects were charged with murder and have been detained since 2010, 80 of whom are still at large. The suspects in total include 55 police officers and 13 members of the Ampatuan clan, including the late former Maguindanao Governor Andal Ampatuan Sr, who died while in detention in 2015.
In a 761-page partial decision, Judge Jocelyn Solis-Reyes of Quezon City Regional Trial Court Branch 221, found 43 of the accused guilty beyond reasonable doubt: 28 were found to have acted as principal, and 15 as accessories. The court acquitted 53 on the ground of reasonable doubt, while three were acquitted after evidence available "absolutely failed" to prove their guilt.
A day before the decision was handed down, Castillo told VERA Files that she hoped the principal accused would stay behind bars.
"I'm just hoping na iyong mga accused, 'iyong mga pinakamataas, they can't get a parole. I'm just hoping this will be the case na hindi na sila puwedeng mag-appeal, (I'm just hoping that the accused, the principal accused will not be allowed file an appeal)" said Castillo.
Lawyer Gilbert Andres, counsel for Castillo, wonders how the court appreciated Momay's dentures and other pieces of evidence presented to them during the trial. Though Andres has yet to read the entire decision, he said he feels the lack of a cadaver was a "big factor" in the exclusion of Momay as the 58th victim murdered by the Ampatuan brothers and 25 others.
"There, too, was the owner of a motorcycle (Momay) had borrowed to go to the Mangundadatu residence to join the convoy, and journalist Joseph Jubelag, who was to join it too, but backed out at the last minute because of a bum stomach. The borrowed motorcycle was recovered, but (Momay) was nowhere to be found. Until now, 10 years later," Andres explained.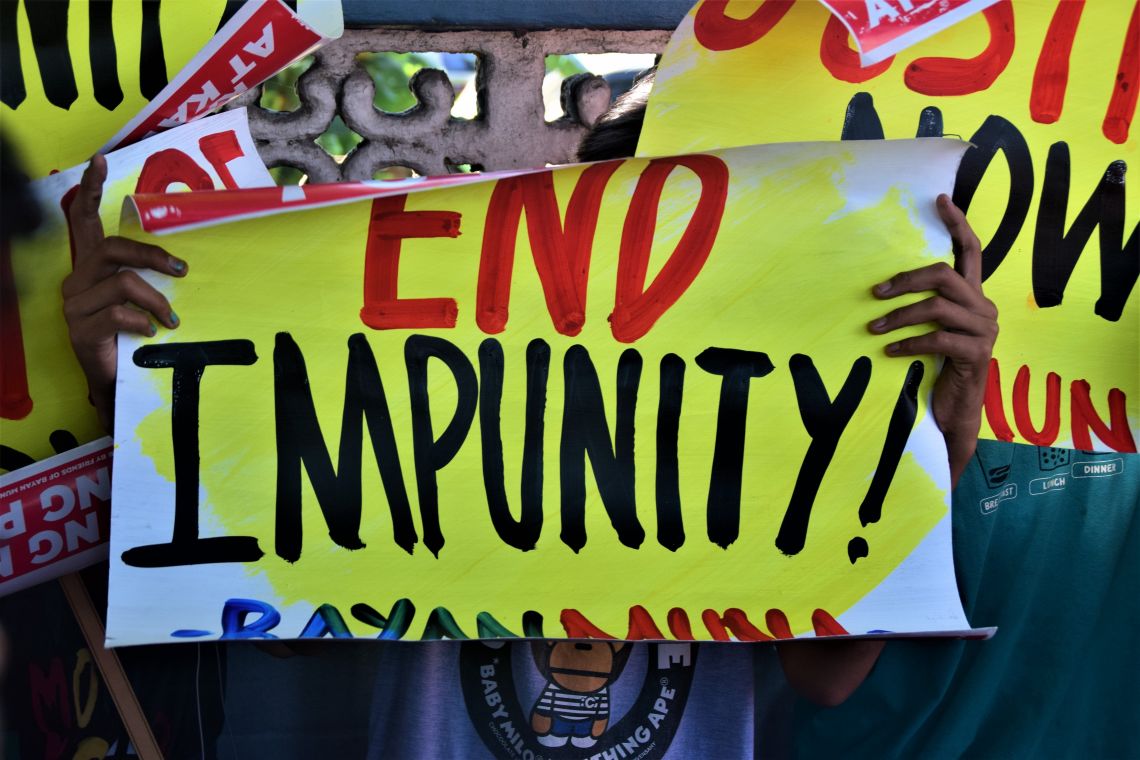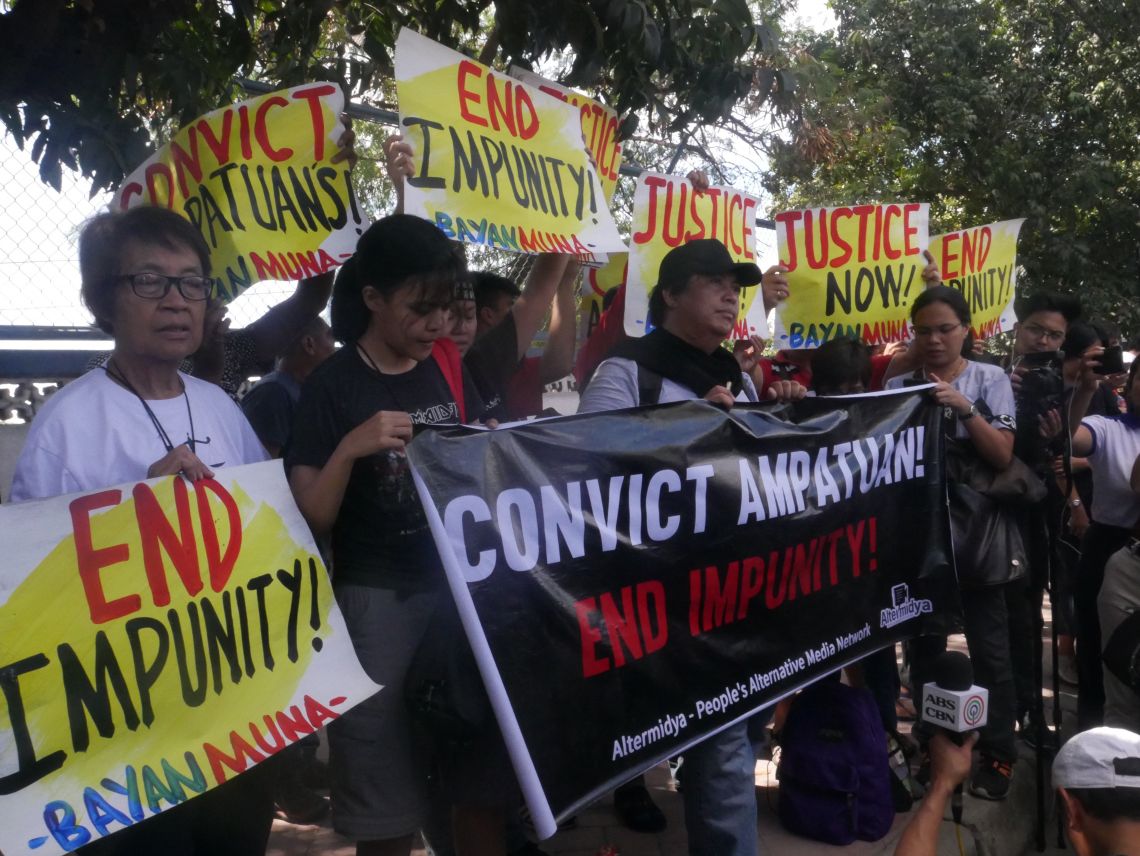 Several journalist groups and left-wing organizations hold a short program calling to end impunity in front of Camp Bagong Diwa in Taguig on Dec. 19, hours ahead of the announcement of the verdict on the trial of the Maguindanao massacre. Photos by Elijah Roderos and Ivel Santos.
Rommel Bagares, former counsel for 19 of the victim's families, remembers how they found Momay's dentures at the scene of the crime, when he was part of the team deputized by the Commission on Human Rights to look for more evidence in the case.
"Noong pumunta kami doon, walang metal detector iyong mga pulis eh. Bumili ako ng metal detector online … Nagdala kami ng forensics dogs to look for the bodies," Bagares said.
The police borrowed their metal detector and it was "only because of that, they were able to find the dentures of Bebot Momay," he added. It was then that he tracked the families of the victims, and found Castillo.
Lawyer Harry Roque, a co-counsel for the victims, said in court that they will appeal the civil aspect of Momay's case.
In tears, Castillo agrees. "I don't care about monetary things. I don't care about that….Kailangan ko ng hustisya. Kailangan ng hustisya sa tatay ko. Hangga't hindi ko nakukuha 'yon, wala akong closure. (What I need is justice. I need justice for my father. Unless I get that, I will have no closure"
Despite the exclusion of Momay as victim in the case, the verdict is hailed as a significant and historic decision.
University of the Philippines professor and former Supreme Court spokesman Theodore Te, in a television interview, said it was significant that some of those convicted were meted the heaviest penalty – up to 40 years in prison without parole.
Former Human Rights Commissioner Etta Rosales said she was happy that the principal actors were convicted. "It is a historic decision which means that impunity is not a permanent thing," she added.
"It's been too long a wait, but with the decision, it is up to us duty bearers to spread the good work so democratic governance can be upheld through the judicial process."
The international organization, Human Rights Watch, called it a momentous verdict that should help provide justice to the victims' families, but also push for greater accountability for rights abusers in the country.
"Advocates should use this verdict to spur further political and judicial reforms to ultimately end the impunity that has plagued the country for far too long," HRW Deputy Asia Director Phil Robertson said in a statement.
Justice Secretary Menardo Guevarra lauded the verdict. "Finally today, justice has been served."
A few family members of the victims were happy over the guilty verdict for the principal accused, but they also expressed fear over the possible retaliation by the 80 people accused in the case who are still at large. – Elijah Roderos, Ivel John Santos, Meeko Angela Camba, Merinette Retona, Celine Isabelle Samson, Lucille Sodipe, Klaire Ting
(Editor's Note: An earlier version of this story described Atty. Harry Roque as former counsel of the Maguindanao massacre victims, The piece has been corrected to reflect that he remains a co-counsel of the victims.)