By PABLO A. TARIMAN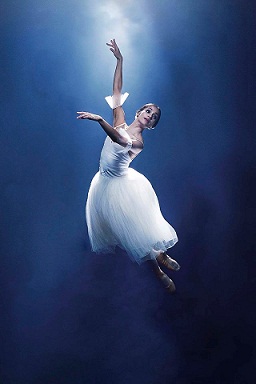 LIKE it or not, Giselle is the stuff of present-day teleserye with poignant  dancing scenes portraying pure love, cut short by misconstrued betrayal and then the final act showing  love and death in the graveyard.
It is a mere coincidence that two of the country's top stage and film actors are in it. Shamaine Centenera Buencamino plays Giselle's mother Berthe with   Bembol Roco as Duke Courland.
One of the country's latest Giselles, Katherine Trofeo, has gone through Giselle's first act in real life and the result is dancing briefly interrupted by marriage and motherhood.
When she is not in the ballet class or going through scenes with her Albrecht played by Jean Marc Cordero, she spends her mornings overseeing her son, Julio before he goes to school. Outside of dancing, she enjoys assisting her son do his home work or just be with him and her husband over breakfast.
"I go straight to work after I bring my son to school. Then it's straight company class to rehearsals. And before opening night, I just want enough time to do hair and make up and do proper limbering and some quiet time to relax my mind before I go onstage," rues Katherine of her life outside dancing.
Clearly, Giselle is a major challenge with its earlier interpreters who happen to be the likes of Maniya Barredo, Anna Villadolid, and Lisa Macuja Elizalde, among others
She admits it is a dream role and her response varies from excitement to some scary reservation.  "This ballet demands that I give not less than 100% of my body and mind and my spirit as well for me to be able essay a decent understanding and interpretation of the role."
Her idea of Giselle as she sees her: "I think the story calls for a basic 'sketch' of Giselle — that she is weak of heart but is actually of strong will. Because despite her frailty and her mother's warnings, she keeps giving in to her love for dance. I will try to be as true to the intention of the story and put some shading in the dancing and characterization."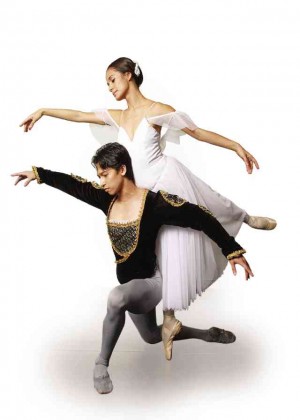 Trofeo thinks the major challenge in Giselle  is the transition from Act 1 to Act 2 as it requires a different frame of mind. "It's a switch in the head that I have to access so that the quality of movement also changes. It is quite a challenge to show the joy of love and then suddenly to discover what she thought was betrayal."
She reveals  her favorite  is Act 2 "because it has such a spiritual/other-worldly feeling to it. It is also the part where I need to work hard on."
She counts herself lucky to be partnered by Jean Marc Cordero as her Albrecht.  "I have worked with him in a lot of ballets already.  So I trust his partnering and level of technique. On top of that, he really digs deep in the story-telling as well. I love it that he likes to find the truth in each scene we do."
It helps too that the one re-staging the ballet was one of the country's premier danseurs, Nonoy Froilan, who has partnered distinguished Giselles from Maniya Barredo to Yoko Morishita. "Sir Nonoy (Froilan) is very passionate about Giselle. From the way he works on it, it is obvious that it is his favorite ballet. I try to listen very well to his pointers on how to tell the story clearly."
This year, she was lucky to dance Juliet with the country's international ballet star, Nicolas Pacana with the Cebu Ballet Center. Her impression was unforgettable. "He was almost 60 but his sensitivity in partnering can put any young dancer to shame. He's also one of those who are totally in love with dance. It was inspiring to work with him."
Looking back, the love for dance actually started early when she became a dance scholar of the Philippine High School for the Arts and later getting the big breaks from Philippine Ballet Theater in the roles of Don Quixote (Kitri), Swan Lake (Odette-Odile) and Madama Butterfly (Cio Cio San), among others.
She reflects: "I knew at an early age that I loved to dance.  But it helped that I had Enrico Labayen and Myra Beltran as mentors when I was younger and before I came into ballet company life. They were embodiments of extreme commitment to the art and of being true to one's voice. It was crucial at that age that they believed in me and made me feel that I was not being judged for not being good enough. Ballet can be a very cruel art.  It takes a lot of nurturing to be able to blossom gracefully. That's not the easiest task at all!"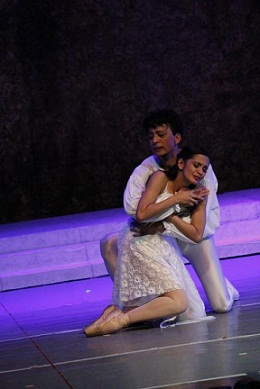 Now on her 6th season with Ballet Philippines, Trofeo defines what she enjoys in dancing even as she knows it is not the most lucrative career in the world in terms of income. "Dancing reconnects the mind to the body and vice versa every single moment that it happens. Mind and body movements are so in now like what they espouse in yoga which gives a certain 'kick' to our lives to be attuned to our bodies. I guess that is the joy in dancing that I experienced ever since I was a kid."
Katherine evokes what she enjoys in her dancing now. "I think my mind can process more things now. But being older, my body actually takes more time to get to where I want it to be. So I take a lot of high maintenance, .a lot of extra body conditioning or cross training. It is   worth it because when the body is in top form, the more it can follow the dance outlines floating in your mind."
Ballet Philipines' production of Giselle   will run at the CCP main theater August 16 and 17 with music by the Philippine Philharmonic Orchestra under conductor Olivier Ochanine.