By JONATHAN DE SANTOS
GOVERNMENT has been dragging its feet in implementing a law awarding financial compensation to victims of human rights abuses during the martial law years, despite the fact that their number is slowly dwindling.
"Not a month passes without one of us dying," Felix Dalisay, who spoke for Samahan ng Ex-Detainees Laban sa Detensyon at Aresto, said at a recent forum at the Commission on Human Rights. "Most of the victims have already died."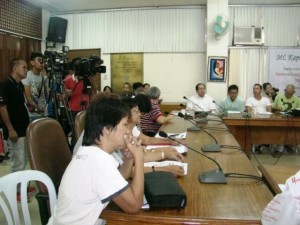 Few of the surviving victims who attended the forum could afford to be there. "I only have P20 in my pocket," Ben Veluz, a former activist, told the standing-room audience.
But the victims could not afford to be absent, either, out of fear that their decades-long call for recognition and compensation has been all but forgotten. "We sacrificed our futures, we sacrificed our time," said Veluz, who talked about organizing workers at a textile factory in Pasig during Martial Law.
Compensation is coming
President Benigno Aquino III signed the Human Rights Victims Reparation and Recognition Act of 2013 into law in February, in time for the 27th anniversary of Edsa I. The law sets aside P10 billion for compensation of legitimate human rights victims. Part of the money will also be used to build a memorial for victims.
Former Albay representative Edcel Lagman, whose brother Hermon was detained during Martial Law and disappeared in 1977, said the enactment of the law took 18 years.
Close to six months later, Lagman, one of the law's authors, said victims and claimants are still waiting for implementation. He said the law, hailed as a victory for victims, is a good law but if left implemented, it will be a dead law.
"Non-implementation will render that victory illusory," he said.
He said no appointments have been made to the Human Rights Victims Claims Board that will process and approve eligible claims for reparation.
Without a board, the implementing rules and regulations for the Human Rights Victims Reparation and Recognition Act cannot be promulgated. Without an IRR, the law is essentially just words on paper. "Nothing will happen until there are people on that board," Lagman warned.
Lagman said the President assured him in June that creating the compensation board is urgent. Lagman also said, though, that the President had yet to see a list of recommended appointees.
In a text message to VERA Files, Presidential spokesperson Edwin Lacierda said there are a "good number" of recommended appointees to the board but that the Office of the President search committee is still conducting background checks. He said a final list is expected soon.
"The President is cognizant of the concerns from the Human Rights groups and we assure them that once the list is vetted, which we likewise hope to happen soon, it will be submitted to the President for his consideration and approval," Lacierda also said.
Lagman meanwhile urged human rights groups to "monitor that only those qualified should be included on the board."
He also said Martial Law victims and human rights groups should work with the Commission on Human Rights, to which the board will be attached, to prepare a draft of the implementing rules and regulations.
Lagman said even when the board is formed, human rights groups will still need to keep a close eye on the implementation of the law. He said the creation of the IRR should be monitored to make sure they will not derail the law or "virtually repeal or amend the law."
A pool of volunteers and pro bono lawyers will also be needed to help the board assess claims for compensation, he said.
Even while the board has yet to be formed, 7,526 victims will receive $1,000 each early next year, lawyer Rod Domingo said. Domingo said the money will come from a $10-million settlement made on a painting that was sold by Vilma Bautista, the secretary of former first lady and current Ilocos Norte Representative Imelda Marcos.
"That is just one painting. There is more," Lagman said. Any settlements from the class suit that Domingo and lawyer Mike Swift are litigating, though, are separate from the compensation that the law requires the government to give.
Domingo clarified only those who are part of the class suit are eligible for the settlement checks.
Ester Isberto, who was imprisoned during Martial Law but is not included in the class suit, said, "It is not a question of money. It is a question of being recognized."
Lagman shares the fear that the non- implementation of the compensation act will cause people to forget. Failure to implement the law will "fossilize like forgotten artifacts the heroic deeds and sacrifices (made by the protest movement)," he said.
He added the government must go beyond just giving money. "Our task will only be over when the last claimant has been compensated, all culprits have been punished, and the possibility of another Martial Law is closed."